It was a surprisingly nice day for NXNE Festival Village to open. People were roaming the closed-to-traffic streets, taking pictures, drinking soda, and sipping on cold hoppy beverages in the beer garden. Being a free show taking place in the heart of the city the event brought out not just music fans but tourists and all kinds of curious crowds. Many of them, its seemed, had no idea what they were in for when Le1f took the stage.
Khalif Diouf, better known in the music circles as Le1f, is a New York rapper and producer. Over the years his releases walked a fine line of rap, trap, electronic, and experimental genres. The media has been long fascinated with Le1f: he is talented, fashionable, a proud member of the L.G.B.T., and unafraid to pick at sensitive topics that touch a lot more people than those willing to talk about them. Today, on a sunny stage at the foothills of Toronto Pride, Le1f has found his audience, amid the occasional mouth-gaping tourist. With a strong beat, Le1f made a powerful yet tasteful entrance on the Younge and Dundas stage (Y&D), immediately going into a rap. The crowd slowly packed in closer to the stage as the photographers shimmied following Khalif across it.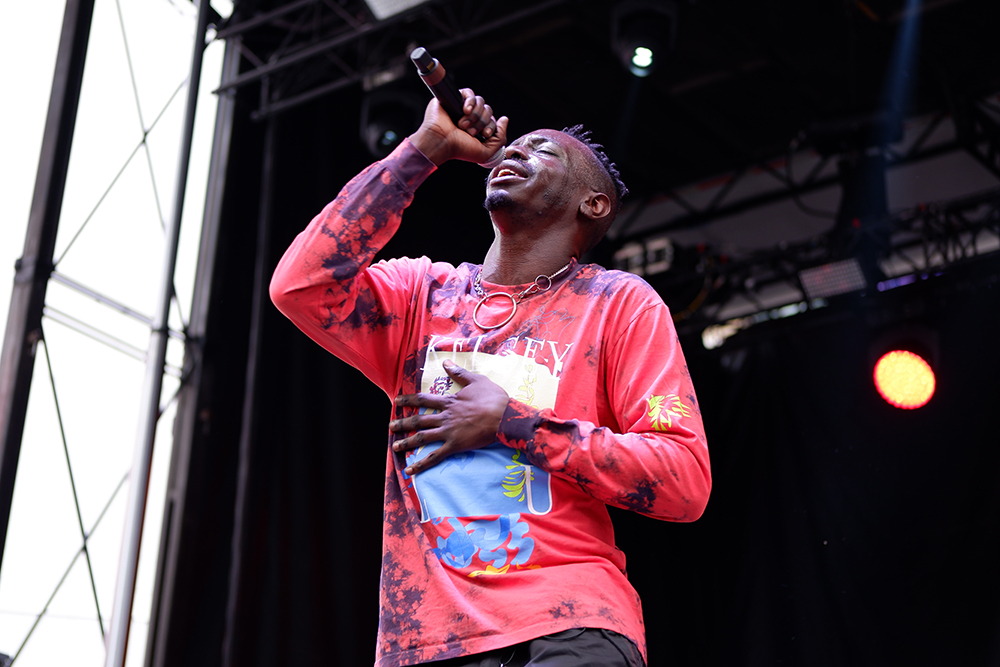 Le1f carries himself with artistic confidence and shameless pride – as we all should – while pairing each lyric with a suitable move, facial expression, a strategic arm swing or a poised pose. The dance moves here are very tactical, Khalif studied ballet and modern dance in his teens before taking up digital music production on Fruity Loops. Today he produces his own work and in that fashion, he was also his own DJ during this show.
The set jumped back and forth from older tracks, like "Wut" and "Boom" from the Hey EP, to "Koi" from the Riot Boi album. Neither release is truly recent – Riot Boi dropped in 2015 but the fanbase that made it to the show new all the words.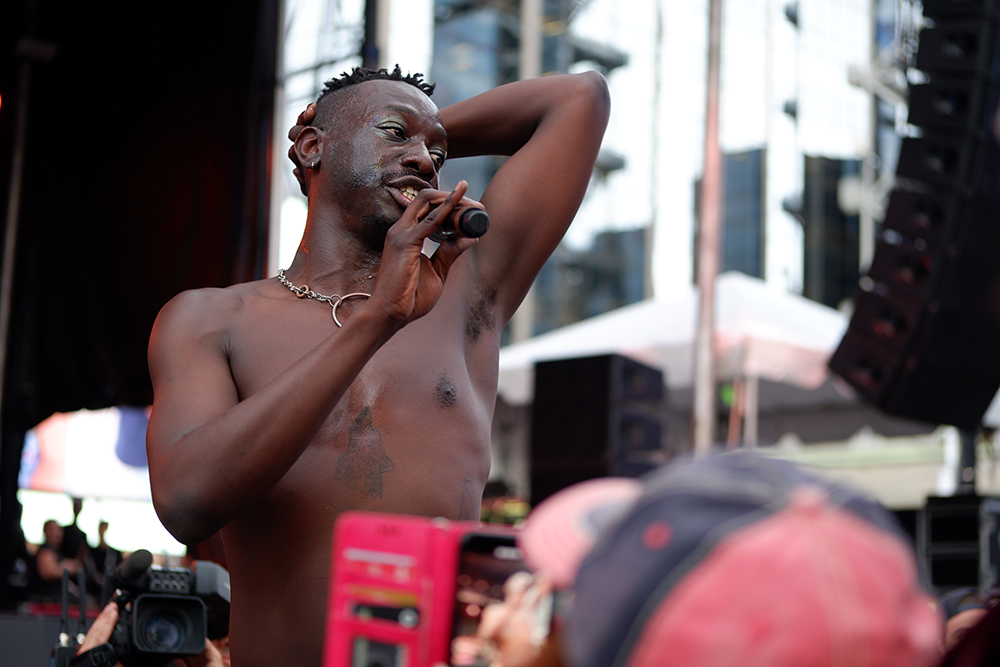 Halfway through the set Khalif took off his t-shirt and proceeded into the more subversive portion of his performance with sexual explicit moves that made a few members of the audience blush. The square was divided in two with a walkway from the sound booth to the stage which was hardly a barrier to Le1f who, with impressive ease and grace, kept hopping from one side to the other, to back on stage dancing with the audience, getting them to sing into his mic, and dropping poses on the barricade. As the crowd moved with him so did a herd of security, clearly getting tired of chasing the rapper through various boundaries across the Y&D square.
A woman pushed her way through the pit to take a selfie with Khalif posing shirtless by the barricade. Somehow that act made me feel uneasy but Le1f didn't even blink continuing his performance as if saying "You want it girl, you get it, maybe you'll learn something new". Khalif Diouf never seemed to be a man afraid of what other people think, constantly challenging our conscious and unconscious shame, politics, sexual, and religious views. That confidence and relentless bravery is heard in his lyrics and visible through his playful performance. Perhaps it is about time we hear something new, after all, it's been a minute or two since Riot Boi.