KAABOO, you were more than what I expected and gave new meaning to what it means to be a music festival. KAABOO San Diego will have large shoes to fill in 2020. Until next time, new friend. Tchao!
***
It's 8:48pm on day three of KAABOO festival, and as I walk away from a captivating half hour set featuring Des Rocs, music from the headlining stages to the east and west of the festival grounds, collide. Mumford & Sons turns into Duran Duran as I head towards the exit, thus ending my KAABOO weekend.
Des Rocs was the correct way to wrap-up the coverage. Though the young musician played on the festival's smallest stage, his sound and stage presence were larger than life. It would take a lot of work for someone to not engage in even the slightest of dance movements while experiencing a Des Rocs performance. Des Rocs has an appreciation for true rock music; he is what rock music once was and is quite possibly, the future of the genre. With only a three-piece band, Des Rocs made some of the most beautiful rock music that I've ever heard. He was animated, and the on-stage chemistry he had with his band mates played out during his set.
***
Comedian and television host, Wayne Brady was my choice for KAABOO'S penultimate performance.  Brady delivered a 45-minute, audience participation-laced improv comedy set inside the festival's Humor Me comedy club. He began his comedic set in true Wayne Brady fashion: with a freestyle that would impress even the most skilled of MCs. Audience participation required the comedian to choose the worst of the worst of audience participants – many of whom had been inebriated since high noon. Despite their inability to follow instructions, Brady put on a solid and entertaining show.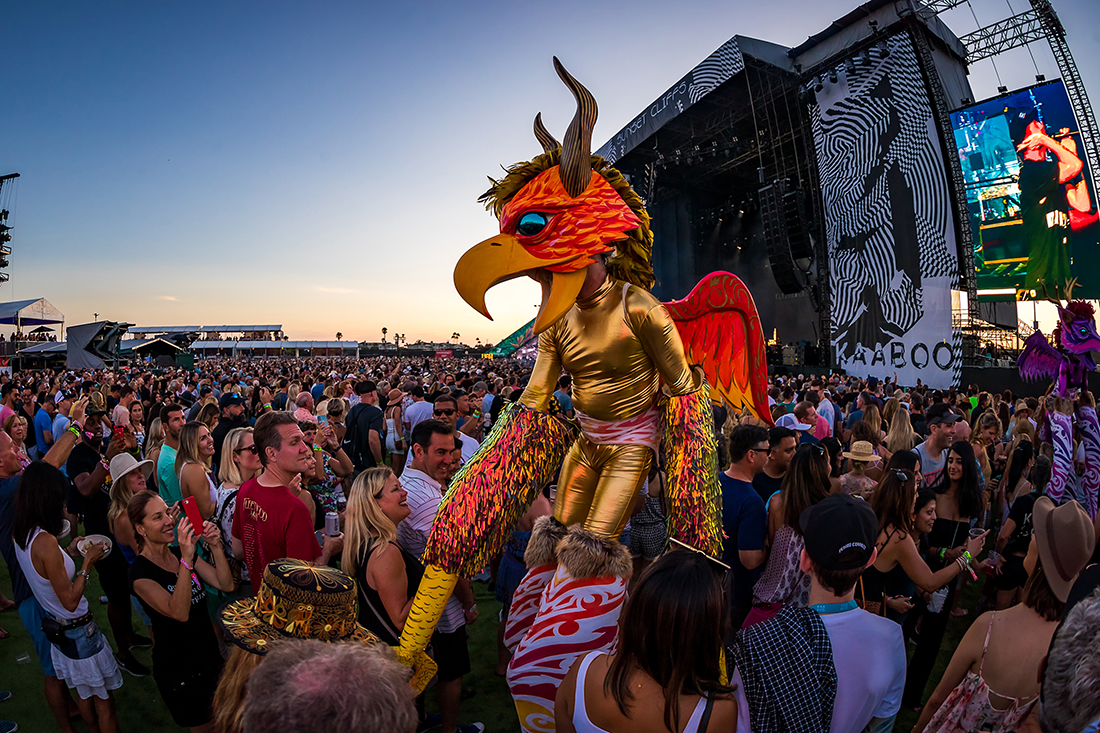 Within the confines of the Palate + Artwork building were numerous gourmet food and food-adjacent options, as well as countless art exhibits featuring the work of artists from all over the United States. The last exhibit I visited before heading to the Humor Me comedy club featured the work of Denver-based painter, Thomas Elias Lockhart III. While talking to Lockhart about his work and history as an artist, he introduces me to his father who was sitting quietly on a chair near the prints that Lockhart has for sale. His father and I strike up a conversation about football, southern cooking, family, and our shared faith. Shortly, thereafter, Lockhart himself rejoins the conversation and in the 30 minutes that I spent with them, I felt like we were family. I perused Lockhart's prints and decide to purchase one; it was a difficult choice, but one of the prints from his Women's Empowerment series resonated with me.
When I turned the corner and happened upon Lockhart's work, I was instantly in awe of what I saw before me. His work celebrates African-American culture and captures the African-American experience. Some of his displayed pieces feature the crucifixion of Christ – with the wounds carved into his hands and feet – and original paintings and prints of his Women's Empowerment series.
The vibrant colors of the paintings of LA-based artist Erin Yoshi drew me in as I walked up and down the aisles, perusing. Yoshi and I began a discussion of how she has been drawing and painting since she was a child. She went on to share with me how being an artist is not just a career for her, but it's also an outlet. We spend about 10 minutes sharing our experiences as creatives and she offers me some much-appreciated encouragement and words of wisdom.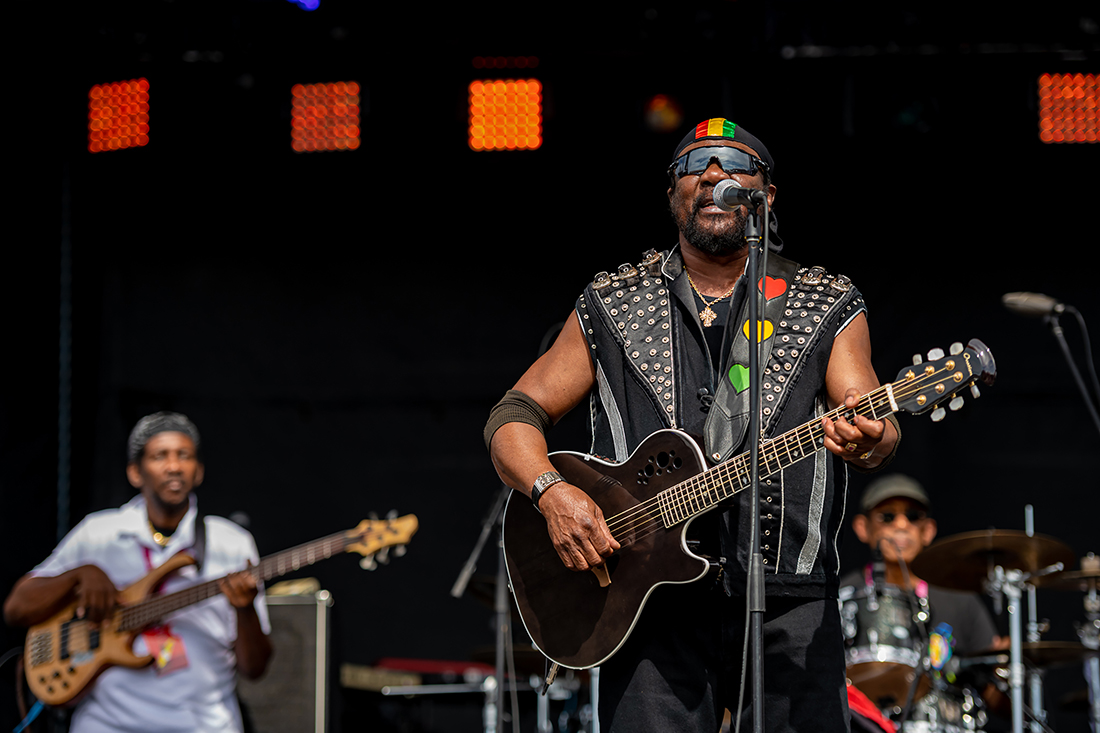 Toots Hibbert, the man who coined the term "reggae," played a Sunday mid-afternoon set. Toots & the Maytals' 50-minute set started 15 minutes later than the scheduled start time and concluded several minutes after the scheduled end time. Despite the timing, the band delivered a solid performance that featured some of Hibbert's most popular songs from the last 50 years.
***
"Where are you going? Where do you run?" the opening lyrics to "Shades of Blue," are belted out from the Palate + Play stage as I walked past the Blue Moon Grove and a bustling food truck area. I knew that Kate Usher & The Sturdy Souls had taken the stage. As the band begins "Life is Beautiful," I noticed a large, open space directly in front of the stage. I walked right into the empty space, bypassing everyone, as I wanted to be front row for this set; the other spectators soon followed suit – closing the gaps and gathering 'round.
Initially, the crowd was hesitant to truly let loose, but mid-way through the band's set, they began to get comfortable. Usher's soft yet raspy and enthralling voice pairs beautifully with the instruments. Kate and her Sturdy Souls made the most of their 30-minute early afternoon set and closed with a bluesy and captivating rendition of Wallace Collection's "Daydream."
***
Eating kimchi latkes with a stranger who quickly became a festival friend was one of the highlights of day two at KAABOO festival. Chef and restaurant entrepreneur Nyesha Arrington took over the Palate + Play stage for a 45-minute live culinary demo featuring the aforementioned dish. Arrington took time to answer audience questions, talk about her experience on Top Chef, and her two LA-based restaurants.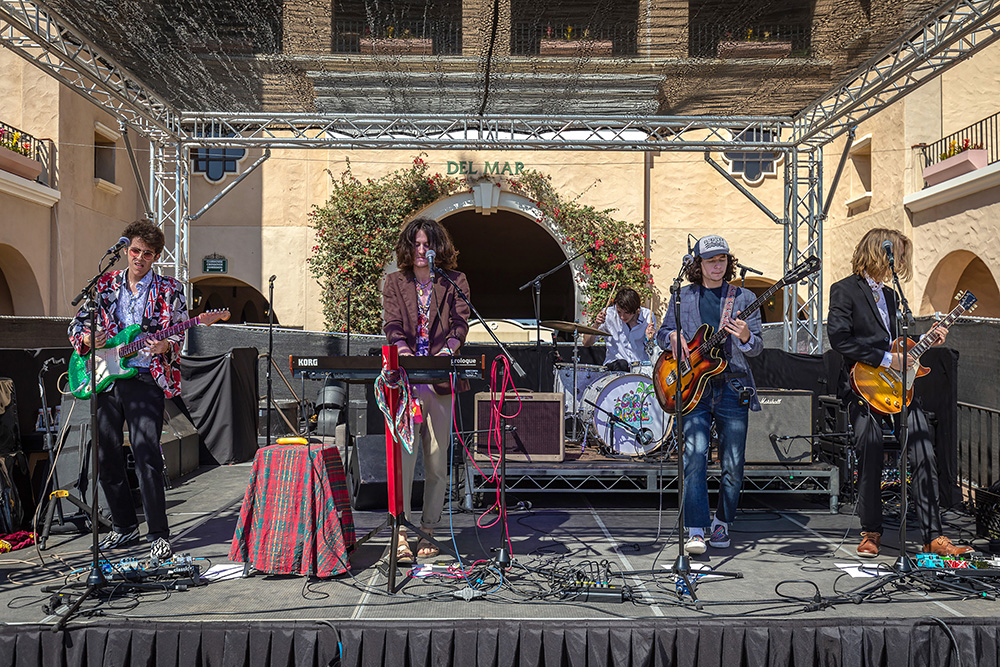 The Amplify VIP stage featured some well-known artists during the course of the festival weekend, as well as some little-known artists with a lot of potential, such as alt-rock band Sir, Please. The young band – joined onstage by a horn section – were an unexpected surprise to start day 2 of the festival.
***
Snoop Dogg closed out day one of KAABOO with an hour-long performance that included his hits and collaborations. Midway through his set, Snoop stopped the music to let everyone know that they don't make OGs like him anymore; no lies told here. Continuing with his set, Snoop was joined onstage by four pole dancers, his mascot, Nasty Dogg (equipped with an oversized prop blunt), and several of his own blunts. Fortunately for California's native son, his sound was impeccable and the crowd was engaged, danced and rapped along for the duration.
Plagued with microphone and sound issues for the duration of their hour-long set, Wu-Tang Clan performed to a disengaged and frustrated crowd, many of whom were not familiar with the Staten Island natives. Despite all of this, Wu-Tang delivered what they could, even performing "Protect Ya Neck" in its entirety, Acappella.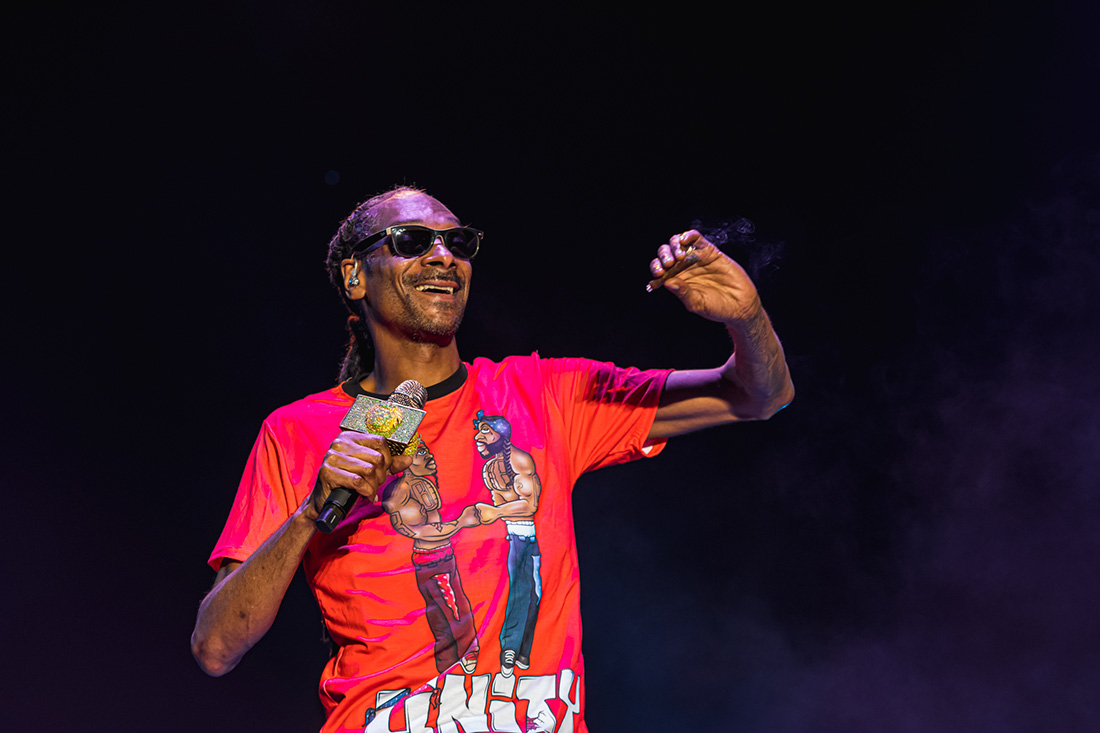 Boyz II Men, despite experiencing some sound issues, reminded everyone just how talented they are vocally. The trio sang their career-defining hits, including, "Water Runs Dry," and "I'll Make Love to You," and covered Bruno Mars' "Locked Out of Heaven," and The Beatles "Come Together." In addition to delivering a strong vocal performance, Shawn and Nate showed off their instrumentation prowess on the electric guitar and bass, while Wanya displayed some interesting dance moves. Boyz II Men closed their set with their biggest hit, "End of the Road," to which the crowd belted out, in its entirety, nearly drowning out Boyz II Men.
***
Vintage Trouble was the right band to kickstart KAABOO 2019. Vintage Trouble has the type of music and stage presence that can make anyone forget about what's going on around them. The band played the second set of the day and the enthusiastic crowd continued to swell for the duration of their performance. Lead singer, Ty Taylor's energy is infectious, his dancing is reminiscent of James Brown, and he spent a good portion of the set crowd surfing. The band's set was too short because we all wanted more. This won't be the last time that I see Vintage Trouble on the KAABOO stage, or any stage for that matter, as they are sure to headline in the future.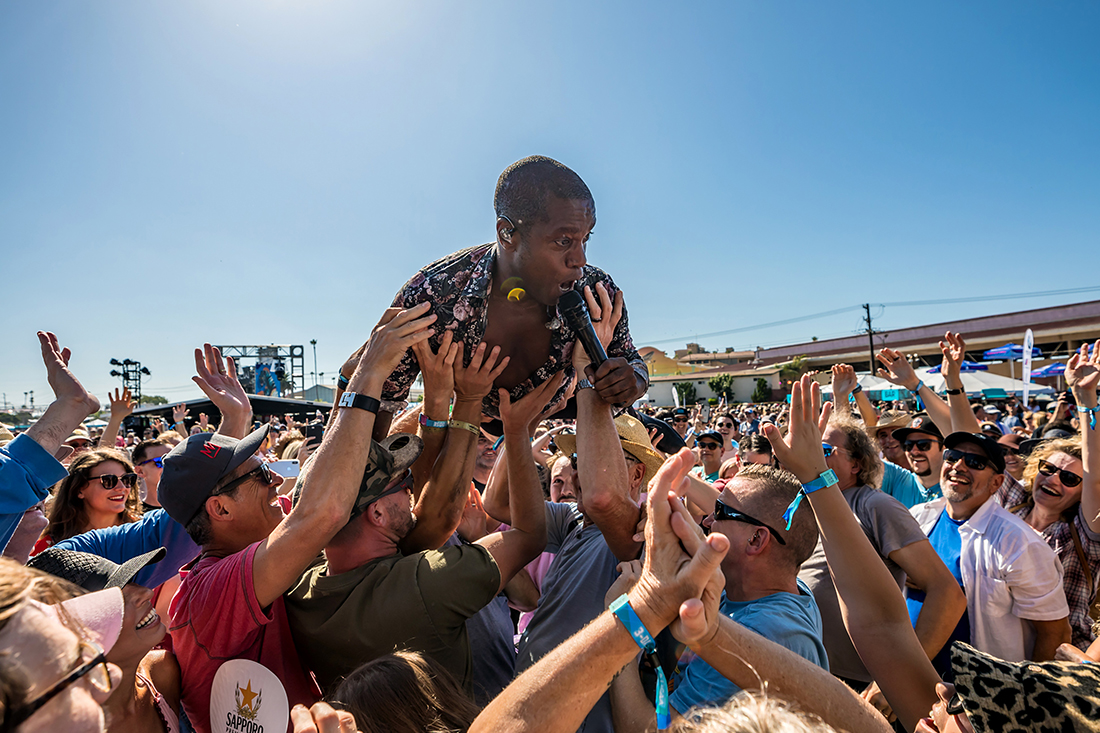 And here I am, day one of a sold-out KAABOO at the Del Mar fairgrounds, just a few miles north of San Diego proper. KAABOO describes itself as a "luxury, choose your own adventure" festival that was created with the intention of appealing to all five senses. It's one of the hottest days of the year, with afternoon temps registering in the 90s along the coast. I spent the days leading up to the festival scheduling interviews with several bands, as well as plugging various set times into my calendar and KAABOO app to ensure that I didn't miss any bands. It is sure to be a long weekend, but with so much to offer, it will be an intriguing experience. Here it goes.
Photos by Alive Coverage