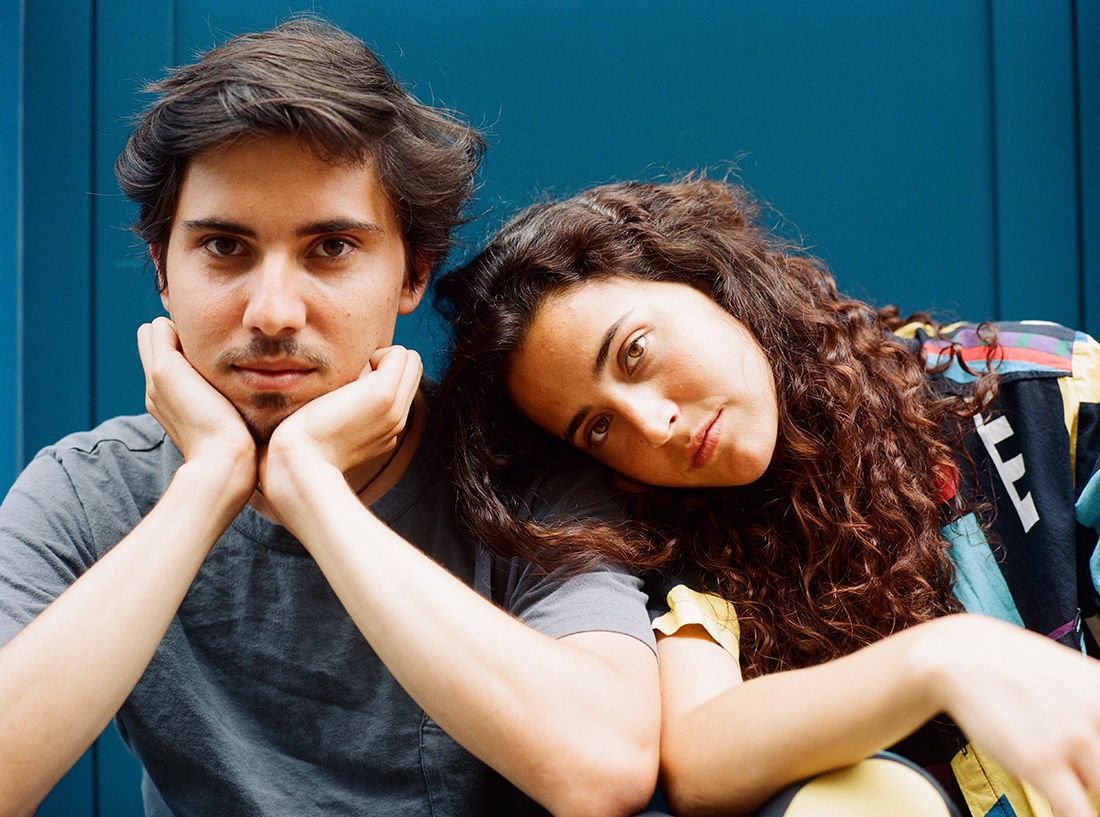 These last couple of years have proven to be a great time for musical collaborations. We see not only the alike artists join forces, but performers mixing genres in new and fascinating ways. One of the most recent collaborations to catch my ye is producer and multi-instrumentalist NASAYA, who is a well-rounded electronic crossover artist, joining forces with Portuguese performer MARO. NASAYA's skilled production techniques coupled with MARO's phenomenal voice are a force to reckon with and after dropping their first single, "TEMPO" earlier this summer the duo recently announced not only another single, "I SEE IT COMING", but a future EP, PIRILAMPO, all coming to fruition under the Odesza's Foreign Family Collective label. 
It is time to get to know this duo a little better over friendly conversation: 
Kateryna Topol: Hello NASAYA x MARO, how is your summer going so far?
NASAYA: Pretty good!! France opened back up in June and we enjoyed going out for the first time in a very long time – It's starting to feel a bit "normal" again which is great. We also started releasing music from this project which feels amazing.
MARO: Definitely a lot of work to catch up on, hehe, but more than excited about the music NASAYA & I are releasing. I'm also currently in Portugal which always feels amazing!
KT: Both are wonderful locations to spend a summer in! How did you two find each other?
N: We were both students at Berklee in Boston, and we had many friends in common. We've always liked each other's music and talked about doing music for a long time and we collaborated for the first time in 2019 for our first song "MIDNIGHT PURPLE"
M: … After some time talking about working together, we finally made it happen, when we both moved to LA. But we actually started taking it a bit more seriously pretty recently, ending of 2020, and it really has been a thrill.
KT: Congratulations on the release of "TEMPO" – beautiful track! How did this collaboration work?
N: We've both wanted to work on a project for a long time and in October of last year, since we both had moved back to Europe because of the pandemic, we decided to do a writing trip in Portugal. We wrote a lot of songs and "TEMPO" is actually a mash-up of a lot of samples/ideas from other songs we re-sampled into this one. It came out super quickly and I think we instantly knew that it was a special one.
M: I think NASAYA and I love a lot of the same music. And what I love about working together is that we are both into experimenting and allowing us to just feel things out, whenever we start coming up with sounds and ideas. It's great because a lot of cool things come from it. In a more specific way, after we decide the initial route, I tend to write melody and lyrics while NASAYA keeps on designing the space. It's seriously so much fun!
KT: Sounds like a great collaborative environment. And we can expect more from you as a joint venture in the future …
N: We wrote a lot of music we love on that trip so there should definitely be more songs coming out of this 🙂
M: YES. Not only have we written some other songs we really want to release in the future, but we also want to keep on creating and finding new ideas. So definitely a lot to expect, still 🙂 
KT: NASAYA, I've read you have a musical education background, what about you MARO?
M: I started studying piano at the age of 4 and ended up doing the whole Conservatory. My mum's a music teacher, dad's a music lover and we always had a very musical upbringing so, even though I never considered being a musician till I was about 20, music was definitely very present throughout my whole life. 
KT: Wow amazing, lovely musical family foundation. What are your favourite instrument to play?
N: Guitar is the main instrument that I've played for a while – but I love playing bass and keys too.
M: For now, piano and guitar are my refuge, really. But I've always been in love with drums and bass so I'm still hopeful I'll find the time to just dive in and have fun with them, one day.
KT: Looking forward to seeing what you would do with those! What, or who were your biggest musical influences growing up?
N: When I was younger, my parents listened to a lot of classic rock such as Supertramp, Led Zeppelin, Jimi Hendrix etc which were my first musical influences. Then I went to study jazz and around the same time discovered more electronic artists such as Bonobo, Jon Hopkins, Kaytranada or Flume who've influenced my music a lot.
M: I always find it a bit hard to answer that since it varies a lot. But some of my absolute favourites were (and still are) João Afonso, Rajery, Nick Drake, Joni Mitchell, The Beatles, Bulgarian Choir, Coltrane… These are just some of the many names that have shaped me.
KT: That's a very hot list of artists, I can see the influence. At what point in your life did you realize music can be a career? 
N: I think pretty shortly after starting to learn guitar when I was around 12-13. I knew I wanted to work in an artistic field and was very into video/photo editing – but music just clicked for me and was so obsessed with playing guitar that I knew it was the only 'career' option for me!
M: I discovered late, actually. Even though I studied classical piano for years, I was sure I didn't want anything to do with music. I started writing songs at 11, but it was always a thing I kept for myself, never taking it seriously. Only way later, at 19, I had a bit of an epiphany and realized nothing would make me feel the way music does. So I decided, very last minute, to drop everything I thought I was going to do (which was veterinary/biology) and applied to Berklee. It was a pretty quick turnaround, but I'd say a very happy one.
KT: That's almost kind of romantic. Were there any particular triggers for that feeling?
M: There was a specific moment, yes, where I was listening to a Milton Nascimento song, and it all hit me. I always lose my sleep and have all the feels whenever I listen to something new that I like, or not even new but that hits deep, and Milton's songs do that. Coincidently, that time, for some reason, I realized it was actually something incredibly special and that I shouldn't keep ignoring. 
KT: How has it been working with the Foreign Family Collective? 
N: It's been amazing. They've been such great partners to work with and I'm so happy about how this first release turned out already. They've also helped us make our first music video which I'm super excited about.
M: They are wonderful, really. They're so incredibly excited about the songs and willing to push the project forward, as they believe in it as much as we do. I think, in the end, that's exactly what you want and look for in a team.
KT: Deffinitly. Having all just lived through a very bizarre year globally, how was it for you? 
N: It was a strange year for sure, I was living in LA at the time and I left to go home in March 2020 and ended up being 'stuck' there for a couple of months. I then ended up moving to Paris and have been living here for over a year now which I love. I've always wanted to live in Europe. I can't really complain though – I've been lucky to still be able to create/write for multiples projects – and wasn't too impacted by the pandemic compared to a lot of people.
M: I was lucky enough to not get too caught up in it, in a way. Even though all plans and work got cancelled, things got hard financially and everything felt absolutely lost, I got to go and spend the first few months in isolation with some people I love, which was life-saving. And lately, I've been trying to just remind myself that things will change soon, hopefully going back to some normality.
KT: Fingers crossed. Do you think the music industry will change in any way?
N: It will probably! Since there weren't any live shows happening and clubs closed for a long time I'm curious if it will impact the overall sonics/feeling of music that people write, especially in dance/electronic or the kind of music that is more 'tied' to a personal experience. I also think it's gonna be even harder for smaller/emerging artists when it 100% opens back up as the live opportunities/tours might almost exclusively be for established artists? Even for music releases, I feel like a lot of artists are gonna fight for attention.
M: I'm not entirely sure about the impact in the actual industry, yet. But I do think everyone's dying to experience the real world again. Live music, concerts with singing and cheering and just excitement all around. I think both artists and audiences will live it all with greater enthusiasm and energy. And that is something I'm definitely looking forward to.
KT: Me too! What's next for you?
N: I'd love to play some shows again soon – and I want to start writing maybe for a longer solo project because except for this EP with MARO I've only put out singles before. I'm also gonna keep writing and producing for other artists
M: I'm planning to release my album in October. Until then, I'm wrapping up my little "ITSA ME, MARO!" series, releasing the rest of the EP with NASAYA (we still have some surprises!) and there might be some shows, but all up for confirmation, still.
* * *
Stay tuned for NASAYA x MARO PIRILAMPO EP in the coming months.