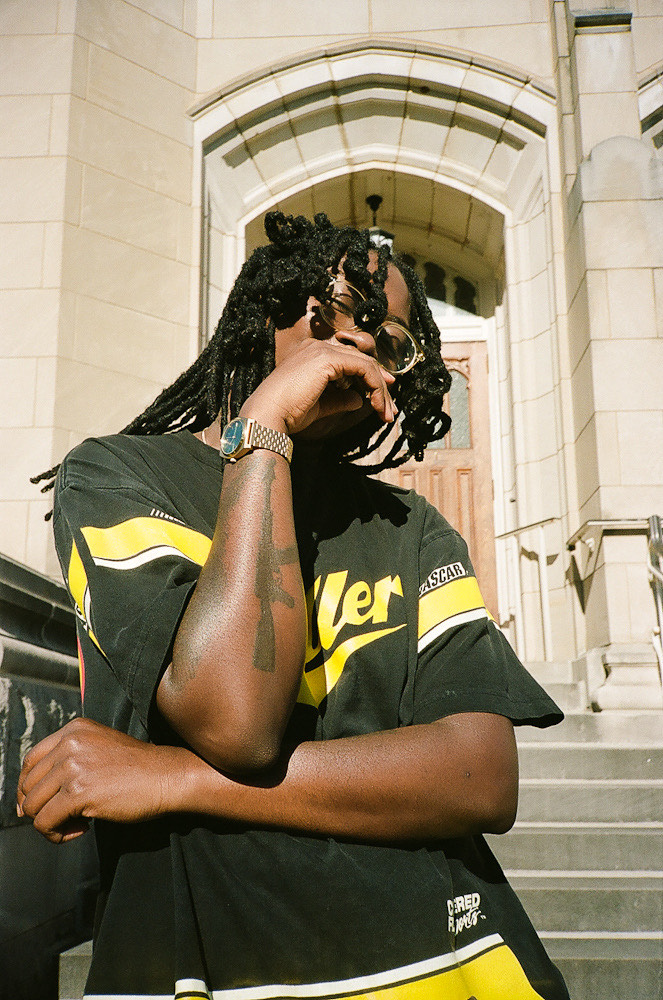 Words by Christopher K | Images by Nuku Muingbeh
Cyanca, the R&B singer/songwriter and producer from Charlotte, North Carolina, has a smooth sound that will catch your attention in an instant. After releasing her EP The Aisle of Queens back in 2017, she decided to drop a Deluxe version ofrecord in 2020. Having decided to remix two of her songs, she collaborated with a longtime friend Elevator Jay on the track "EAT" and Durand Bernarr on the remix of "New Phone, Who Dis."
Like most artists during the pandemic, Cyanca took the time to step back and reevaluate her mental health. Now a year into the "new normal" this neo-Soul artist is primarily focusing on what brings her joy while blocking out negative energy she no longer wants around her.
These days R&B can be a hot topic: Some will share their critique of having a disinterest in today's R&B; others may favor R&B of the 90s and early 2000s. And then, you have those who believe current R&B artists are lacking what made 90s R&B what it was. Now and again, conversations come up comparing newer artists with the R&B artists of the golden era, you can hear debates over which artist lacks something or could be the next D'Angelo or Jill Scott. However, Cyanca wants you to stop looking for the next D'Angelo and let today's R&B artists add their own unique flavor to the perpetually evolving genre.
Christopher K: How have you been doing, as not only an artist but an individual dealing with the pandemic?
Cyanca: I've been doing well, I think the beginning of the pandemic I definitely took a step back. I feel like we all were forced to do that honestly and reevaluate some things. I decided to spend more time with family and work on my mental health. I also started going to therapy… I haven't gone to therapy in years. There have been rough days when we were first locked down, it was different not being able to go to the studio. I think I've handled the pandemic pretty well. I had to create my own space, I had to create a studio in my house so I can keep going. At the end of the day, I still have a purpose, I have a job that I love to do in the mists of all of this. 
CK: We rarely get to know the culture of Charlotte, North Carolina, or even North Carolina altogether. We know some of the artists out of NC such as Rapsody, Little Brother, DaBaby, and of course J. Cole but what would you personally say defines Charlotte, North Carolina culture?
C: I think it's a melting pot. There are so many different sounds coming out of Charlotte. Even from the artists, you mentioned there's nobody sounding like them. They're all in their own specific lane. You have Rapsody, she's a super lyricist, my big sis for sure. Deniro Farrar, he's in his own lane; he's got that dark, grungy voice to him. We also got Dreamville's Lute West he's representing from the Westside. I honestly feel like it's just a melting pot. 
I feel like the culture here is strong. I think it's developing. A lot of people are asking, "what else do we need to do to push it?" I think there's nothing else for us to do but keep working hard and keep the exposure and the visibility of the city going.   
CK: You recently dropped the Deluxe version of The Aisle of Queens featuring two collaborative remixes with Elevator Jay and Durand Berrnar, what it was like working with them?
C: Elevator Jay and I have always had a dope relationship and we support each other. I'm not originally from Charlotte, I'm from the (919) area but I've known him for a lot of years. The "EAT" remix we did that a long time ago. As for Durand Bernarr, it worked out perfect because I was just only gonna just drop the ["EAT"] remix. Until somebody tagged me one day and said they saw Durand singing "New Phone, Who Dis" on his Instagram story. I had already followed Durand on social media, so I reached out and asked if he was trying to get on the remix. He's a great artist; I've followed his journey for so long. He went from making YouTube videos of him singing in his room. To now on big stages with Erykah Badu. It was a fulfilling moment, and both Elevator Jay and Durand Bernarr I can really call them my friends.
CK: You got a chance to do a virtual performance at the Neighborhood Theatre in your own town and you shared in an Instagram post that "it was a dream of yours." How was that experience?
C: It's been many obstacles for Charlotte artists to shine with specific venues out here. They don't show a lot of love… well, some of them don't offer a lot of love to the hip-hop community. I've heard from many artists they've been trying to get on the Neighborhood Theatre for so long. It's a defined feeling for me to conquer these places that don't want to show my people some love. Rally on some Beyoncé when she performed at Coachella, she was the first Black woman to ever headline Coachella, and she said, "Ain't that 'bout a bitch?"  I look at myself as a leader, and I gotta show the artist behind me that you can do whatever you want. You can't let nobody be in your way.
CK: I have to ask, what do you think of these virtual performances from an artist's and fan's perspective?
C: It has its pros and cons. I think the pros for me is I don't be nervous when I'm doing these live streams because of course there's nobody in front of me. You get to create all types of props, you can put a green screen, you can really just have fun with the technology of live streaming. It's different. It's a huge adjustment. What I do miss I think the cons of it is I do miss the people. I feed off of the crowds, their energy I feed off of their vibe. I haven't been able to go off of that. I really am the only one that's keeping me motivated on stage. That's a little different for me. 
CK: When you hear people drag today's R&B and they make comments like "You guys aren't doing this enough, you guys aren't exuding superstardom like D'Angelo" or "lack the sound like Ms. Lauryn Hill " and so on – can I get your perspective on today's R&B and what you want to say to those who don't think today's R&B isn't as great as the 90s or 2000s R&B?
C: I think R&B is in an excellent place right now. I don't see how people can say stuff like that when you got artists like Steve Lacy. He can play and produce his whole project on his phone. We have Tyler, The Creator who just put out this fantastic album that he produced from top to bottom. There are so many incredible artists out there people just don't want to accept it. When I see people like Victoria Monet, she's awesome, her pen game goes hard. Not too many people know she writes for Ariana Grande. I can name artists like SZA, Ari Lennox, Lucky daye, you even got Smino. I saw Smino live, and it blew my mind. I just think people are stuck in their ways. Honestly, I don't want another D'Angelo because there will never be another D'Angelo. I just want somebody to be who they are and put their own flavor onto their own sound.
CK: Do you think you'll be dropping any new music soon?
C: I'm dropping a four to five-song EP pretty soon. I'll be dropping my album after that. I've been working on this album for three years. It's all about timing first. This is my baby, so for the album, I want to drop it when the time is right. So, I'm dropping the EP for sure 4-5 songs. I'm going to continue to work on his album because this album is huge to me.