Red Bull Music Festival Toronto (RBMTO) kicked off strong on October 17th with Alice Glass bringing her unique brand of kinky to The Fermenting Cellar.
The Toronto-native electro-punk star has been in the spotlight since the early age of 15 when she was one half of Crystal Castles; but that decade was filled with systematic and emotional abuse distributed by her ex-bandmate Ethan Kath. Years later Glass spoke up about what she's been through and we're proud of her coming out on the other side of that dark tunnel a stronger, independent, and powerful woman. Not to rehash the dark days but the dark ages of Alice Glass have made her who she is today and who we saw in full bloom in the Distillery District this Wednesday for RBMTO.
The opening performance, made in collaboration with filmmaker Floria Sigismondi, was ambiguously titled The Doll House – a phantasmagoric world brought to live by Alice Glass' post-industrial soundscapes. The venue, with it's exposed brick, rough around the edges was a perfect stage for Glass and Sigismondi's brave, broken, wonderful dolls to come to life (cover image).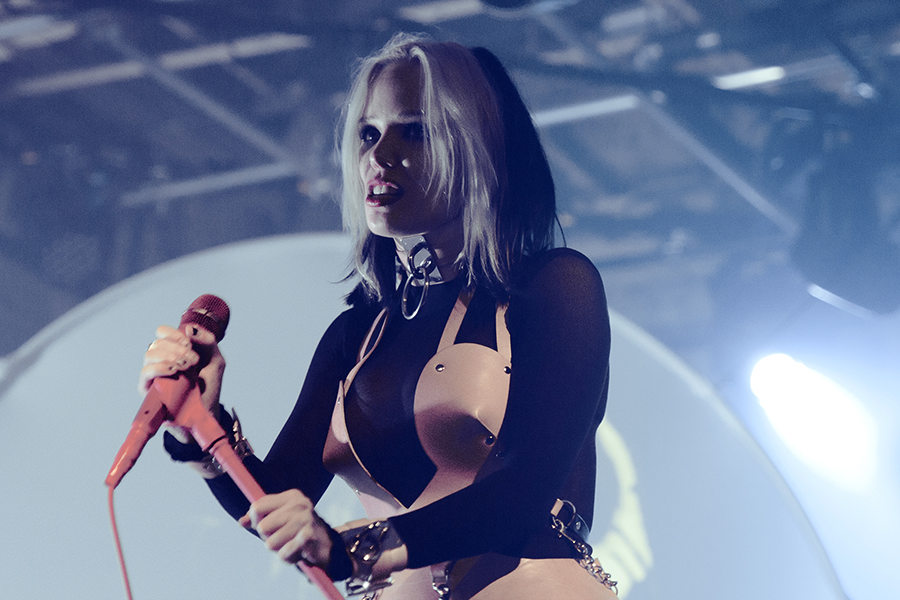 Thursday night the festival moved west to The Great Hall, a newly renovated classic performance venue on Queen West. As you walk up to the building you are greeted with a large, weathered graffiti sign: "You've changed" – yes, I sure have, so did you. The neighborhood has become more polished since the sign went up. Round Robin: A Night of Improvised Duets is a Red Bull signature event held in cities across the world has finally made it's way to the not-so-humble Toronto. As you walk up the red carpeted stairs you get greeted with a crisp brochure:
"To begin, a musician will take the stage for a five-minute solo performance. Then, another artist will join them for five minutes of duo improvisation. When that's finished, the first musician will leave the stage, making way for a new artist to emerge and a new collaboration to be born."
The elaborate Great Hall stage was an excellent setting for the avid array of instruments brought out by the 18 participating musicians – guitars, violins, a harp, various keys and sound boards, drums, turntables, and mics, lots and lots of mics. Over the next couple hours some of Canada's best musical talent took turns creating music on the spot, right in front of the live audience. Toronto's artist and musician Maylee Todd opened the evening with a solo harp performance and was shortly joined by Angus Tarnawsky, local sound-artist and experimental musician and together, they slightly bent reality. A violinist, Andrew Forde, overlapped with multi-instrumentalist Casey MQ on the decks and later turned things up a notch or four with Skratch Bastid. Gurpreet Chana took us into the closing set of performances on the tabla overlapping with KAAN from Kilmanjaro and the one and only Tanya Tagaq who wrapped up the night with TIKA in an emotional duo performance joined by Maylee Todd for echoing dramatic effect.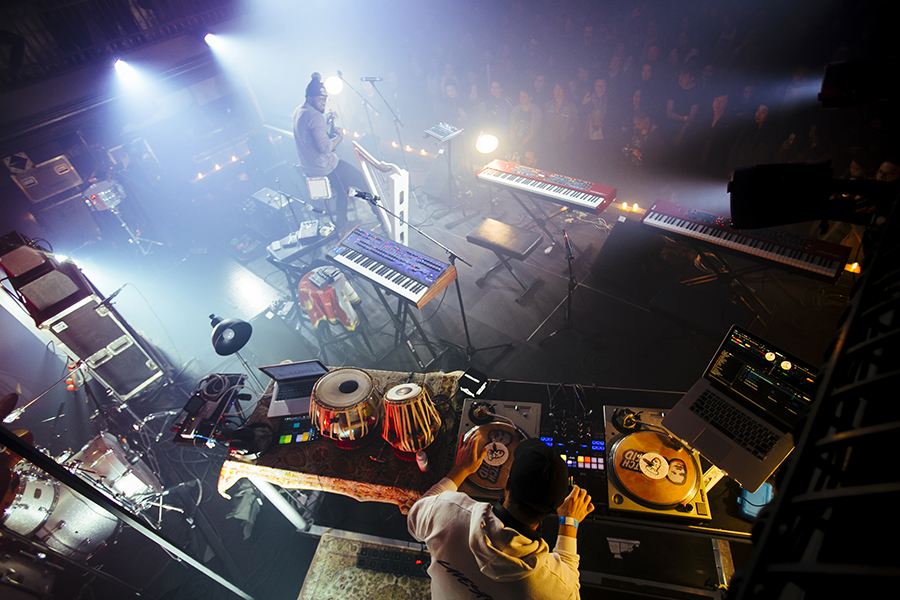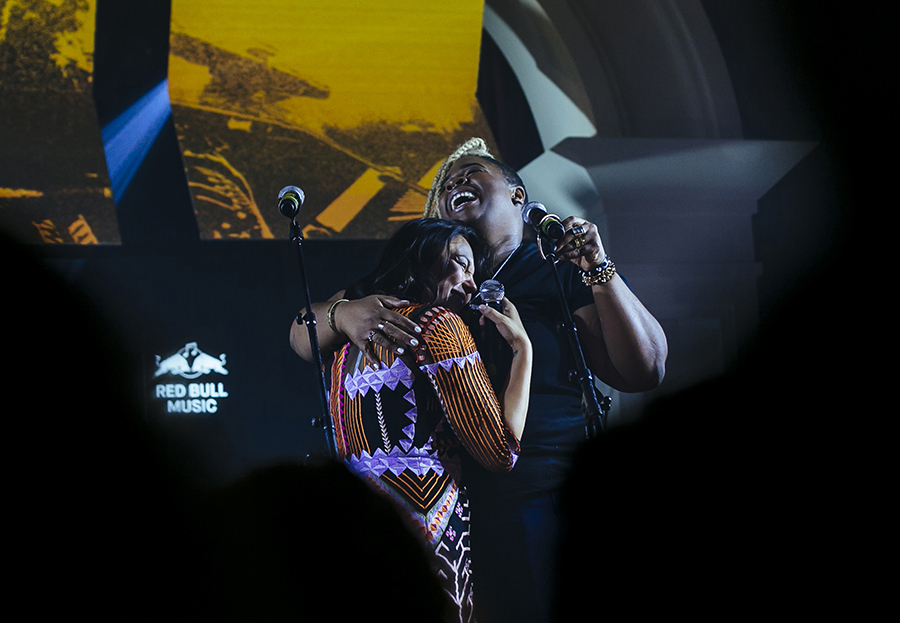 Closing night the following Wednesday took us to Love Child, formerly the Hoxton, for a homegrown lineup of hip-hop stars in the making. The night was off to a rough start with people lining up outside while the early performers begun to take the stage, sorry Yasmine, we were literally out in the cold. As the lineup diminished, glow-in-the-dark drinks filled the cups, Pilla B's rhymes took us back to a 100. At ten, ladies from The Sorority took the stage. pHoenix Pagliacci, Keysha Freshh, Lex Leosis and Haviah Mighty have been a squad since 2016 and that energy is magnetic. Their rhymes are sharp and vibes take us back to the good old sounds of the 90s rap. These women are professionals and will rap you under the table in a few quick lines. "Sorority chicks made my night," I overhear by the bar, yeah man, me too, same.
But the night was not over, Ebhoni's R&B vibes and star energy were a nice transition while Lil Berete took us into the night. Both artists brought guests out on stage and Lil Berete came through with his own support squad. This teenage prodigy definitely has talent but needs to get comfortable performing on a live stage – this night was an example of his heavy dependance on the DJ as he was holding back from rapping live. But no worries Lil Berete, we're patient, we'll wait.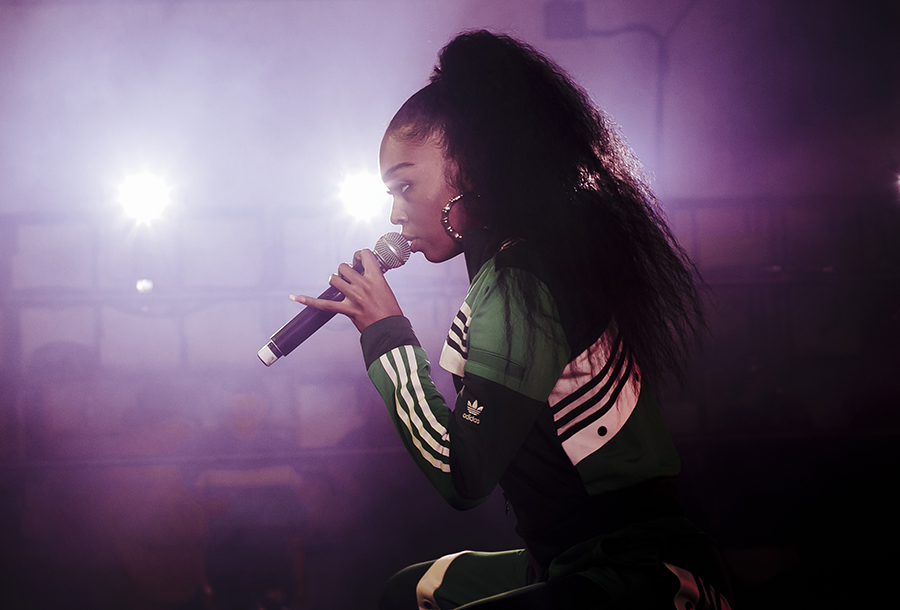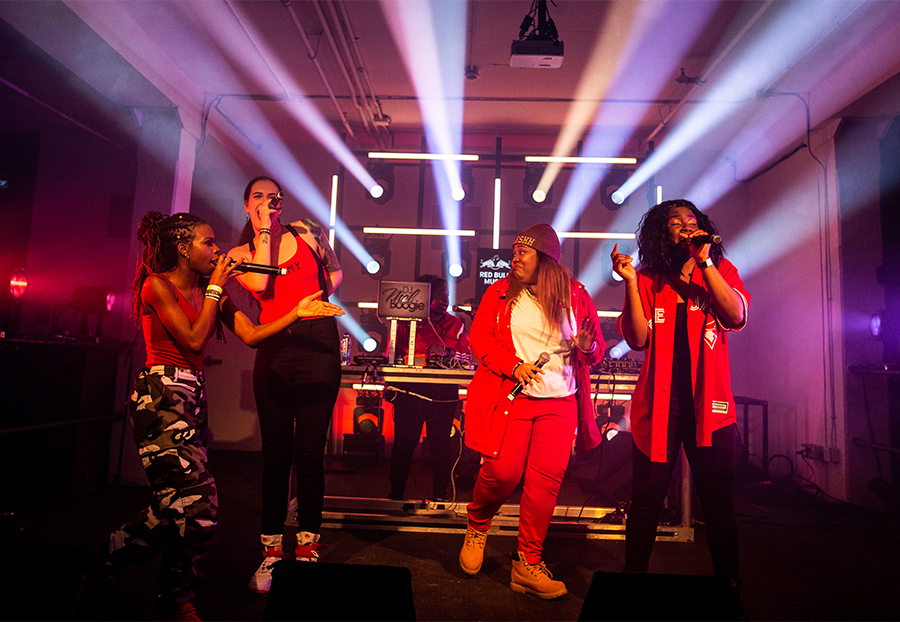 Photos: Alice Glass shot by Vicky Mahoney for Quip Magazine; photos from Round Robin and Collision are courtesy of Red Bull Music.