Austin, Texas is known for its food trucks, flags, art installations, and, more importantly, live music – making it an ideal location to play host to C3's annual Austin City Limits Festival – a two-weekend music festival that attracts some of the most sought-after bands and solo acts in the industry (i.e., Janelle Monáe, Paul McCartney). Inspired by a live music public television show of the same name, the festival is layered in Austin culture and although music is at the core, ACL has become more than "just a festival." Gone are the days of festivals simply providing mainstream music, today they must provide a multi-day experience that festival goers will remember and talk about for years to come. And with so many avenues for people to explore music of any kind, the demand for unsigned/independent artists to play at this festival, and any festival for that matter, is at an all-time high.
There were multiple ways to get to Zilker Park (home of the festival): a lengthy walk across the Pfluger Bridge and an equally lengthy walk along the heavily wooded Butler Trail. But the short walk down Barton Springs Road to and from Zilker Park was the third and preferred route option for most. Hundreds of people blanketed the sidewalks, while well-decorated pedicabs blaring music from their bluetooth speakers swarmed the streets carrying passengers back and forth to the festival. Restaurants, food trucks and small shops lined this street leading to the park, and music from the festival could be heard from several blocks away.
Thunderstorms threatened the ACL all weekend, even causing festival gates to open late one day, but the sun was too selfish to let clouds and rain steal his thunder (pun intended). The heat and humidity were strong for the duration of the festival, forcing me to opt for dri-fit athletic wear all weekend. Despite my best efforts of staying cool and hydrated, there was no escaping the uncomfortable Indian summer that Austin was experiencing and the drenching sweat and layers of grime from being outdoors for 12 hours were just as much a part of the festival experience as the band lineup.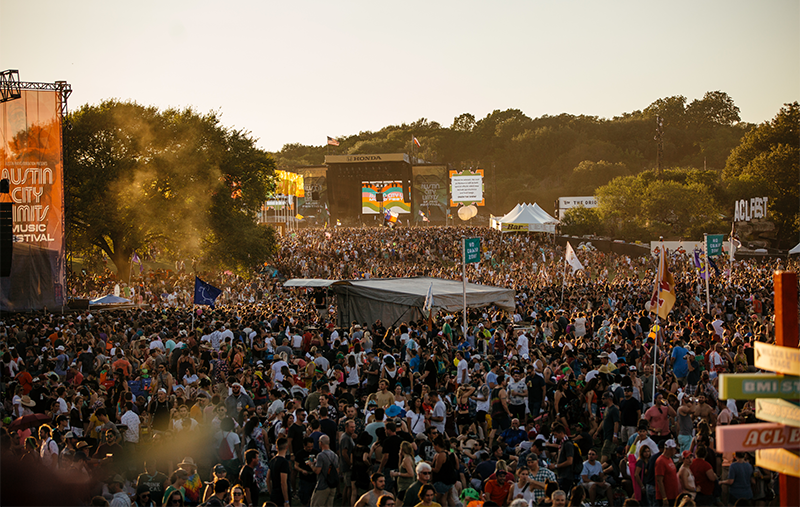 In addition to the 100+ bands and solo artists, the festival offered various experiences for attendees including art installations and shopping options provided by local, small business owners and for families there was Austin Kiddie Limits, which featured its own musical lineup. Experiential marketing activations, curated by corporate sponsors have become increasingly popular at music festivals. For ACL, the standout was the American Express Experience. Within the confines of this experience was air conditioning, sno-cones, a photo booth, flag-making kiosks, and an interactive music mural. Additionally, there was a rooftop bar and lounge overlooking most of Zilker Park, including the main stage.
Women dominated the festival with their music, their fashion, and their message both weekends. With the current tumultuous political climate in the US, many of the female artists used their time on stage to not only entertain, but to educate attendees on the importance of the midterm election, show their support for survivors of abuse and sexual assault, and to speak out against prejudice and sexism.
On Friday afternoon, Chicago native Ravyn Lenae delivered a solid performance, despite her soulful voice being overpowered by the band. Elsewhere, Mikky Ekko seemingly struggled to find the right falsetto register during his performance, but managed to pull off a middling set, backed by a two-piece band.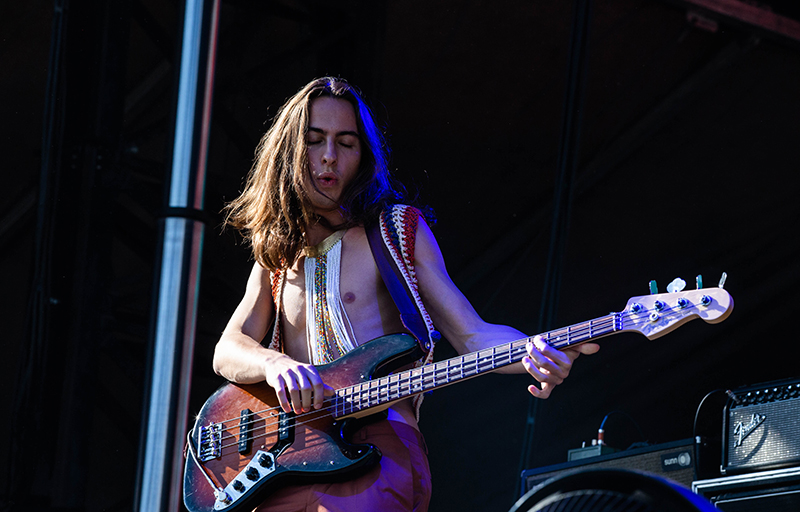 The crown jewel of Friday was rock quartet Greta Van Fleet, who drew one of the largest crowds of the festival. Having never seen the band perform live before, I immediately felt Led Zeppelin vibes and was in awe of their musical prowess on the stage. Greta Van Fleet pulled off a performance that even had the ASL interpreter rocking. As with many rock bands, guitar and drum solos are a must, but these extended solos, combined with the overall aesthetic of their nearly hour-long set, would've made Robert Plant tear up with joy. There were no frills, no visual graphics, no exotic lighting, and no dancers – just good old fashioned, yet original, rock.
Self-professed boy band Brockhampton are known for their high-energy and catchy lyrics. The hip-hop collective stepped on the accelerator and didn't pump the breaks until the very last minute of their hour-long Friday evening set. Not one member for the group outshined the other – their chemistry and stage presence left everyone yearning for more Brockhampton.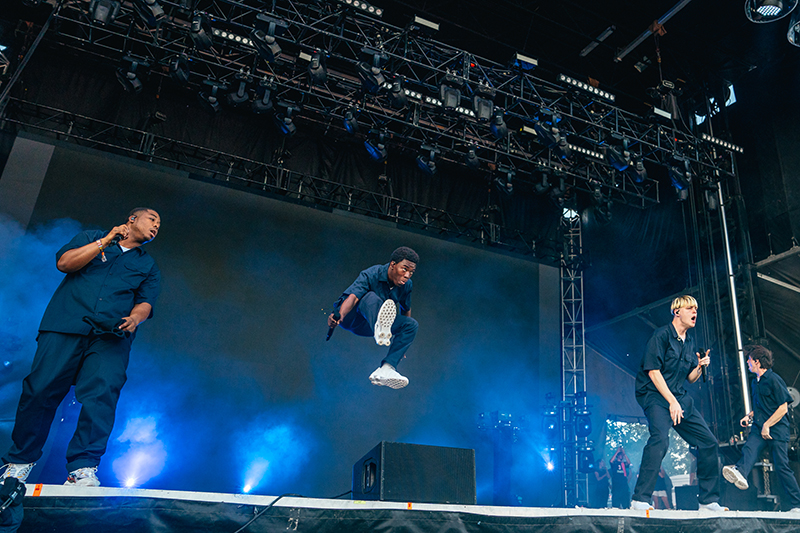 Austin native Jackie Venson kicked off the day on Saturday and showed that she isn't just a studio musician – she can deliver live as well – with a band and solo. Her raw vocals, highly impressive guitar play, and versatile sound set the tone, and the bar, for the remainder of the day.
Chilean singer-songwriter and guitarist Mon Laferte delivered a power hour of fun. Flanked by an eight-piece band and singing mostly in Spanish, Mon Laferte wore a short, leopard print dress with five-inch heels. She and her band executed their choreography while playing their instruments flawlessly and appeared to enjoy performing just as much as those of us in the audience who enjoyed watching and dancing along.
Seeing Nelly included in the ACL lineup filled many festival-goers with excitement and nostalgia. The St. Louis MC created some memorable music in the late 90s and early 2000s. The nostalgia and excitement quickly turned to disappointment shortly after he took the stage. Without a doubt, Nelly drew a very large crowd, but for anyone standing more than fifty feet away, hearing the rapper posed a problem as the sound was too low for an outdoor festival. Additionally, the "Air Force Ones" and "Tip Drill" rapper spent more time talking than performing.
Fans of St. Vincent can always count on her to deliver; accompanied by a badass female bass player, St. Vincent's keyboardist and drummer wore identity-concealing masks and blonde bowl cut wigs. St. Vincent wore a fitted, red, bodycon mini dress with knee-high nude boots and her signature guitar. When St. Vincent performs at festivals, it's always best for her to perform after the sun sets, as her shows include eye-popping visual graphics and attention-grabbing lighting. Her setup for ACL included a wall of lights that cut the stage in half, bringing her closer to the audience for an intimate and unforgettable experience.
12 pm Sunday time slots can be tough – the gates have just opened and the few attendees who manage to get to the festival grounds that early are likely still sleepy, hungover, or camping out for the headliner who doesn't go on for another eight hours. It can be hard to engage and draw energy from a crowd at that hour, but Amber Mark made it look like a cakewalk. Mark, who gives off 90s R&B vibes, turned her Sunday set into a day party; the early risers danced and sang from start to finish. Despite the heat and dancing, Mark's vocals never wavered; she performed a beautiful cover of Sade's "Love Is Stronger Than Pride" and showed love to Chicago with the house music-backed "All the Work."
Husband and wife duo, Sylvan Esso started a much-needed dance party at the Homeaway stage on Sunday night, complete with a light show, reminiscent of a warehouse rave. And with that ladies and gentlemen, we can bid the Austin City Limits festival farewell until 2019.
All Images are courtesy of Austin City Limits Festival