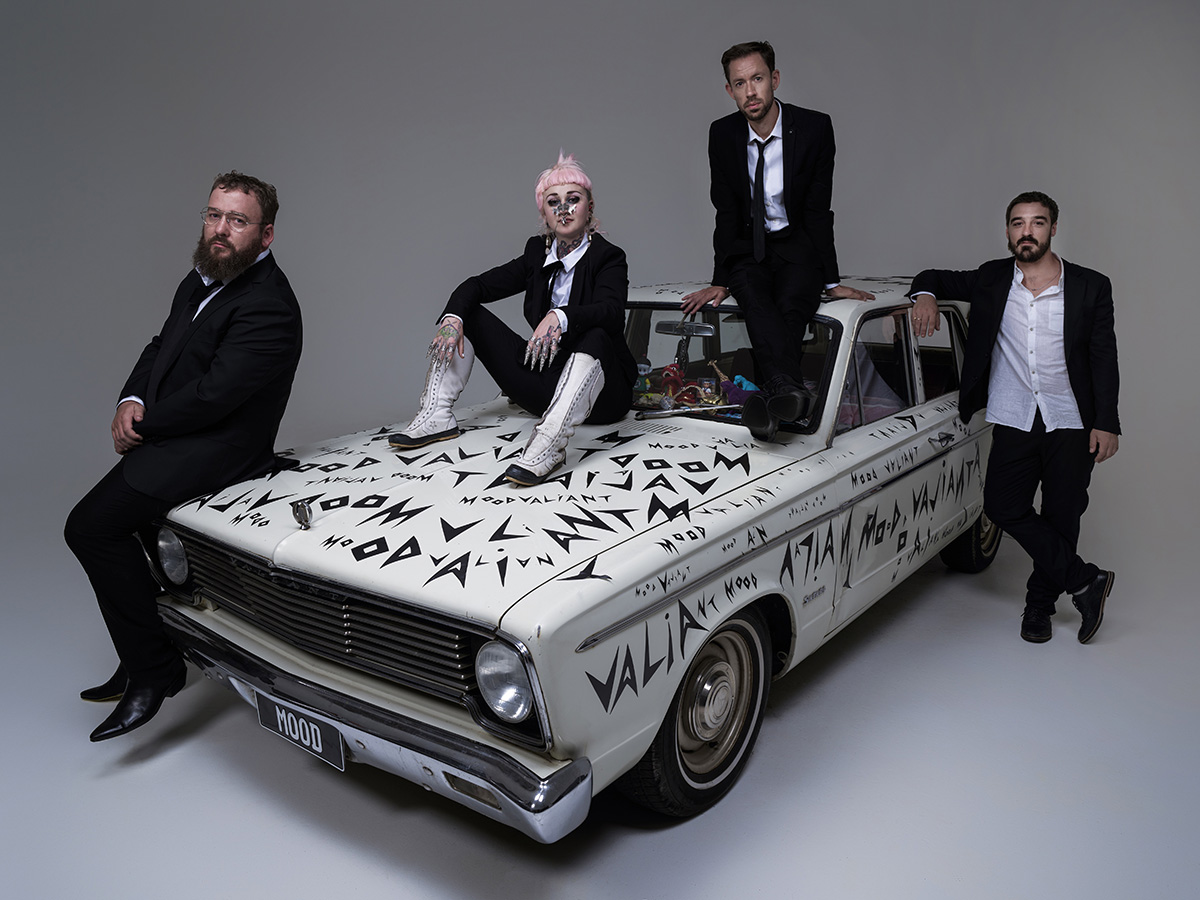 Melbourne-based band Hiatus Kaiyote recently dropped their latest full album release Mood Valiant via Brainfeeder Records / Ninja Tune. 
The band (Nai Palm on guitar and vocals, Paul Bender on bass, Simon Mavin on keys, and Perrin Moss on drums) first broke out in 2021 with Tawk Tomahawk LP, which got praise from the industry and established artists alike. The latest, third Hiatus Kaiyote album, is a transformation that departs from their typically recorded live set sound to a more polished studio production and according to Pitchfork "the most vibrant they've ever sounded on record".  
In light of this new release, Quip was able to get our hands on a few thoughts from the band on the process, transformation, and other fruitful insights on the new record. 
Working on the new album "Mood Valiant"
Paul Bender: From the first recordings we made towards this album to the completion, it was like a few years, you know, so it's always a complicated process. It's always long and it has its ups and downs and challenges and then sometimes bits that come together real easy… Some of these songs have been around for a while. Some of these songs are like, pretty old for us. And some of them were literally just invented in the studio… So, you know, the process is kind of endless.
Different from the work on your second album Choose Your Weapon
Perrin Moss: I guess there's a lot more…life experience in between, we're always trying to push our own boundaries in some way, shape or form, whether it be like a sound that we're trying to create or a mood that we're trying to evoke… We're always just trying to be the best that we can be… So I feel like this album is the same as… same as that for me anyway – same as the last record, like, at the end of Choose Your Weapon, I was like 'I'd never want to do another one of them again and then the same thing happened with this one. I can't do it anymore. But then, you know, once you have a break from it, you realize, it's really beautiful. And you learned so much from making an album, at each one we do.
On evolving as musicians over the last two years
Nai Palm: …As artists [you're] always going to be evolving. Even if we tried to make exactly the same album again, [we] could never do it. It's not in the nature of the universe. So I think the newest album is different because like Perrin said, we're all growing as people. So it's never going to be the same thing, even if you try. And also, not only is every album different, but every song is different, each song as we approach it, is its own movie, you know. When you have that much attention to detail, you're going to have thematic variation, hopefully.
On the album title, Mood Valiant
Paul Bender: Basically, Nai was raised by a single mom with a whole lot of siblings and she had two Valiants, a white one and a black one, the black one was called the 'Batmobile' and she would choose which one to drive that day based on her emotional state. So if mom came to pick them up from school that day in the black Valiant, you knew not to get on the wrong side because she was in a… she was in a dark [mood]. You didn't want to cross her. So, yeah, it's a nod to that as well as, you know, the duality of that name – the lows and the highs, the overcoming.
Nai Palm: The reason why I wanted to have that in the title of this record ties into my journey with my health, and that's that: During this record, I went through a breast cancer diagnosis and … overcame it and it's all good stuff. But I also lost my mother to the same illness. So it was very important for me to … kind of celebrate her.
On the concept of the album
Nai Palm: Even without the origin story, all art influences your mood, and we hope to do that. It doesn't necessarily have to cheer you up if you're sad. Sometimes when you're sad, you just want to, like, sit in the bath and listen to Radiohead, you know, you just go there and that's fine. That's the healing power of art, you know. And so the concept with this album is that we hope that there's something for every mood, that the spectrum of emotion is covered throughout the whole record. But ultimately we want it to make you feel valiant – we want it to evoke wonder and imagination [because] that's who we are. [Good art] can remind you of that magic because so much of the world is about conforming to the opposite of that, like reality check or focus on a job that you do every day that you hate because you need to pay off a mortgage or whatever. It's like art is coloring in the gaps and it's supposed to celebrate that chaotic wonder of the universe.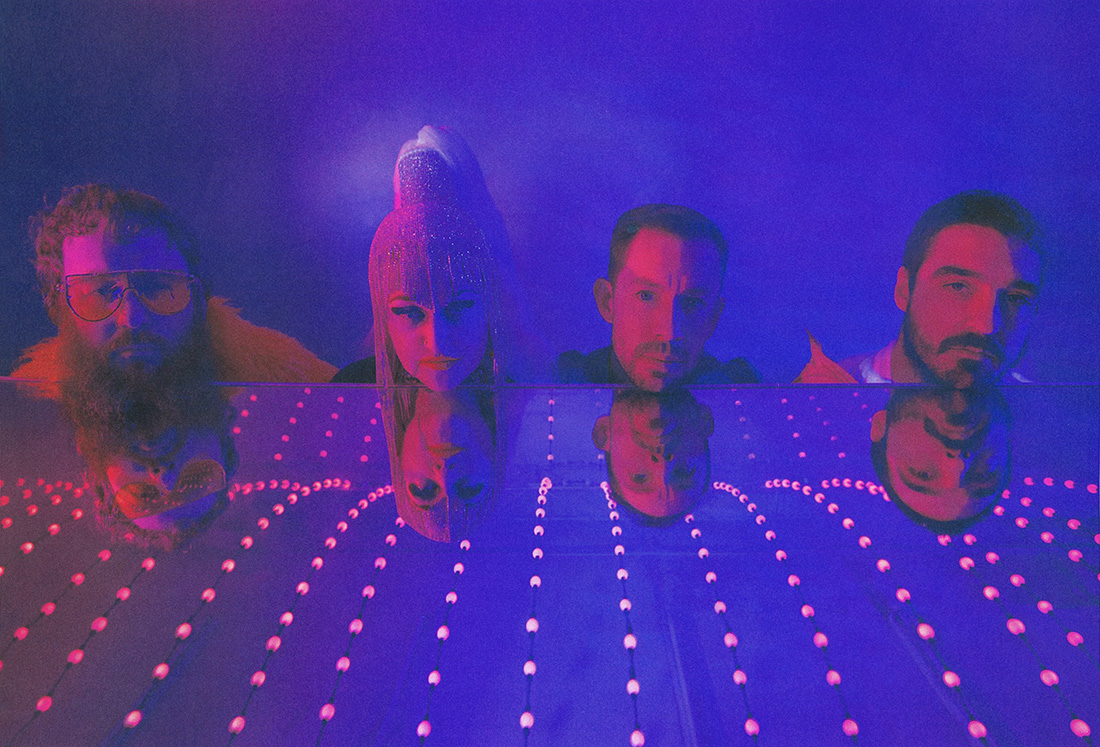 Speaking to singing about the natural world and the behaviour of animals
Nai Palm: I don't think there is a single song without an animal reference. It kind of starts as a simple idea, and then once I've got the theme, I can get really nerdy on it and go really deep on it. Which is also really fun in the studio…
Influence of jazz on the new record
Perrin Moss: I think, like my concept of Jazz is like something new that hasn't been done. So in that sense, I feel like we are Jazz because we're striving for things that haven't been done before.
Nai Palm: … It's like with Jazz as a genre now it's that old school type of music with lots of harmonic things. The reason it was called that it was because they were innovators… it is only traditional now because we're looking back on it, but at the time they were pioneers [in music].. they were creating something new.
Abut collaborating with Brazilian artist Arthur Verocai
Nai Palm: I think it was Pez who put me on to that record. We're all obsessed with the self-titled Arthur Verocai record. And when you ask Arthur about it, there's something truly magical about that record, it opened a lot of doors for him. And it had a resurgence, especially with Hip Hop. You know, Hip Hop is about referencing so much different things and celebrating them and breaking down barriers, and we were really fortunate with our career that a lot of people sampled us… It actually gave us a lot of momentum, when we weren't making any music, people sampling us kept us in the public eye. The idea to get Arthur Verocai in the mix was like being a part of that conversation… It was a big bucket list dream collaboration… and we pull it off, he wrote and arranged the most beautiful… It was just perfect for it.
Reflecting on meeting to having an international career
Nai Palm: … The tricky part is staying together… that's the magic that comes from patience, trust, communication, and putting in the groundwork to, you know. [It's about] making sure our mental health collectively is strong and our hearts are strong so that when we come together to create it's a joyful experience… We want to do this because we love each other and we love exploring creativity together. And I think that's the trick. That's how you can continue to make great albums, is if you put in that effort.
 Interview led by Marc Muehlenbrock, cover image by Tre Koch