Artefakt are a Berlin-based, Dutch duo Nick Lapien and Robin Kopek. Having met years ago in university, where they both studied music, Nick and Robin take a very innovative and technical approach to music production. Artefakt's latest single, "Chimes At Midnight," was released via Sound of Berlin (SOB), a multichannel platform and a record label on the mission to amplify smaller voices around Berlin's electronic music scene. This track is a mood – it's a vivid memory of clubbing until sunrise and strolling home pleasantly exhausted, likely dehydrated, but happy to have stayed up through the night. 
In light of this recent release and a fun giveaway that we are hosting with SOB Quip caught up with Artefakt for a chat. Here, the duo will talk about their musical background, collaboration, music collection, and many other things. Let's dive in.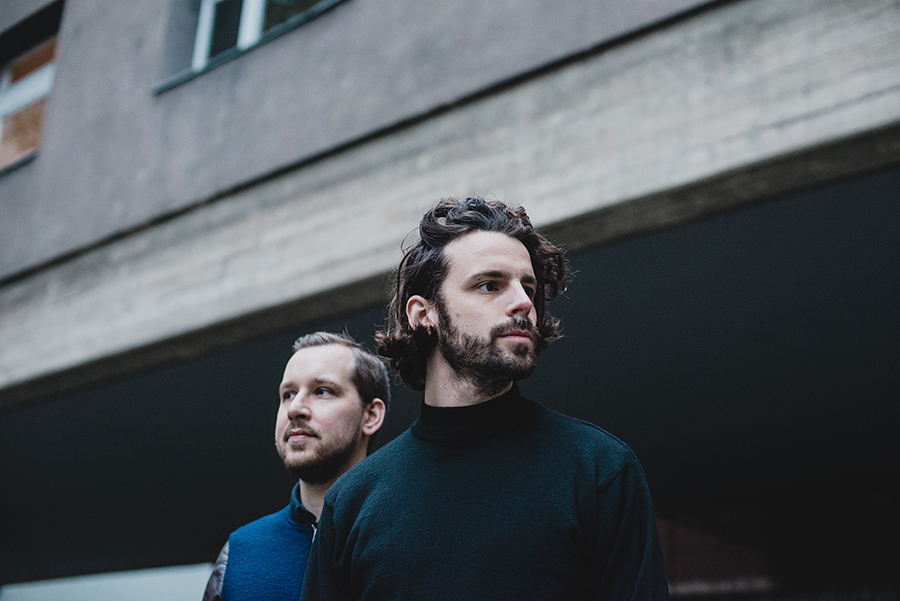 Kateryna Topol: Hello Nick and Robin – how is the early summer season treating you so far?
Nick Lapien: We are rediscovering Berlin after an extended lockdown and it feels great to see the city blossom. Meanwhile, we are spending a lot of time in the studio preparing our upcoming live set. For this, we are exploring new techniques, processing the acoustic piano, and re-thinking our hardware approach.
KT: Sounds exciting! Let's step back a bit: You've met in university both studying music technology, what was your relationships with music prior to university?
NL: During my teenage years I had a small bedroom setup with a Groovebox from Roland and a tape deck—this is how I made my first live recordings. This is where my love for electronic music production and live improvisation using hardware began. I also played guitar in a rock 'n' roll band. I soon realized that all I wanted to do is to make music!
Robin Kopek: I started drumming from a young age and got into improvised music by playing jazz in big bands and smaller ensembles. In my teenage years, I was getting acquainted with electronic music and started collecting records, started to hear music that combined instrumental improvisation and electronics. I was so fascinated by this that I decided I wanted to study Sound Design to explore this field deeper and expand it into a career.
KT: Makes sense! What kind of impact would you say this education has had on your music career?
NL: Our first improvisations were in the analog studio at our university, where the first Artefakt sketch was constructed. We later did an internship together at Worm, an analog studio with an extensive collection of historical synths. After completing our internship we would jam based on the hybrid workflow we discovered and this has been very defining for our future sound and collaboration.
RK: Our music education has also inspired us to work in the field of music education, passing on the craft in higher education and the form of workshops extending the practice.
KT: Very cool. How does your creative process work – how do you collaborate?
RK: Our creative process in the studio varies per track, sometimes we start with a sketch that one of us brings to the session, and iterate and develop it in the studio together. Other times we create something from scratch—the origin of the track could be based on a small idea like a synth motive, drum pattern, or some creative sampling technique. For live performances, we both focus on different instrument sections while also preserving our hybrid way of working.
KT: Your latest song, "Chimes At Midnight," was released via Sound of Berlin – how's it been like having the support of such a great platform?
NL: It has been really fantastic to work with Sound of Berlin, they are very dedicated and resourceful towards professionally presenting the release and we really appreciate their mission, in general, creating momentum for different local artists, it is an honor really.
KT: How are things going with your label, De Stijl?
RK: We are planning a new format for the label and are currently in the process of recording new material for future releases. We initially imagined it to be a home for our own sounds as well as friends which inspire us with their work once we established the label. To shape this vision and bring it together we are now creating a series of studio collaborations with different artists that are close to us. The focus will be on capturing unique live energy!
KT: That sounds great! What are some of your favourite past live performances?
RK: It's hard to pick! One memory goes to our debut in Japan playing live at the opening night of Contact Tokyo in 2016. It was our first time visiting the country and we were just overwhelmed by the hospitality and profoundness of the local culture. There was really unique energy to this night, a positive collective vibe in the air of starting something new, everything just clicked.
NL: Other memories go out to the times we have played for Rhythm Büro in Ukraine, their high-end organization, love for the art and the fantastic off-locations make every performance very memorable, not to mention the unique presence, dedication, and choreographies of the local audience.
KT: Oh wow, so cool, I've read you worked with visual artists collective Deframe on an AV-show, is this completed? 
NL: We have indeed collaborated with DEFRAME on an AV show surrounding the release of our first album Kinship, we have played several shows together and would love to continue this effort in the future. In regards to our latest record Days Bygone we are re-envisioning our live set and considering a future audio-visual collaboration based on this new framework.
KT: You are both record collectors…
RK: It is indeed fair to say we have spent a fair amount of our lives digging through record bins! It's one of our favorite ways to explore a city, mapping out the local vinyl stores. Our mutual collections are very branched out through a wide scope of influences ranging from acoustic to electronic works and in-between. We love to get back to different parts of our collection depending on the season and day, playing more nostalgic, wave ambient in autumn for example and putting some New Orleans jazz in rotation on a summer day.
KT: What was the most recent favourite record find for each of you?
RK: For me, Phantom Islands by Andrew Pekler got re-pressed by Faitiche, this is a real gem and we were looking for this for quite some time. It's also great to see Likemind release the recent Nuron & Fugue with some classic material from the 90s that we had in rotation ever since. The original split EP became extremely rare on Discogs and the re-mastered version with a new track layout is really phenomenal!
KT: Any big plans for the rest of the year?
NL: We really want to focus on live performance and improvisation and have spent a lot of time during the pandemic going deeper into the studio and live techniques. We are very excited to present our new ambient live set in relation to the last album at Muziekgebouw aan 't IJ on the 29th of July. It feels like such a novelty to be able to present our music to a physical audience again, we're very much looking forward to it! Besides that, we are working on a new studio project and our collaborations for De Stijl, which will see the light of day over the course of this year.
*  *  *
Here is your chance to win some Sound of Berlin swag, check it out.
All photos are by Kasia Zacharko