For five days in October Amsterdam becomes the centre of the global electronic music scene and a "hotbed for cultural and technological innovation" (the latter is mostly exhibited through daytime programming). Thousands of people descended on the cold, rainy city but the weather does not match the mood. People from across Netherlands and 150 other countries (official count), from across the seas and oceans are enthusiastically preparing to discover everything the festival promised months prior.
But navigating Amsterdam Dance Event (ADE) can be an overwhelming experience. One can be completely aware of the fact that there are twenty-five hundred artists participating, and still be perplexed and overwhelmed by the logistics and scheduling whilst navigating the countless canals of the city. The program published on the ADE website is quite detailed, but missing a couple of essential pieces: set times and a digital venue map. Having only start and end times of each individual showcase (each lasting anywhere between 4 and 10 hours), first day of the festival is spent frantically trying to figure out the inner workings of, well, everything – locations, times, entry logistics, transit options (is Uber faster than walking? Short answer: No).
A glass of wine at one of the networking events will ease the stress of planning and smooth the transition into the night which, for this team, begun at the W Amsterdam with BROBOT, an American house music label founded by DJ and Producer Junior Sanchez. BROBOT artist range is quite eclectic and the team showcased that spectacular variety tonight with the likes of Blaqwell, Hiroko Yamamura, Todd Terry, and Junior Sanchez himself (to name a few) on the decks. The room is packed with a relaxed crowd, sprawling on abstract lounge seats drinking Red Bull and Heineken, while a smaller group is crowding by the DJ forming a mini dance pit. BROBOT crew walked us into the night with a wide range of remixes, from Missy Elliott's "I'm Really Hot" to Moska's "This Is House," naturally sprinkled with some disco.
This all doesn't seem so hard any more, but that could be the second (third?) Red Bull talking.
Somewhere between the canals a yellow ADE flag pole calls attention to Feijoa, a small corner bar with a spillover patio where a loud crowd is cooling down while smoking cigarets, leaning on shaky patio tables, and spilling beer on the ground. Some music could be heard through the door which, each time it opens is promptly shut by the bouncer who, in a very similar fashion, shut the door behind us, thus pushing us both into the mosh pit that the entire bar seemed to have become. On the decks: Germany's Rauschhaus followed by Soul Button, from Plaisirs Sonores Records. Packed like sardines, leaning on walls, performing acrobatics while reaching for the bar, and fanning themselves while dancing people in this room were boiling in contagiously euphoric energy.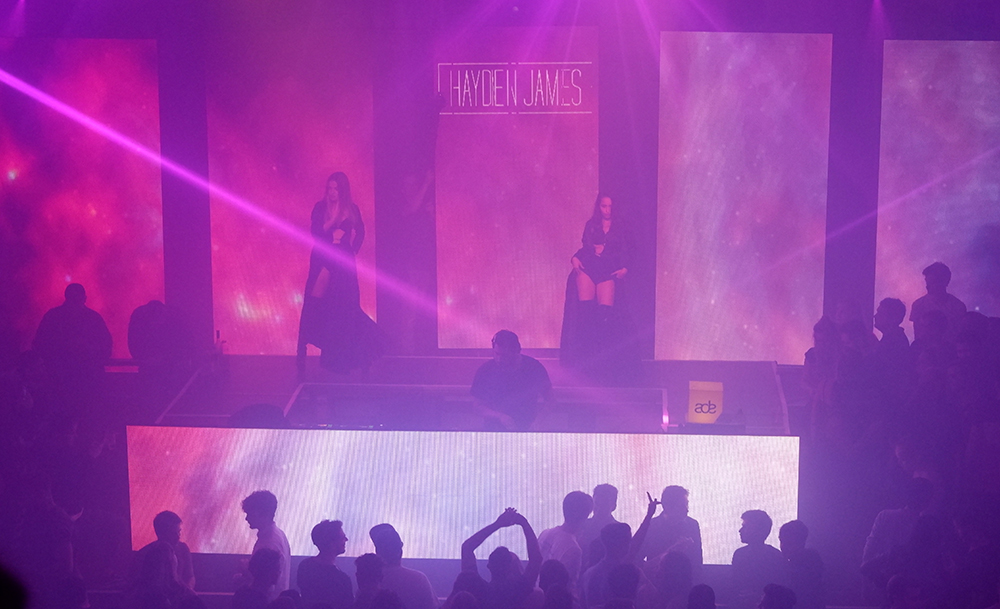 Many of city's concert venues' programming is split in two parts: evening showcase and club night. Paradiso, arguably one of the best live music spots in Amsterdam, was one of such venues and was promptly cleared out after ADE Live for a club night event featuring Hayden James on his Between Us tour. After a brief wait in the club entry line, the tail end of the lineup was let in just in time for Hayden James, who was already bathing in applause and cheerful shouts.
To most people, at least in North America, Hayden is an up-and-coming producer who makes melodic summer house (following in the footsteps of Flume, his fellow Future Classic artist). This evening, however, we got to see a whole new side of Hayden James – darker, heavier, deeper house side that raised the temperature all the way through to the back of the balcony with bangers like Duke Dumont's "Red Light Green Light" and Hayden James originals. Hayden's stage is in part a performance floor, wrapping around him like a glowing marquee box. Two long-legged dancers walked out just behind him, whipping their long skirts while energized, young crowd continued to cheer almost non-stop through the night.
Walking across the venue a mixed cloud of smoke and stage fog drifts down the hallways like a settling storm – there are covered heated smoking rooms, but not everyone chooses to obey the privileges of such conveniences. Club nights like these draw a younger crowd and, naturally, a lot of tourists. People (wrongly so) treat Amsterdam as a sin city, where you can let your freak flag fly and try all things new because here, in the city of red lights, it is okay. But while Amsterdam admittedly is a very liberal city and has been so for many decades, the truth is, locals are very calm and classy about their cannabis (and other drug) intake and a lot of prohibitive rules are still at play when it comes to public consumption. All throughout the city and festival grounds "Celebrate Safe" posters are taped to the walls, doors, and even displayed in bus shelters: think for yourself, care about others; don't push your limits, take your time to chill, protect your ears, always have safe sex. "Pace yourself: eat, sleep, rave." I've never read that statement in the context of safe partying guidelines before, but it makes sense. Although, Fat Boy Slim probably didn't think he wrote a timeless party motto back in 2013, whatever the context might be.