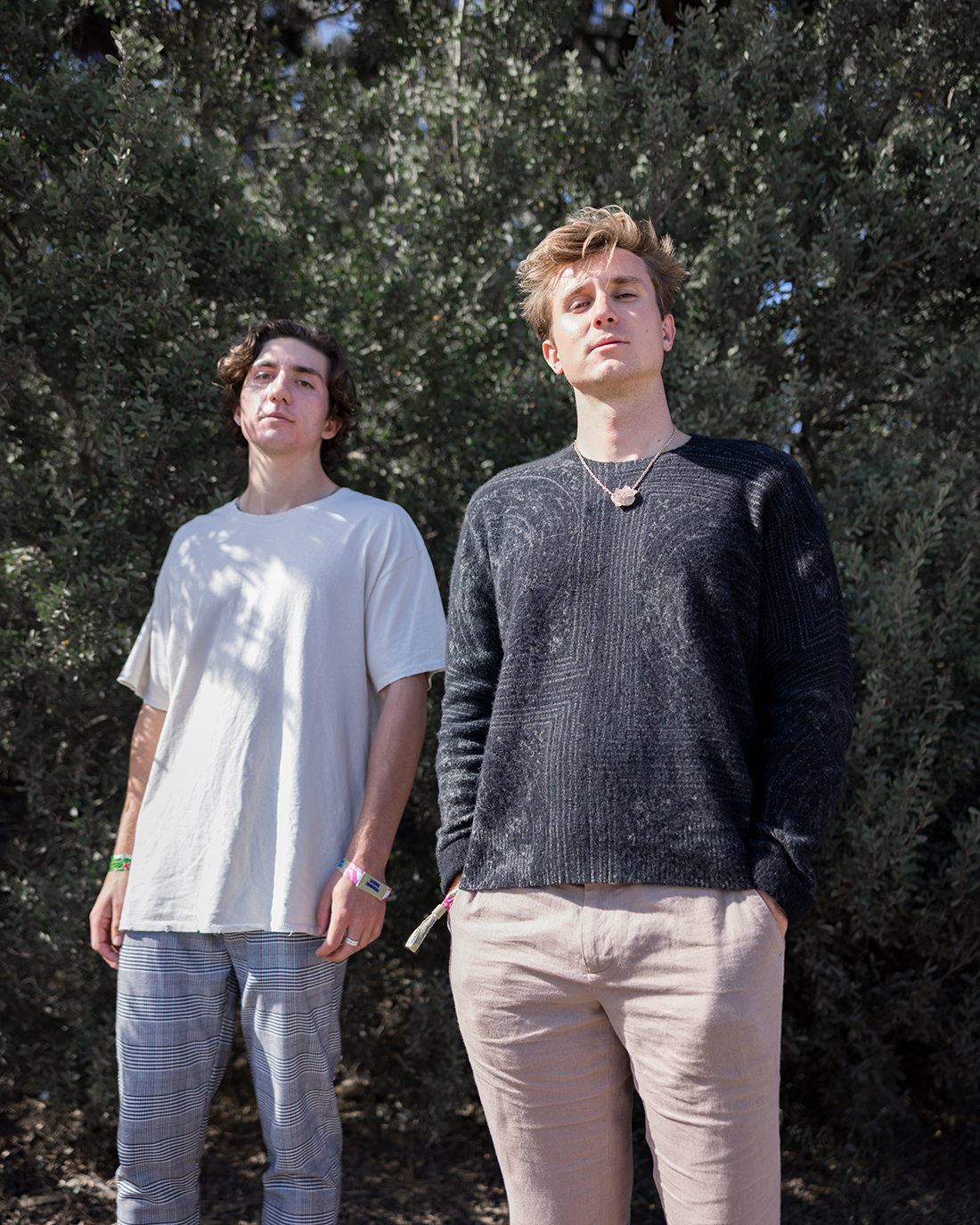 text by Audrin Baghaie
Now that tropical EDM has rested after rapid overgrowth in 2014 we're starting to see refined artists flourish and further characterize the sub-genre. Between them, a rich sonic atmosphere is composed of iridescent vocal chimes and deep house kicks. Forester is a satellite of what Kygo started eight years ago but one that's distinct in its approach. We're not in the tropics anymore folks. These are open, uplifting, generally slower songs with more wind chill, evoking a serene mountain and endless woods. Wispy vocal melodies and bounding drums enjoy an impressively comfy mix which I find is the groups' most appealing aspect. 
They took to the Twin Peaks stage at Outside Lands 2022 spearheading the final day that was comprised of electronic acts. Forester's main setup has Xander Carlson on lead vocals and keys, with David Parris a few feet away on the guitar and sampler. The sunlight was paramount to their set and paired like wine with smooth jam on the main stage. A few hours later their DJ set at the music den had the lawn in shambles, it was the hardest I'd seen that venue go the entire festival.
Forester has a good habit of performing entire albums live on their channel, often in landscapes that echo the musical sentiment. They've been signed to Palm Tree Records since 2020, Kygo's curated imprint with the likes of Haywood and Sam Feldt as label mates. Their three albums are all on streaming services, along with a wealth of singles that showcase their growth from their 3 years of the group. Catch them live this year at Life is Beautiful or their El Rey set in LA on October 21st.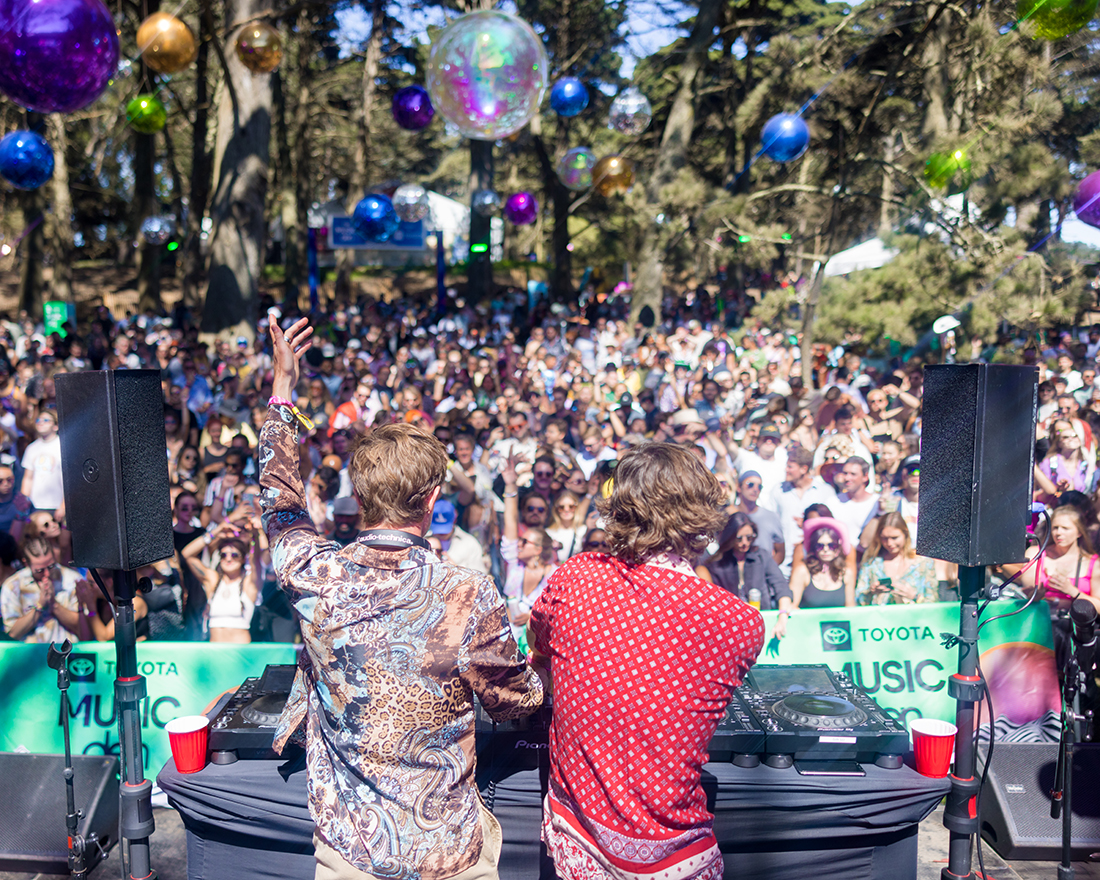 Audrin Baghaie: How's your day going
Xander Carlson: Not bad at all. It's been chill, listening to the music. Phoebe last night was really sick. She came in with a metal track. Such an interesting contrast. 
AB: I hadn't known of your music until recently, and it's very emotionally rich and uplifting. Did you originally set out to make music like that?
XC: We had written an album and didn't have a name for the project, all very influenced by indie acoustic folk at the time. Tender, wholesome, and sweet – but we wanted more energy with the introspective feelings. I think we knew to go toward more emotional chill stuff. The name Forester represents that – free, open spaces. There's a through-line but we've expanded to other sounds recently
David Parris: We're also inspired that more mellow electronic music. Downtempo house. George Fitzgerald, Jamie XX, we tried to incorporate all of that into the first record.
AB: I hear a lot of Emancipator too
DP: Definitely a fan. I remember seeing him and Charles the First at the electric forest. Rest In Peace. Those two were formative. That show was before we started Forester, just two friends making music.
AB: What's the story there
XC: We met at the beginning of high school, 14 or 15. David was throwing a lot of after parties, whatever event there was an excuse to throw a party for it. We would test out our music on the weekends.
DP: I was inspired by the underground rave scene in LA from my brother. There wasn't a scene like that for kids our age. Once electronics got bigger they didn't make it a space for kids. So the age limit was 18. The idea behind it was "let's throw our own shows, play our own music and DJ our own stuff." We were throwing somewhat safe raves within our high school group, at least as safe as you can get. The project that would become Forester was formed naturally there.
AB: And in 2019 Forester hit the ground running
XC: We had a demo folder and wanted to do something with it. Cold emails and cold emails. It's been a lot of cold emails. Even palm tree crew, that was a cold email. Shout out to Dave Rishty. 
DP: It was all natural and organic for the most part. Sending out feelers and seeing what hit. 
AB: Was it like quality control on your end? Like you wouldn't release anything until it was perfected?
XC: We spend a lot of time trying to make the song 'feel' good. I think there's a difference between how a song feels and how it sounds. You can sing a song in this room right now and it would sound okay, but the tools can help it hit all the right frequencies. It's an art we're always trying to perfect. There are people who do it really well. It's more of a how does it feel question in the end, instead of "is this song perfect?" It's like, how does it make us feel? If it feels good, it's right. Sometimes that takes a long time. 
DP: It's different now versus the first album. We were on a deadline before we split up and went to college on different coasts. So we finished what we could get down, it sounded good and we pitched it out originally. But now we, sometimes, have more time to finish the songs. Actually, probably not. 
AB: You guys collated from across the coasts?
DP: And then finished up tracks when we were back together. It was a long-distance relationship. There wasn't much file sharing though. Maybe some of the remix stuff was.
AB: You mentioned indie folk?
XC: That's probably my favorite music to listen to personally. Maybe because there's no production involved. It's funny, listening to music after hearing what goes into production. When you hear really, really good production you become obsessed with like, "how do they get the kick like that??" 
DP: I grew up with rock music. I had two older brothers so I heard what they were listening to. Blink 182, Fall Out Boy, and Weezer were my first ever concert. All in one, I was like nine. That was really cool so naturally, I was more in the pop emo scene. But RHCP became the go-to after that. Later on I found the rest from Xander. After Bon Iver I just fell in love. Electronic has a special place in my heart. Boyz Noize and Skrillex. Lately, melodically, Avicii.
XC: I remember when Scary Monsters had 40k on YouTube. That, plus Bon Iver is where Forester came from. Which is weird because they're on the complete opposite end of the spectrum.
AB: Good luck on the sets tomorrow. What's the difference between each one?
XC: The main set has our full gear, guitar, vocals, keys, and the visuals set up. The DJ set is strict mixing, faster and harder stuff on CDJs.
Writer's note: it was a lovely time