cover photo: Vic Mensa by Timoty Hiatt
Without a doubt, Riot Fest is the biggest rock festival to take place in Chicago every fall. It was great seeing a slew of fantastic bands make a return back to Douglass Park. The event also does a solid of incorporating hip-hop acts in the lineup giving the show a wider range of variety. This time around the festival extended to four days making it a long week of listening to loud instruments and being a part of dirty mosh pits.
Thursday was a chill day, more of a preview show for those who had 3-day weekend passes. Joyce Manor rocked the stage as they performed their first album Constant Headache. What made Joyce Manor's set a little extra special is how they ended it – by performing My Chemical Romances "Helena." It was a solid cover that eased people's heartaches as MCR had earlier announced they were pulling out and not returning to the festival until next year.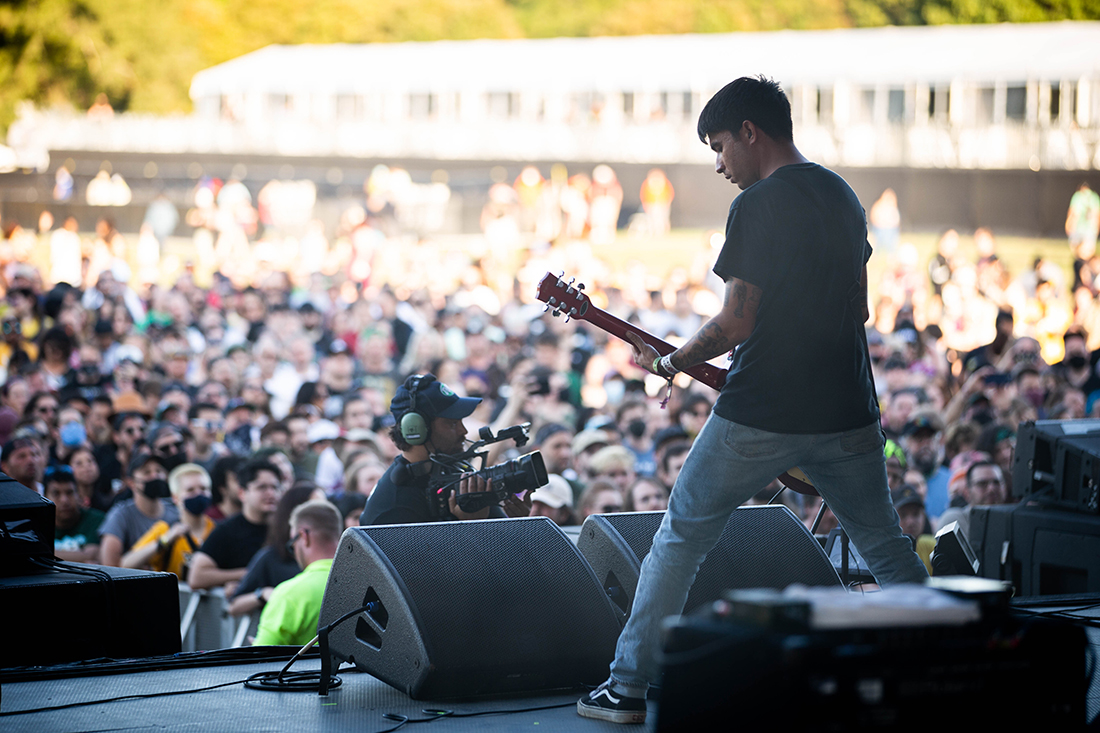 Joyce Manor Anthony by Linh Nguyen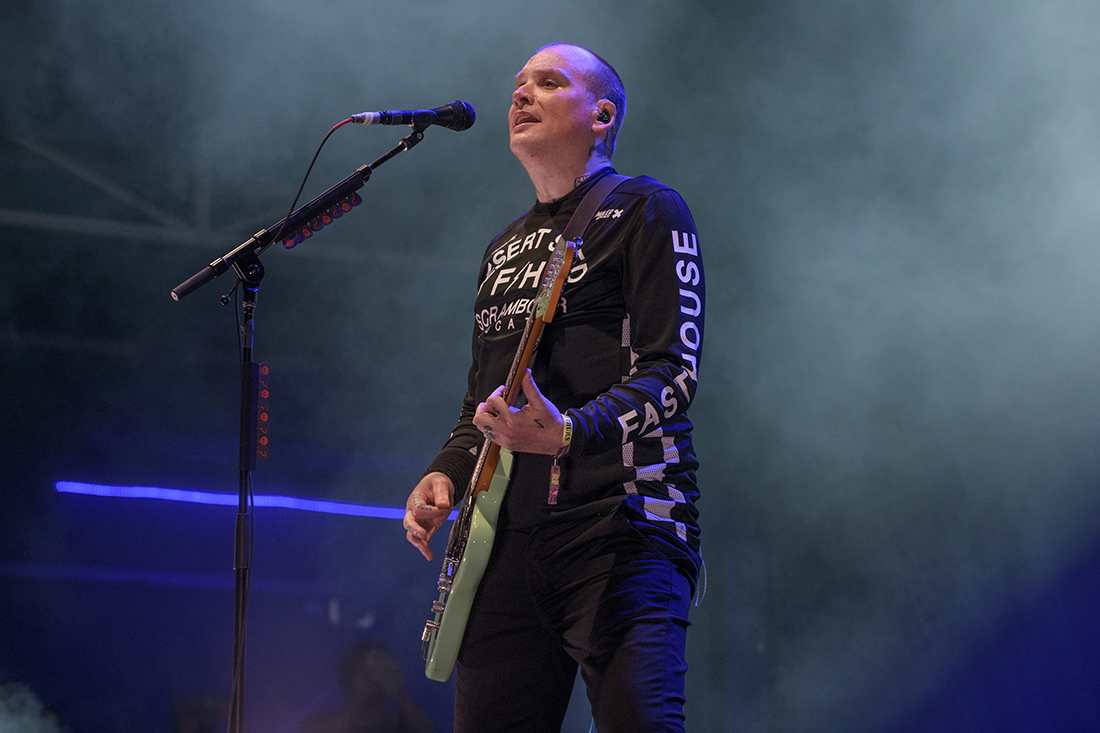 Alkaline Trio Timoty Hiatt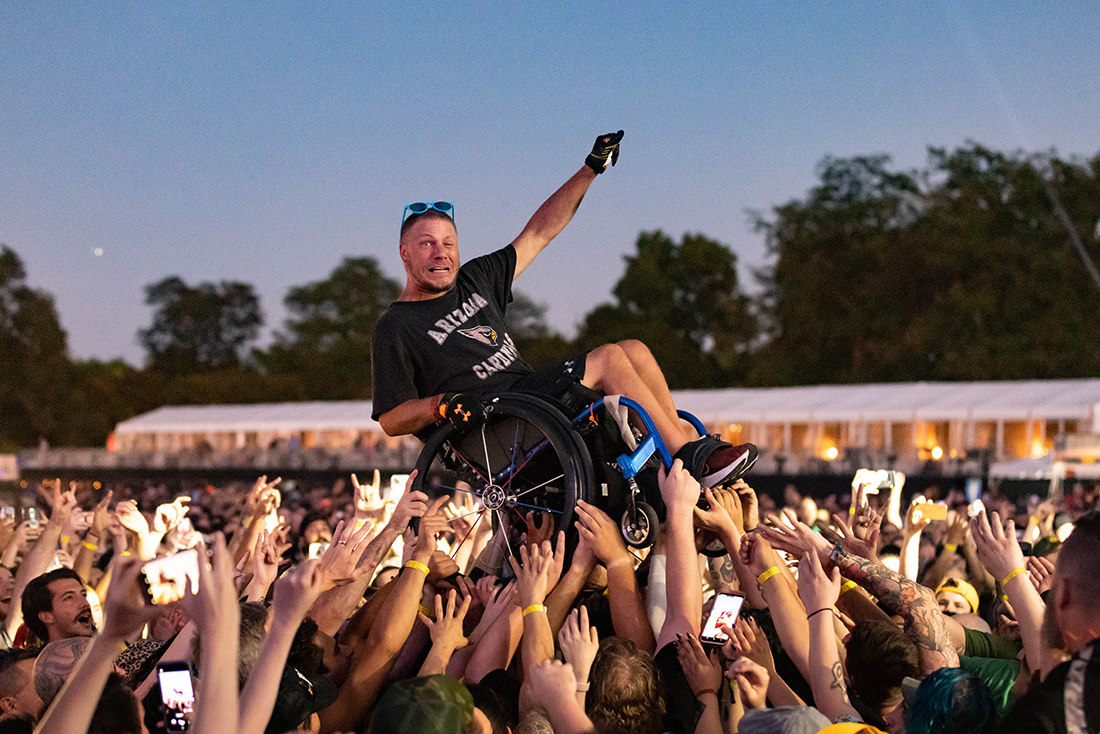 Crowd by Anthony Nguyen
Later in the day, it was also a warm homecoming for Alkaline Trio, as they made their way to the stage. They played favorite songs from the early 2000s like "Armageddon" and "Help Me" while the crowd came together to help a man in a wheelchair crowd surf. The friendly crowd quickly turned vicious when the band asked them if they were ready to see Morrissey with the response being a deafening "meh". Most left the field before Morrissey went on as they were preparing for the rough weekend ahead.
Riot Fest Friday was definitely the place to be, showcasing perhaps the best sets of the entire weekend. Things got in motion quickly with Circa Survive kicking ass performing tracks like "Get Out" and "Act Appalled". Anthony Green's signature high pitch voice was astonishing, the way he sang the lyrics with such pain and control is mesmerizing.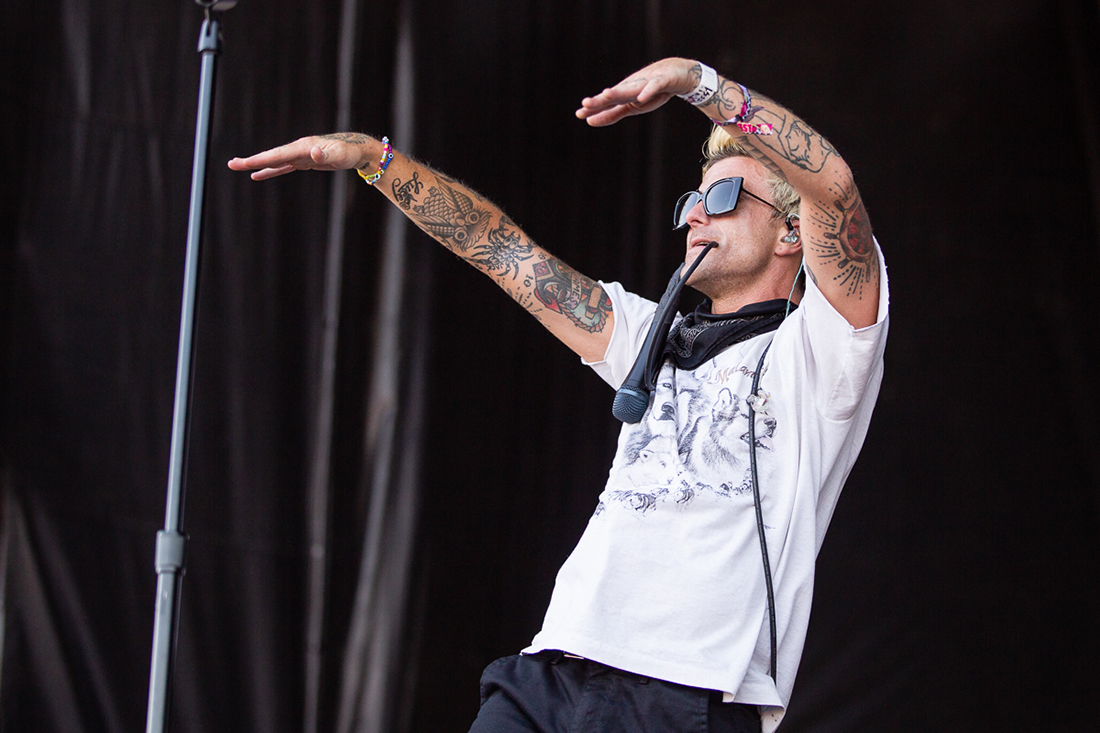 Circa Survive by Jason Pendleton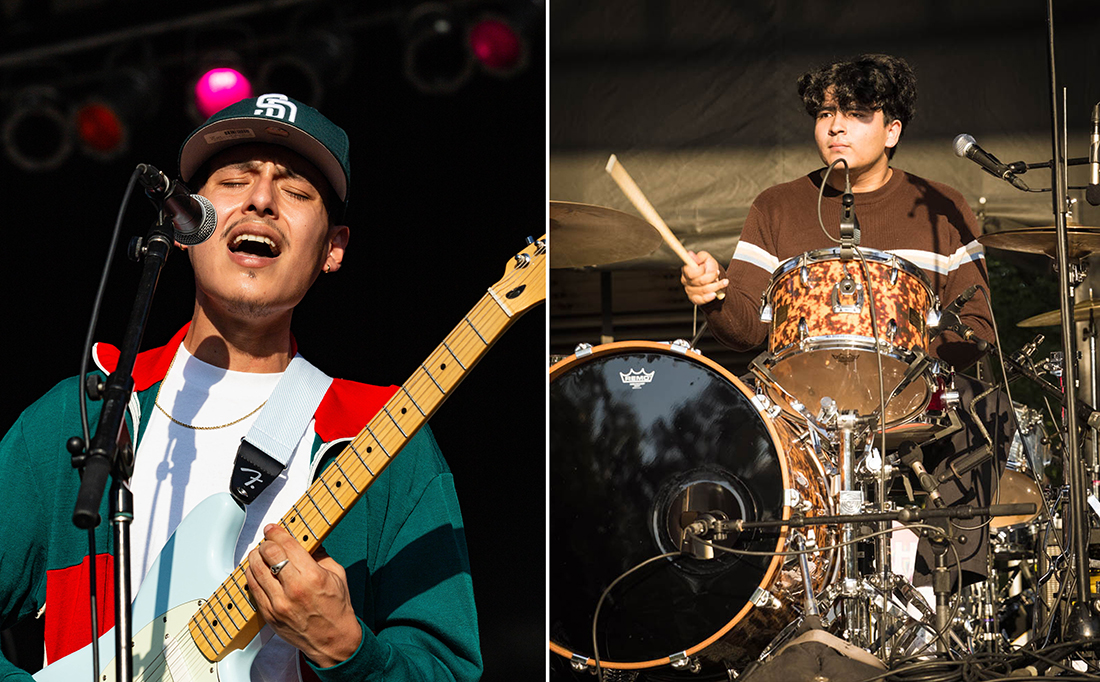 Beach Goons by Anthony Nguyen
Another band that deserves recognition is Beach Goons, being a fan of the boys from Cali it was great to see them live. Lead singer Pablo Cervantez wore a green/red windbreaker jacket in honor of Mexican Independence. As they tunned their instruments, I drunkenly shouted out "Viva Mexico Cabrones!" which got my people cheering and the band smiling and throwing up thumbs up. They perfectly played the two songs I wanted to hear: "Chunti" and "A.M."  ending the set with a surf punk rendition of Ritchie Valens "La Bamba" which naturally, created a mosh pit.
Ending the night two Chicago icons were performing at opposite stages. Those who love 90's rock went to see the Smashing Pumpkins. But while I do respect Billy Corgan and crews' legacy, I had to be at the opposite end to see Lupe Fiasco perform The Cool. It is an album that most casual fans know Lupe by so it was great hearing him perform the entire record, taking some of us back to high school. (Side note: I bought The Cool album on release day to meet Lupe and he refused to sign my copy or my friend's skateboard making me hate him for years. However, he did eventually sign my copy of Tetsuo & Youth so all is forgiven.) It can be easy to forget how many bangers Lupe had on that album but rapping the tracks out of order it was refreshing to go down memory lane. As he did "Superstar" it began to drizzle which made the song feel somehow more impactful. After powering through with "Paris, Tokyo" he lead into "Hip Hop Saved My Life" but before beginning the track he shared a powerful statement: "Rest in peace to everyone who got killed by gun violence in this city. Every rapper, every trapper. From the police to those living in the streets".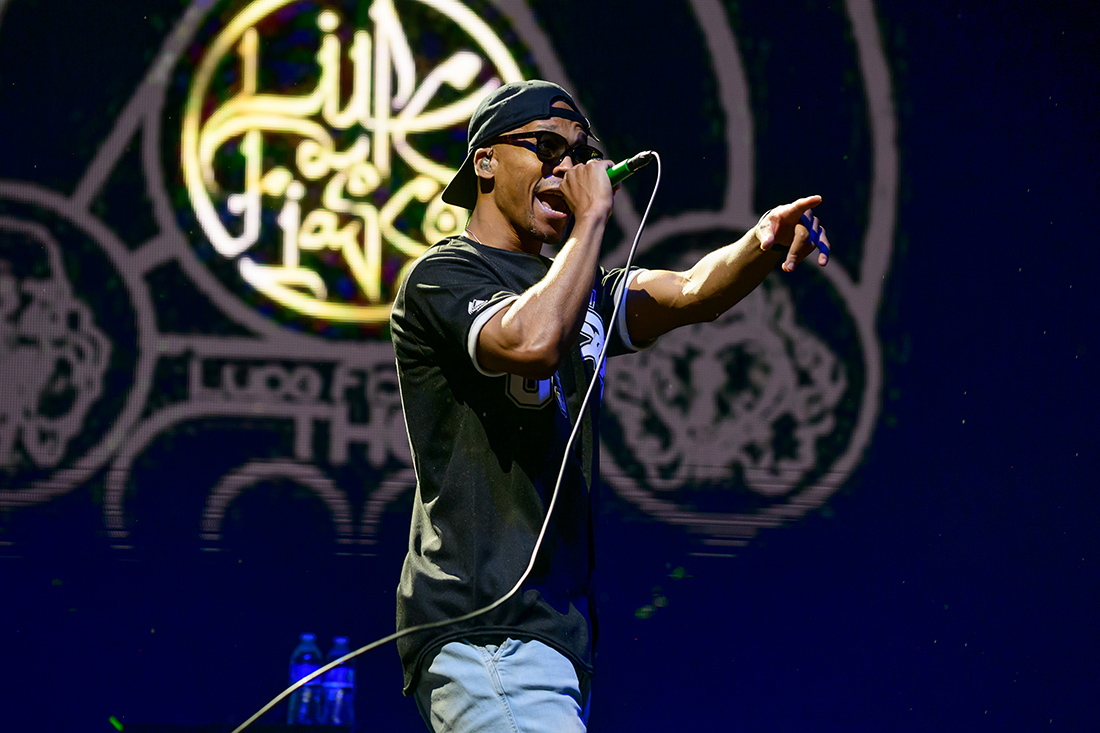 Lupe Fiasco by Timoty Hiatt
Fellow Chicago rapper Vic Mensa [cover image] kept the hip-hop vibes going on Saturday performing tracks that put him on the map like "U Mad" and "16 Shots". He then perform several songs off his Innanetape mixtape including "Orange Soda," reflecting on this almost decade-old project and how important it was for him as an artist to grow. Towkio graced the stage for "Tweakin" and the duo threw out pre-rolled joints to the crowd before ending with "FistFight!". This Chicago rapper is still living his dream and while his crowd wasn't at all that full, the fans who did show up showed continued dedication and support.
However, if we're talking about rapping juggernauts then that easy has to go to Run The Jewels. In recent years the duo of Killer Mike and El-P have collaborated on albums reinvigorating both artist's careers for the new generation. Fresh off their fourth collective album RTJ4, the pair of rappers performed a handful of classics to remind y'all why they've earned the respect and fame they now carry with careful pride.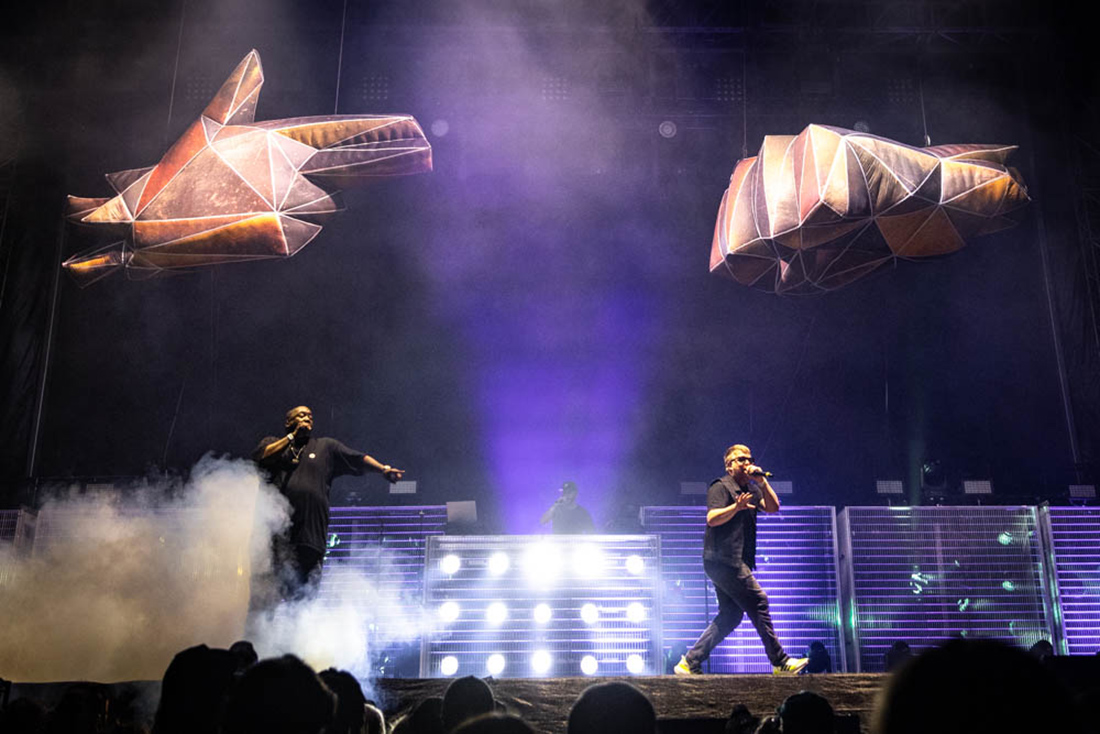 Run the Jewels by Anthony Linh Nguyen
Sunday was a slow start leading up to the main events. There were plenty of activities to enjoy at the festival besides witnessing live music including the classic carnival rides, games, and even shopping. While some attendees were enjoying the sunset from the Ferris Wheel I went shopping for cassette tapes to add to my collection. In the background, you could hear early band performances like Andrew W.K. and GWAR. Even wrestler CM Punk came on stage introducing Living Colour who performed his entrance music "Cult of Personality."
The main events once again divided people into two different camps: hardcore rockers at Slipknot and modern pop-rock fans at Machine Gun Kelly (MGK). Being somewhere in the middle I saw a bit of both. Fans have been waiting for years to see Slipknot and with the recent loss of band member and legendary drummer, Joey Jordison they were eager to mosh and let out energy in his honor. The smell of sweat, dirt, and body odor filled the air as people rushed the stage during "Wait and Bleed", "Surfacing," and "Duality". At this point, the intensity of the madness was too much so I went to see MGK [last image]. In comparison, his performance was tame and pretty lame. He did crowd favorites like "Jaw Breakers" and "Bloody Valentine" before doing an unreleased song "Paper Cuts" that will be featured on his new album titled Born With Horns. However, MGK said the dumbest thing possible when he said: "Let me see who chose to be here instead of with all those old weird dudes with masks". While there's legitimate beef between the two parties, I left shortly thereafter.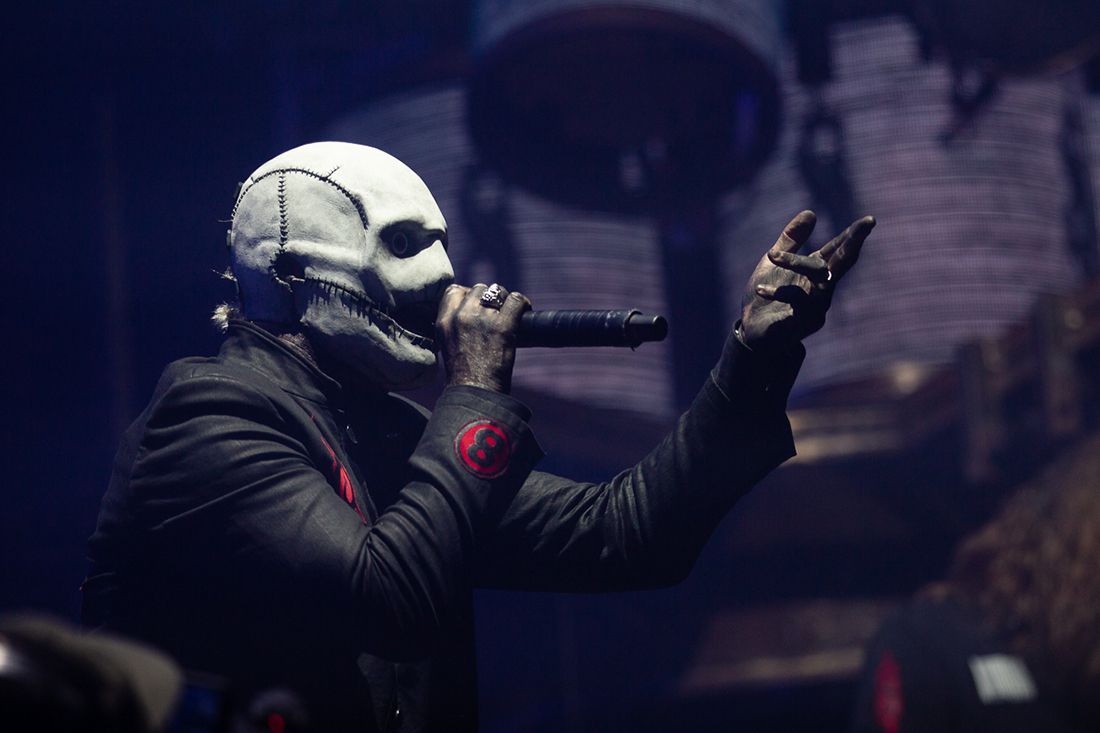 Slipknot by Pendleton Jason
Riot Fest was one hell of an experience. It was disappointing to hear about bands like My Chemical Romance and The Pixies pulling out of the show but seeing other artists that have come through, like Beach Goons and Lupe Fiasco, was worth it. There were 5 different stages so unfortunately, it would be impossible to see all bands but it was dope seeing so many fans in one space and being friendly to each other. Even during the chaos of the moshpits, people would help those that were knocked down or offer a lift so that others could crowd surf. Hopefully, next year more big-name headliners will return so we can get wild again.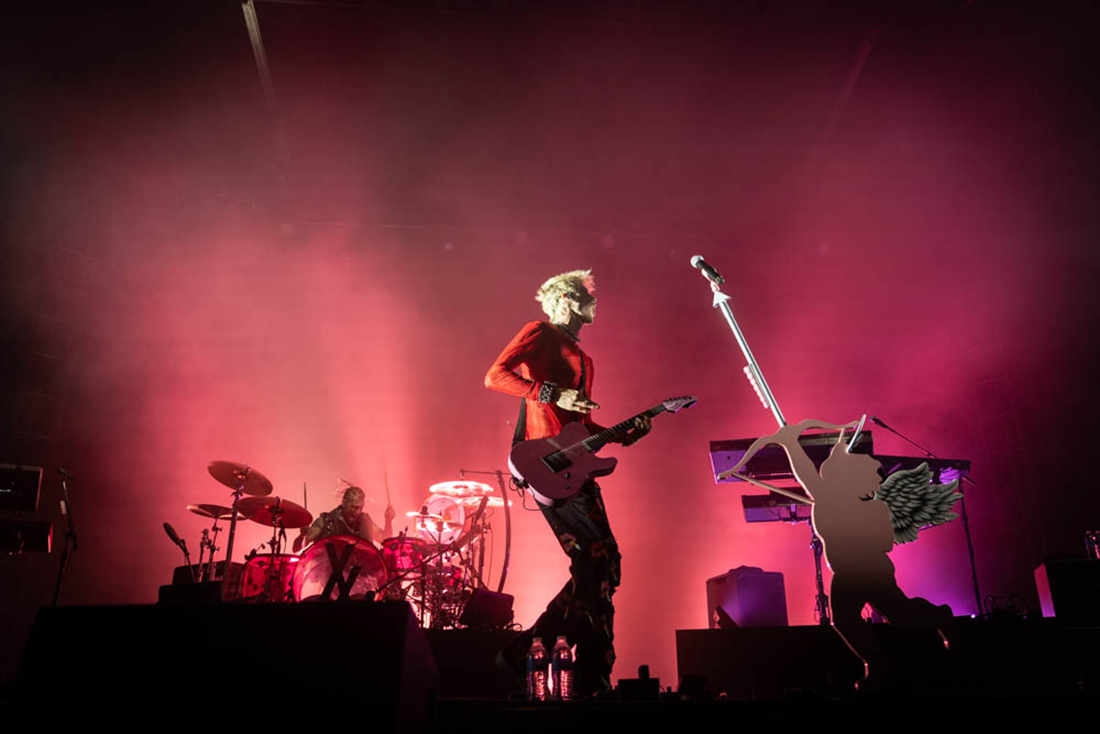 Machine Gun Kelly by Anthony Linh Nguyen