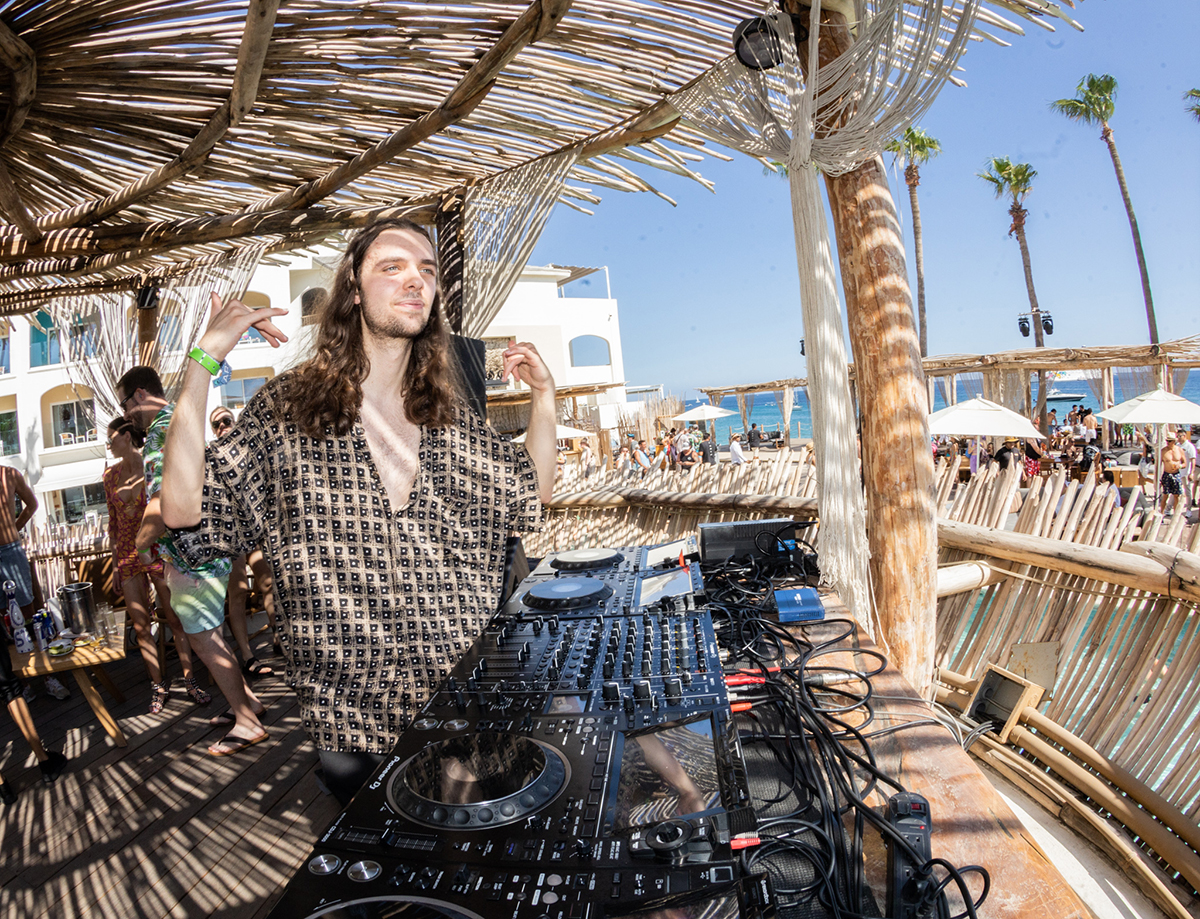 Arizona-based rising electronic producer Ekonovah is one to watch. In spite of the global slow down Stephen Scotti (his given name) recently played to the audiences of major festivals like EDC Las Vegas and Bonnaroo. The name is a misspelling of 'Echo' which means 'sound' in Latin and 'nova' which means 'new' and that new sound is precisely what he has been searching for.
So far in his young career, Ekonovah has released a handful of impressive EPs, Between The Lines being the latest, in addition to a healthy package of remixes and singles. But he is only just getting started.
Quip had an opportunity to catch up with Scotti at Groove Cruise Cabo. The day party boat docked at ME Cabo a little late but just in time for Ekonovah's opening set. Shaded under the palapas roof from the warm Mexican sun Stephen Scotti enthusiastically kick-started this party, matching and elevating the mood of the crowd. After the set, we set down at the back of an empty restaurant for a chat accompanied by his manager Jason Euler.
Sitting across the table Scotti carries himself with humble and caring energy, just going with the flow, which seems to be his general vibe. Flowy but purposeful. During our chat, we dove into his process, influences, and different ways he test-drives his music. Let's get into it.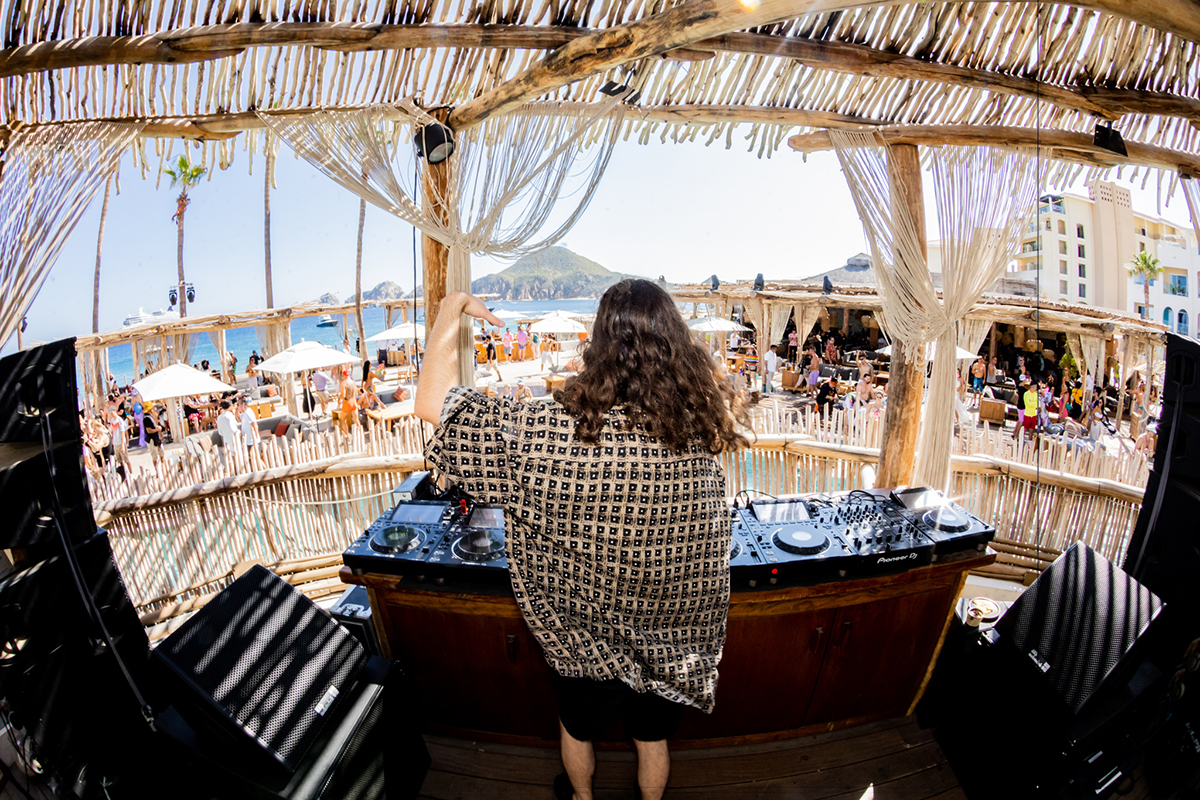 Kateryna Topol: How was your set, how are you feeling after it?
Ekonovah: I feel great, my first set in Cabo was a success. There was this one person in particular who was giving me the best energy the entire time, he was smiling ear-to-ear. It was a lot of fun, it was good. I got to test some new originals too so a success.
KT: Nice, and that view though [I gesture at the sun-lit ocean with our floating home on it]
E: That view is amazing!
KT: How is your Groove Cruise going so far?
E: I'm hanging in there, it's definitely [thinks a little] everyone's mantra is 'it's a marathon, not a sprint' and that is so true. It's day three and I've done EDC twice and here the morning of day three I'm already exhausted. And we basically have two-and-half more days of the cruise so pacing myself a lot. I have a set tomorrow morning at 2 AM at the Casino and maybe some Renegade sets too [pop-up events on GC] so Groove Cruise is going great and I am excited by man, I am taking advantage of those catnaps whenever I can squeeze them in.
KT: Yeah, same. And the boat rocks so it's a bit easier to pass out
E: Yeah, my girlfriend gets a little seasick but the boat ticking just leads me to sleep
KT: Any fellow artists you're looking forward to seeing on the cruise?
E: Yeah, one of my buddies Dave Summit is on the cruise. I didn't realize that he was gonna be on until recently. He and I have been internet friends for many years and finally met like two days ago.
KT: No way!
E: I love meeting internet friends and from the music scene at shows, it's so much fun. I played some of his tracks in the set here today, he's great.
KT: Nice. So what are you working on right now?
E: Lots of new original music, of course, a couple of remixes, a couple of collaborations… Most of these have my own vocals on them. I'm on my first tour right now and on this tour, I feel like I've really had an opportunity to figure out my sound because before the pandemic I was sorta base-house, and during the pandemic, I was really melodic and vocal-heavy. But since I didn't have shows I didn't have any way to test those live and now that I'm playing shows consistently again I'm able to figure out like, ok how do I incorporate these vocals and still have a very compelling, cohesive performance. So this body of work that I'm sitting on right now is the proudest I've ever been with my music by far. I feel like my sound has really elevated over the last couple of months so just working on all these originals, that's where all my time is going.
KT: And is it going to be compiled into an EP or an album?
E: some of the tracks will be on the EP definitely and I've been working on the album for the last three-four years just passively… I already know what the 7 or 8 tracks that I have I want to be on the album but that's a long-term project. I'm just letting that grow organically.
KT: Okay. Will you drop a few singles or the EP next year?
E: Exactly, but I don't know about next year, it will be when the time is right, I'll just feel it out.
KT: I recall reading in your bio that you are on a mission to create a unique sound [he nods in agreement] do you feel like you're finally getting there with these new tracks?
E: So… I think I've always been good at having a new sound and innovating but this is the first time that I think my sound has really come into its own and has become fully realized. But having a new sound in each and every song is always my priority.
KT: And now you get to test drive it with a live audience …
E: That's always a blast yeah. I got to test drive a lot today, like 5 or 6 ideas this afternoon and it was good reactions all around
KT: How will you proceed from here with these ideas?
E: There's a couple of tracks that I'm thinking to myself 'Ok maybe this section of the song should come a little sooner, this section of the song should come a little later. Just based on the reactions today, reactions on the whole tour. But I think most of the sounds are pretty much set in stone, in their final iterations.
KT: What are some of the go-to tools that you like to use in your music production process
E: I think I can always jumpstart inspiration with a really compelling drum groove. I used to start with melodies which are a lot more me, I'm very melodic driven, but these days I usually start with drums and from there I'll start ripping on a keyboard or just drugging in samples until the sound starts to click. And from there the vocal melody will just pop into my head but sometimes it dies not. So rinse and repeat until it works out.
KT: And you've been playing music since a very younger age …
E: Yes. I've been playing piano since I was two… I tried learning guitar a little bit and I didn't grasp it, same with drums. I would like to learn the violin though, I think that's a beautiful instrument.
KT: Definitely also a very classy instrument [we both chuckle]. What have been some of your bigger musical influences growing up?
E: hands down the first two names that always come to mind are Skrillex and Deadmau5. Skrillex got me into dance music in the first place Deadmau5 is the first house artist that I discovered. So those two together really just jump-started my production journey and I started to play around with different styles and went from there.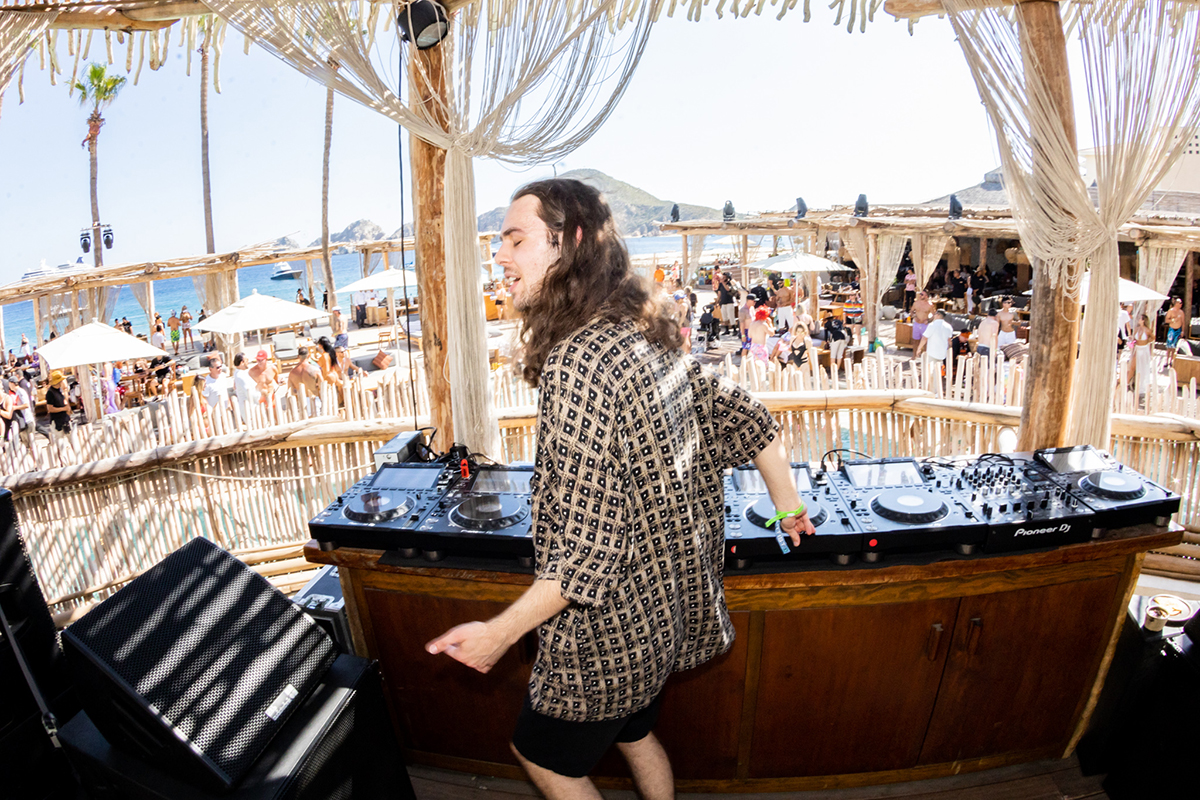 KT: how about now, still the same two?
E: Definitely still the same but the other one that always comes to mind is Phlegmatic Dogs I think they are amazing. There are only a few artists that will drop new music and I'll stop everything I'm doing and listen to it Phlegmatic Dogs is one of those.
KT: Do you remember the very first song you ever made?
E: Umm… wow… I don't remember the first song I made but the first memory of a song that I completed was this really funny goofy (I was probably like 13 or 14) it was this very 8-bit sounding like chiptune. Really cheesy, it sounded like video game music almost bit in a house rhythm and I named it "Chasing Rainbows" or something like that, like a Super Mario song. I remember just sitting in my room and bouncing to it and ironically this song would be so good for a music video, I can see it in my head at the time. It was the first I could remember finishing.
KT: Nice. And the first one that got released…
E: So Suspect Zero and I had 14 tracks maybe that I had just put out. I had no following. I had no history in music at all. I just put out an album which is hilarious in retrospect but those were the first tracks that I completed. One of them was called "Paradise" I think, it was a very piano-driven track. I listen to that track every now and again just to kinda go down memory lane and I hear a lot of similarities between that song to my style now which is really funny. I guess there's just some innate musicality in myself or any other artists, which is in you before you even come skilled in the craft.
A full circle moment.
KT: Maybe that's a track you can remix as well now
E: That's a good idea actually. That's a cool idea that would actually be worthwhile.
KT: Is there anything you like to do on tour when you're visiting new cities?
E: I like checking out the local food scene. During this tour, I really misjudged how much time I would have if I would be able to get a sense of the culture in each city. But on this tour, I'm writing songs in each hotel room, at each stop hoping to finish most of the tour and that is taking much more time than I had anticipated so this entire time has been: wake up, get on the plane, go to the hotel, work on a song, go to the show, come back, wake up do it all again. There's been just like zero time for anything.
KT: But you gotta eat!
E: [laughs] You gotta eat yeah. I guess that's the only extracurricular activity.
KT: What kind of gigs do you like to play most?
E: My favourite kind of show is intimate, club-setting-like, where I can see each individual face in the crowd. Up close and personal. I can also get better feedback on my music because I can actually see people's faces.
All images courtesy of the artist