Four years ago on a small Riot Stage stage, we got introduced to Tasha The Amazon. She made an impression on the team and the crowd around us. Tasha, born Natasha Schumann, has been touring the local hip hop scene solo since 2014 and we weren't the only ones she made an impression on – in 2017 she became the first female artist to win Best Hip Hop Video at the MMVAs for "Picasso Leaning." That same year New York magazine also took notice with a feature on The Cut and has been called as one-to-watch by multiple other publications.
For this CMW Tasha was opening for no one other than Azealia Banks – a promising evening, to say the least. The night was off to a slow start and started at what Tasha described as "basically noon on a Wednesday" (aka 8 pm). By the time Tasha stepped out, or rather ran out, on stage less than half of the venue was filled but she made sure to thank everyone for coming out. Dressed in bright neon, which seems to be a big part of her brand these days, this Amazon opened the set with a classic: "My Level." A  hype track with some pretty heavy and dark beats, the kinda tune that will shake the dance floor. She went through a few tracks, old and new, from "That Ain't You" to "Picasso Leaning." Everyone got to participate for "Prayer" – 'When you hear what's the prayer you put two gun fingers in the air and go brap brap brap … that's the prayer.' Her clean rhymes and sharp lyrics were, unfortunately, not at their best this evening, which can be attributed to the sound in the venue: the bass was drowning her voice out and the half-empty room was eating it all up.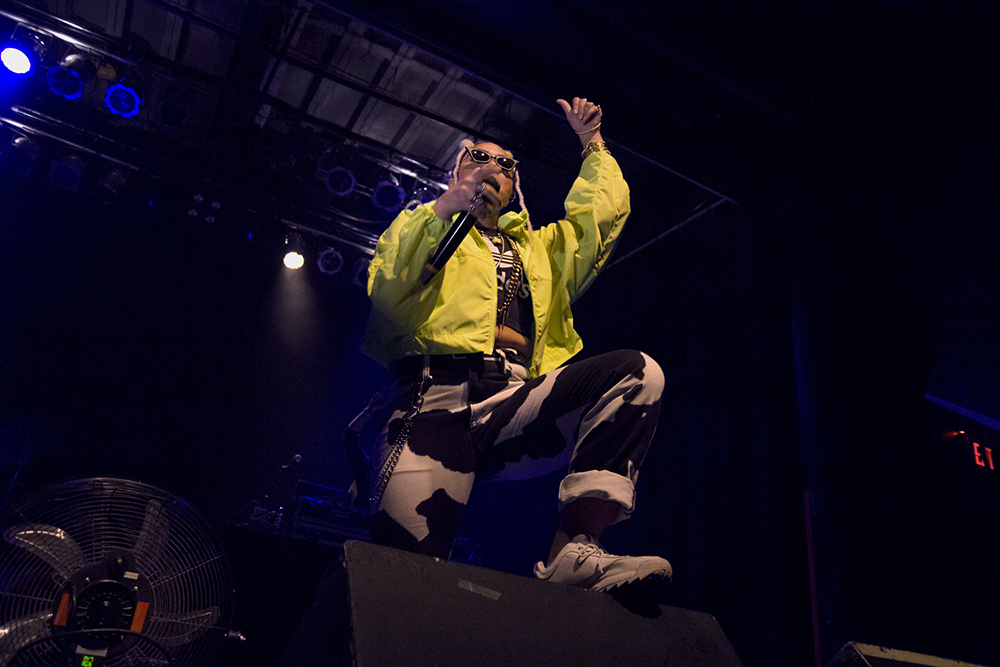 And then we went on a break. Like a classy lady, Azealia Banks was nearly an hour late to start her set. Some people were enjoying each others company, some were blankly staring into space, others were having photos and Snapchat shoots and dancing in stilettos. Finally, the queen of the night came out on stage, loud, furious, rapping, with her own wind and her own wine. A few tracks into the set the dance floor filled producing a healthy cloud of marijuana. To mix things up Azealia sang a cappella and talked about her brief relationship with Canada (Montreal and wine). A couple of people got escorted out of the room for smoking as Azealia carried on. The crowd managed to regain some energy eventually, particularly at the for the encore performance of "Liquorice" and "1991," but the overall set, suffering from the same issues as Tasha the Amazon was rough around the edges. Azealia herself did not bring much wisdom to the stage either, whether on purpose or some other reason she simply worked through her set keeping the controversial voice and opinions to herself. Perhaps we all expected a little more, or maybe it was just the slow wait that drained the passion out.
photos by Vicki Mahony