by Jade Halpern
After a two-year COVID-fueled hiatus, the Capitol Hill Block Party (CHBP) has finally returned! This year marked the 24th anniversary of the historic Block Party, and hordes of people turned out to celebrate live music for the first time in what feels like forever.  Last weekend, thousands of fashionable festival-goers flooded the streets of Capitol Hill to soak in over 150 performers. In total, this six-block festival offered visitors 11 venues – each one roaring with live music and laughter throughout the weekend. 
Unlike your typical music festival, the Capitol Hill Block Party's lineup features popular headliners and up-and-coming artists side by side. While headliners like Flo Milli, Charlie XCX, Remi Wolf, DuckWrth, Danny Brown, and Diplo seemingly drew the biggest crowds. In my opinion, some of the most monumental moments came from the smaller venues that highlighted local and emerging talent.
5 Artists To Watch From CHBP
I would like to start by saying, this list is by no means comprehensive, and doesn't take into account the artists I missed. Instead, this list of "5 Up-And-Coming Artists To Watch" is a compilation of my favorite moments from CHBP mixed with recurring feedback from fellow festival-goers. These are the acts that stood out, on stage and in conversation, as top local and emerging acts from this weekend.
Todd Zack Jr. 
Todd Zack Jr. is an Ohio native that currently resides in NYC. If you haven't heard of him before (I hadn't) you'll want to stay tuned. Todd Zack Jr.'s popularity is on the rise. In addition to being featured at the Block Party, his latest EP –  ICH2U (It Could Happen To You) – debuted at #14 on Apple Music and promotes the importance of vulnerability, accountability, and growth. Todd Zack Jr. was undoubtedly one of the most talented R&B/Soul artists at the festival. He led the crowd through a sultry set that truly embodied the genre in a raw and organic way.

The Black Tones 
On Saturday, The Black Tones (rock n' roll twins Eva and Cedric Walker, with their mom on the tambourine) took to the main stage. The Black Tones kept the crowd moving throughout the set and gave people a performance that set the standard for the weekend. As an added bonus, the group brought their friend, Spokane rapper, Jango to the stage for rhythmic collaboration that had me hypnotized.
Enumclaw 
Tacoma rock band Enumclaw took to the Vera stage on Saturday and performed a set that took me back to the days of the Warped Tour. Performing music from their latest album and covers of popular Oasis songs, this band gave me life. Enumclaw's energy was contagious as they jumped around the stage, squirted water guns into the audience, and handed out promo CDs with unreleased tracks like it was 1999. 
Lovely Colours
The local band, Lovely Colours, hit the stage strong with a dynamic sound that had me intrigued from the moment they started playing. Their unique sound combines the best aspects of British Pop and modern alternative rock. Each song was packed with playful hooks and steamy guitar riffs that had the crowd dancing through the entire set. 
photos by Joshua Lewis
Claudine Magbag 
Claudine Magbag was, by far, one of my favorite discoveries from this weekend. Without the CHBP, I am not sure how long it would have taken for me to track her down. This 20-year-old singer/songwriter is beyond talented and held her own amidst the stacked roster of powerful female artists featured at this year's CHBP. Her soft and intimate vocals, enthralling lyrics and powerful stage presence, and crowd control made for an amazing show. Her set surprised fans with a guest feature from local rapper Sol. Sol's emotive rap paired perfectly with Claudine's stunning vocals for a truly unforgettable performance of their song, Stay On My Mind.
Explore The Full CHBP Roster 
It was honestly super difficult to narrow down this list. Ultimately, I went with the acts that stuck with me days later. Some other favorites included Boyish, Sudan Archives, Seiichi, LIVt, Halley Greg, Future Tense, Rell Be Free, Dave Shanae, and Lysol. You can view the full lineup here.
cover image: The Black Tones by Jim Bennett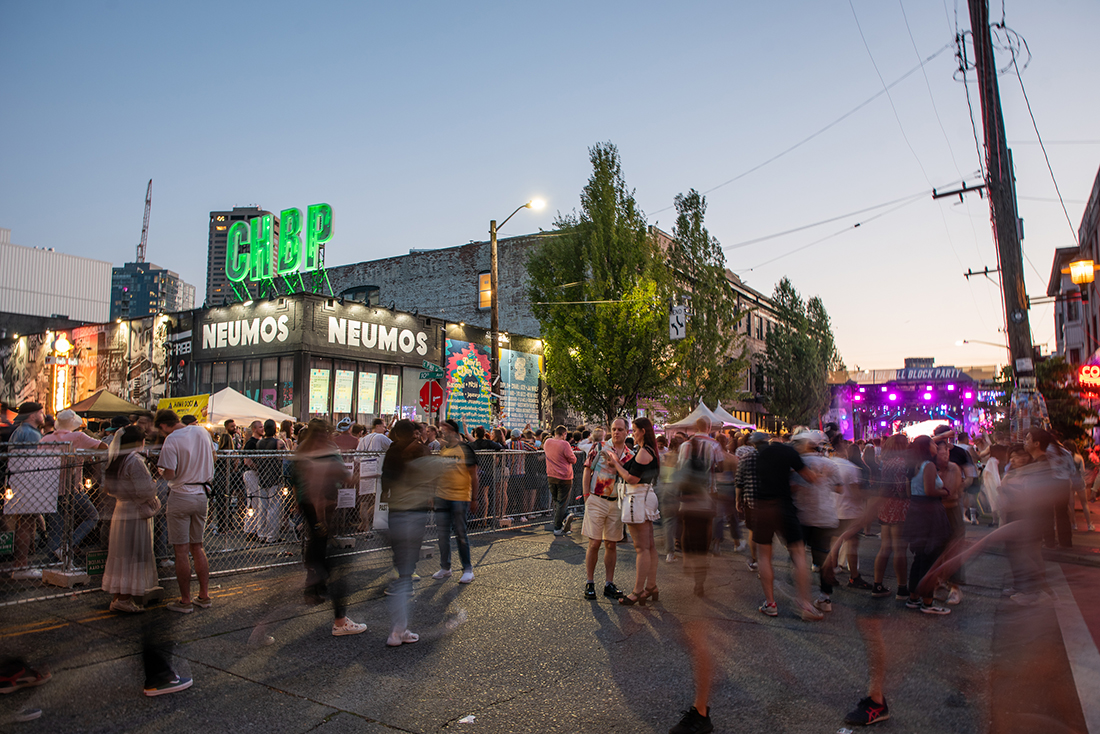 photo by Christine Mitchell