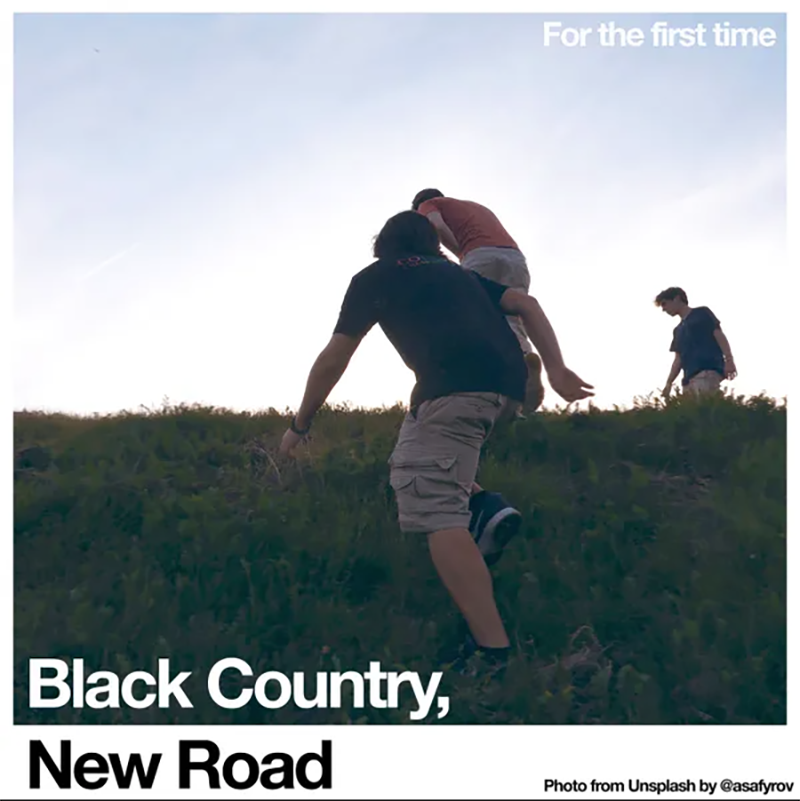 by Haley Paula Stein
London-based seven-piece Black Country, New Road, release their murky, theatrical debut For The First Time on February 5th. The album opens heavy on percussion, setting the stage for an experimental, genre-bending experience calling to klezmer, jazz, art-rock, and opulence.
Lead singer and guitarist, Isaac Wood, introduces his thick, unwavering vocals on the second track – their first single, "Athens, France"— a black comedy in lyric about sexual dysfunction and pop music. For as serious in tone as Black Country, New Road presents, their lyrics are self-aware, bordering on whimsical (referencing Nutri-bullets, Instagram baddies, and their often-compared math-rock predecessor Slint), and irreverently cutting.
The group has a thick skin and daring disposition born only of conflict. The project emerged following a controversial disbanding of their previous group, Nervous Condition. Claims of sexual assault against the former lead singer, Connor Browne, led to members of Nervous Condition distancing from him and recreating their sound as Black Country, New Road. The effect is a style heavier and more matured, less advised by screechy pop-punk. Despite being told by Brian Eno "I can't believe 40 years after I invented this genre people are still trying to do it," concerning their sound, the ensemble ventures into new avenues with their debut.
Lewis Evans is a powerhouse on the saxophone, beeping and fluttering on the almost 10-minute long saga of "Sunglasses," cooing and moaning on the closing track "Opus." Coming up playing with a broad mix of Cuban, Nigerian, and Jewish folk musicians, Evans gives their jazz influence a world edge, distinguishing them from fellow Londoner and deep-voiced saxophone enthusiast King Krule. The mix of abstract and concrete post-punk revival materializes as a tough love child of Interpol and early Sonic Youth. Georgia Ellery, an orchestrally trained violinist, adds to the nightmarish, sultry Eastern European twinge.
Described by The Guardian as essentially a Gen Z band making Gen Z music for Gen Z kids, it's exciting to recognize artistically that these fresh-faced 21-year-olds have tapped into some superficial morbidity of the modern age in ways paradoxically still and erratic. This being the debut album, we anticipate seeing the directions Black Country, New Road spread into on records to come.