Amsterdam Dance Event Friday focus is all things Green: from food and environmental footprint festivals carry to a very special talk with Groove Armada's Andy Cato, who moved to France and became a farmer (true story). Throughout the week, ADE's commitment to minimizing their footprint is quite noticeable but the main announcement for the day is marked by a few promises: a number of global festivals "collectively committed to sharing knowledge and developing circular solutions for the international event industry" as a part of the Green Deal Circular Festivals, put forward by the Dutch Minister of Environment. Seeing massive festivals (Lollapalooza Berlin, Lowlands, Shambala, and many more), commit to sustainability is a great step in the right direction but let's not forget that we as attendees play a big (huge) part in this movement as well.
Now, back to our regular music programming.
The first highlight for ADE By Night this Friday evening is an intimate pre-dinner listening party at the Nes 118 mansion with Deezer, the French online music streaming service. For this evening, a.k.a. the Barbershop, Deezer's global dance, electronic, and alternative music editor Robin Wilms selected a small collection of unreleased albums: "Jdid" by Acid Arab, "Thirst" by Sebastian (about time!), "Balance" by Armin van Buuren, "Yearnite for the Infinite" by Max Cooper, "Magdalene" by FKA Twigs, and a few others. This unique space has a bit of a steampunk vibe, with retro furnishings and grey/green undertones. As we sip on cocktails, unrushed, listening to these great unreleased tunes, some people are sitting back in barber chairs, getting styled by Amsterdam's best.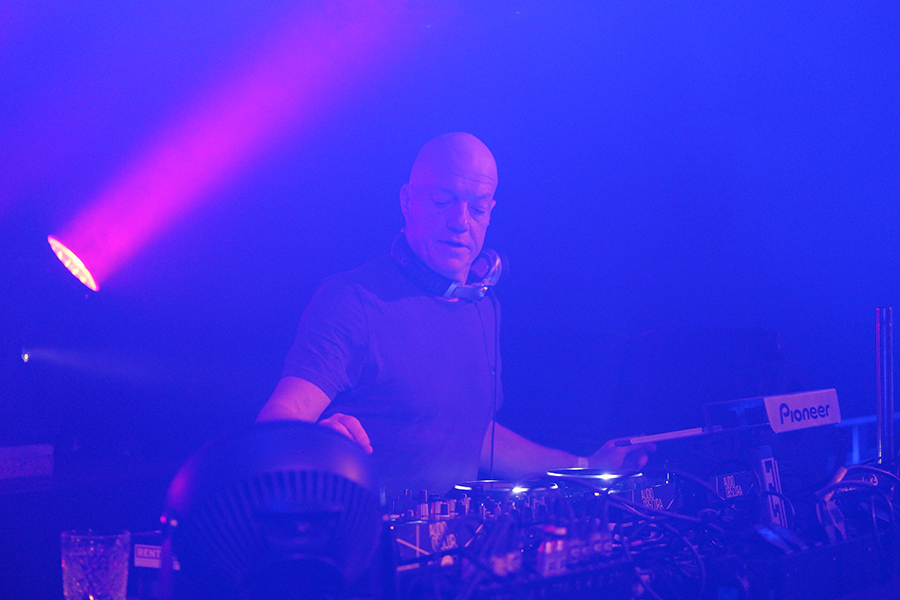 A quick tram ride from Amsterdam Central Station is the main concert hall for contemporary classical music, called Muziekgebouw aan 't IJ. Up a bridge that hangs over the water pass, around the corner, through the lower deck is the Sudbeat x The Soundgarden day party. Dutch DJ and producer Dimitri, the innovator of hi-tech-soul (Detroit sound-infused techno) who started spinning way back in 1987, is playing all day in the Bimhuis area, a round-shaped room with cascading low steps. Back down on the sunny indoor Deck with sweeping views on the water, is Amsterdam-based Miss Melera, playing her flavor of melodic techno to a packed room of dancers, basking in the sunlight.
The rooms and levels in Muziekgebouw are unusually situated across the mixed building levels, some can only be accessed by one staircase, others by another, and across the balcony, overlooking the Deck, is a small Chappel where Sudbeat X The Soundgarden artists from across the globe are taking turns. At around 5 pm Gustin, the resident DJ and promoter for Nick Warren's The Soundgarden Ibiza, stepped up to the tables spreading his unique blend of pumping, tech-prog, funk-fuelled house music. Many of these producers have been around for decades, defining the electronic music genre and building the foundation for what we are listening to today, so it's quite special to be here, watching the masters effortlessly do their thing.
Further inland and later into the night an obscenely large group of people are gathering in the Scheepsbouwloods' warehouse space for a DGTL all-nighter. Known for throwing some of the best parties and festivals around the world Amsterdam-based DGTL is one of many organizations putting an effort into making a sustainable impact on the global festival landscape. When purchasing a drink an extra euro is charged for a reusable plastic cup which you can then commit to for the rest of the night, a system used during many events at ADE. Losing a cup would cost you a euro more per drink while ending the night with one will earn you a recycling token, what it could be used for, however, we never figured out.
The venue is split into two rooms: a smaller one that looked like an oversized shipping container, out of which jam-packed dancers are spilling all the way into the food court-type area, and the big room, which has its own bar, a perpetually sticky floor, cool lights, and TV's hung under the sealing. The mid-programming treat is Orbital, an electronic dance music brother duo (Phil and Paul Hartnoll) from England (cover image). Orbital have been around since the 80s and have an extensively impressive resume. The duo is known for their memorable live shows which – much like today – feature a creative imagery showcase and live improvisation by the DJs. Fittingly to the day's green motif Orbital begun the set with "There Will Come a Time" which opens with a monologue by professor Brian Cox (English physicist): 'There are few certainties in science, but one fact of which we can all be certain is that one day we will die. Our atoms won't disappear, they will return to the Earth.' – one of many environmentally and politically-charged songs we hear tonight.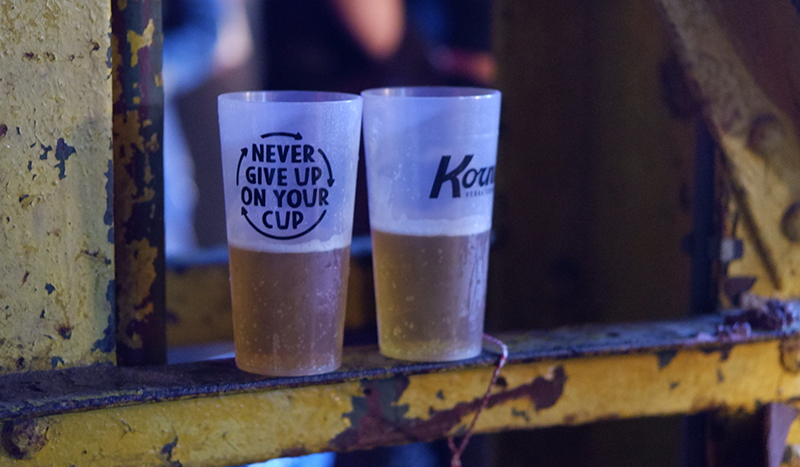 Just around the corner Amsterdam's smallest festival, aptly named Festifest, teams up with Berlin's Wilde Renate crew for a wild ADE dance party at the Noorderlicht Café. As we approach the venue its greenhouse-style shape greets us with warm lights and a casual outdoor sitting area, a few brave souls relaxing around a fire pit. The coat check is outside and the inside is hot like an Arabian desert, packed wall to wall on the main floor. The balcony has a much more relaxed vibe with a handful of people laying back on the couches, a couple quite literally napping, and a small group of people dancing in the circle.
"Beer please." The bartender nods in acknowledgment as if he just scanned me for tasting notes and read my mind. I hand over my recycling token (given to me by security at the entrance), he hands over a pint of lager. Looking over the balcony ledge the energy around the DJ is infectious and you cannot help but dance as well. Taking us into the sunrise are Kornél Kovács, PEAK & SWIFT, Johannes Albert, Alison Swing, and SHMLSS, casually spinning a mix of house and techno, mixing in their particular takes on tracks like Wiley's "Boasty," Robin S' "Show Me Love," classics like Mr Fingers "Can You Feel It" and even "Ghostbusters."