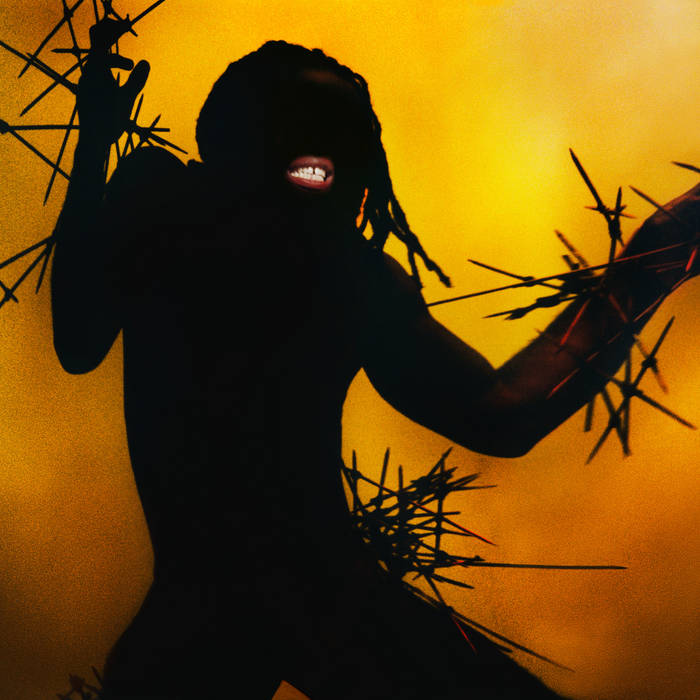 Young Fathers are back. The always-fresh Scottish trio returns after a five-year break with their fourth studio album Heavy Heavy, a distinct evolution of its tidier predecessor Cocoa Sugar. As always, Fathers maintains their inescapable sense of rhythm, but in their latest offering, the bass washes over most tracks with an almost cinematic drone. It's a bigger sound for the group, one that allows them more wildness and abandon than before.
"Rice" kicks off in an exuberant ritual of sound. An electric sitar slides us into a mantra — its repetition frames the album with its overarching question. Like a runner without a finish line, is it even worth asking: is this all there is?
That question is infused into the bass and rhythm section of "Rice" and much of the whole album. There's little time to overthink inside this relentless trance. "Hear it coming / round the bend …. See the turning tide. … You can die like this." Lyrically, Young Fathers are as enigmatic as ever. Still, a through line emerges: there is magic to be found in the mundane. There are a lot of nuances here, but you won't be able to unpack it in real time. That might be the point. 
"I Saw" continues the trance with a beat that feels like Goldfrapp's "Ooh La La" dialed up to a thirteen. This branches out into a resplendent choral release. The narrator bears witness to a culture of bad seeds "buried between justice". A land of voyeuristic wanna-be winners that value safety and control over vulnerability. 
Its most joyous track, "Drum", is the response to the call out of "I Saw". It's a bacchanalian celebration of survival. It's all going to catch up to you so why not live in a state of release instead of exerting so much control. The beat drones into the numbness of surrender. "Hear the beat of the drums and go numb. / Have fun. / Go on." 
That surrender releases into the album's most sweeping track. "Tell Somebody" sits in suspension as its slowly swelling orchestra calls for connectivity in an increasingly lonely world.  "You scream, but your soul / your soul ain't sound." It's a deceptively simple track that stuns. Your pain is not you, but it is a part of what connects you to your humanity. 
Geronimo (the album's first released single) explores the trap of legacy. Its powerful vocals feel almost like a self-help audiobook, whispered over a traditional hip-hop beat. It's a calming number, that intones the album's mantra — living for the future is an easy way to miss your life. 
As a whole, the album lives in its own sonic universe. The percussive nature of rap rides the smooth drone of house music, then opens up into choral pop revelation. Each track offers something distinct and new. It's catchy without being formulaic. It suggests genres without ever falling into them. 
Lyrically, Young Fathers are never caught trying to make a point or imparting a message. It careens in and out what it is to feel your own life as years of memory and meaning compound within you. "You either sink or swim, all or nothing". 
There's an attention to detail in Heavy Heavy that never gets too lost in the technical – though the album is a technical feat of unique and baffling precision. Fathers honor its instinct, which is what makes their music so full of joyous abandon. They're not trying to sound like anyone. In an industry that seems more concerned with producing mimicable hits, Young Fathers does something truly inimitable.