by Kristie Kahns
NYC Winter Jazz Festival week continued into the Saturday night marathon with the first select performance at Mercury Lounge. This spot was packed for the early set by trumpeter Marquis Hill. Marquis became known for blending of styles and the warmth of his tone on trumpet which were both on full display tonight. He was playing with a band of musicians that, as he put it, are "some of my favorite musicians in the world." Their rapport with one another definitely showed, particularly in the interplay between James Francies on keys and Joel Ross on vibraphone. Marquis and band sounded great, revisiting his early works on New Gospel.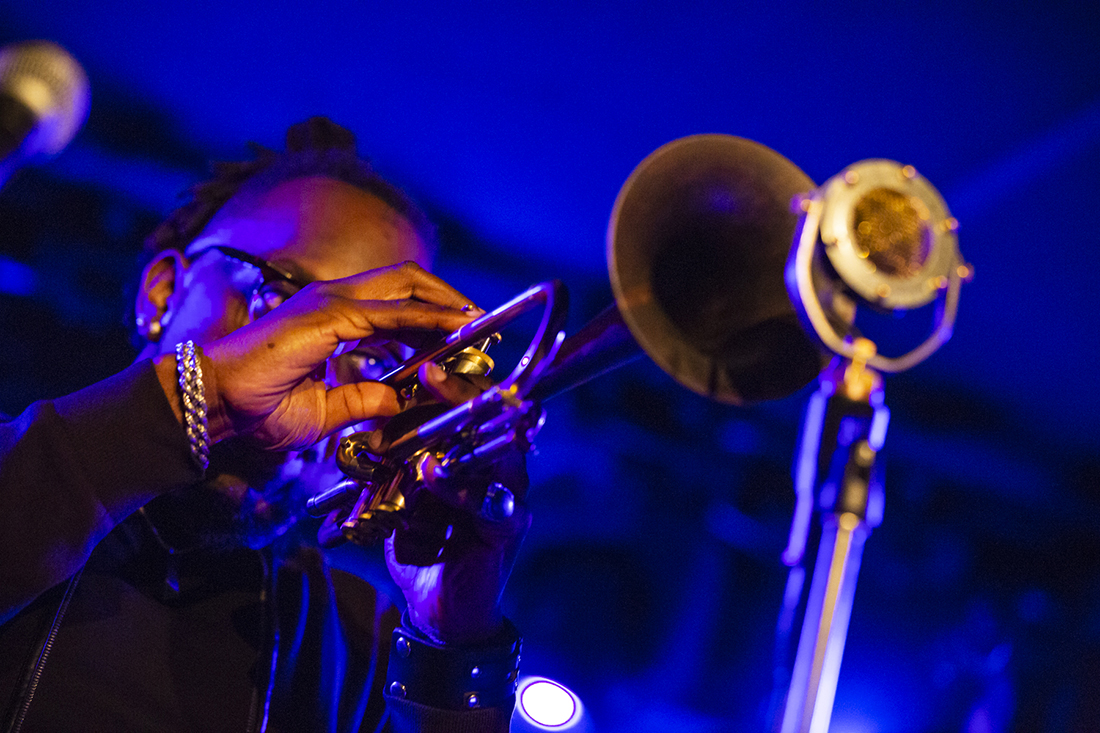 For the next set, I returned to Webster Hall for the second night of the Revive Music stage, which was definitely the place to be for the night, as evident by the very thick crowd. Luckily I caught the end of Brandee Younger's set with her band Soul Awakening. Brandee is a mesmerizing presence on stage and carries on the legacy of musicians like Dorothy Aashby and Alice Coltrane with a fresh approach.
Makaya McCraven returned for the second night with the same cohort of musicians but an entirely different set. This was his first preview of the upcoming album, We're New Here: a Reimagining by Makaya McCraven, which reworks the music of Gil Scott-Heron. Makaya used a MacBook and Ableton to incorporate some Gil vocals and additional beat layers – like the claps/snaps on "New York is Killing Me."
The theme of the Revive Music stage was mental health awareness, which was addressed by numerous musicians and spoken word artists on the mic throughout both nights. Makaya took time before their final song to address the audience, one that was filled with many musicians, reminding musicians to check in on each other, and talking about how the people on stage with him weren't just his bandmates, they had become his family. "Music is an art form that has the ability to heal the artist AND the listener, and it's a really special thing to be a part of that." They closed with a new rendition of "I'm New Here" with Junius Paul on vocals.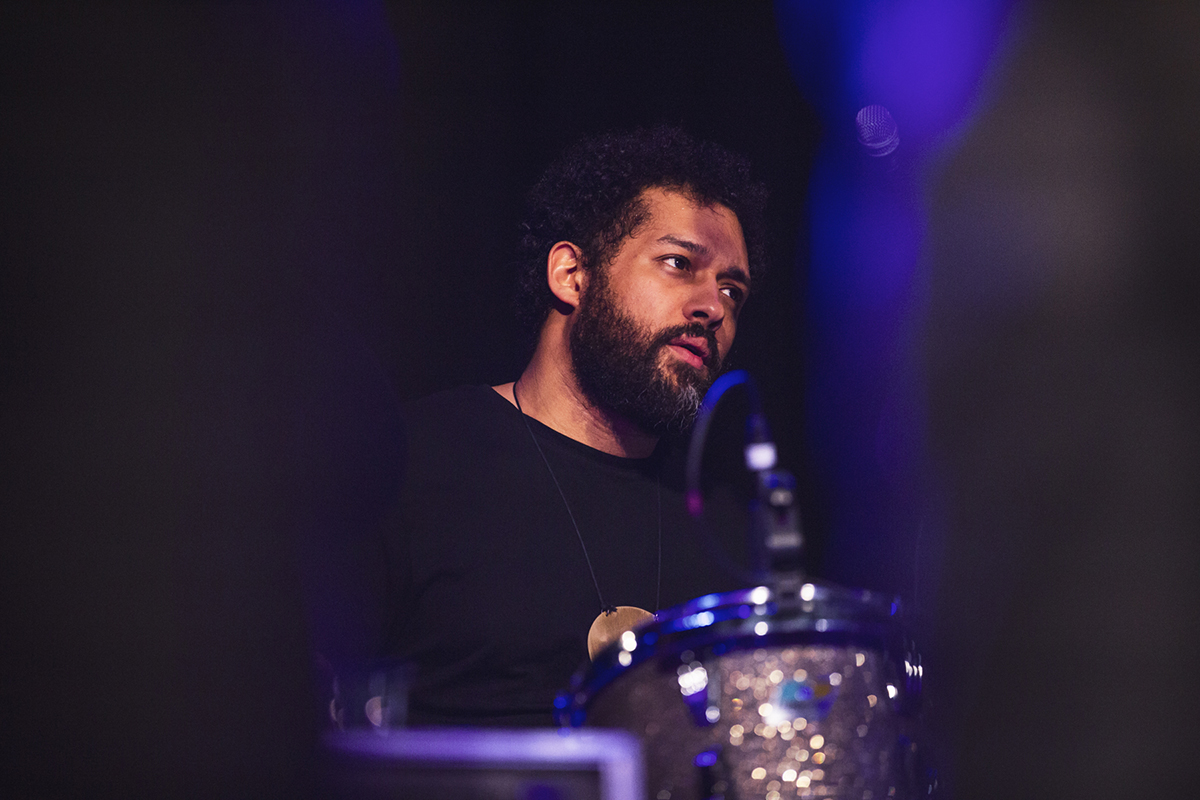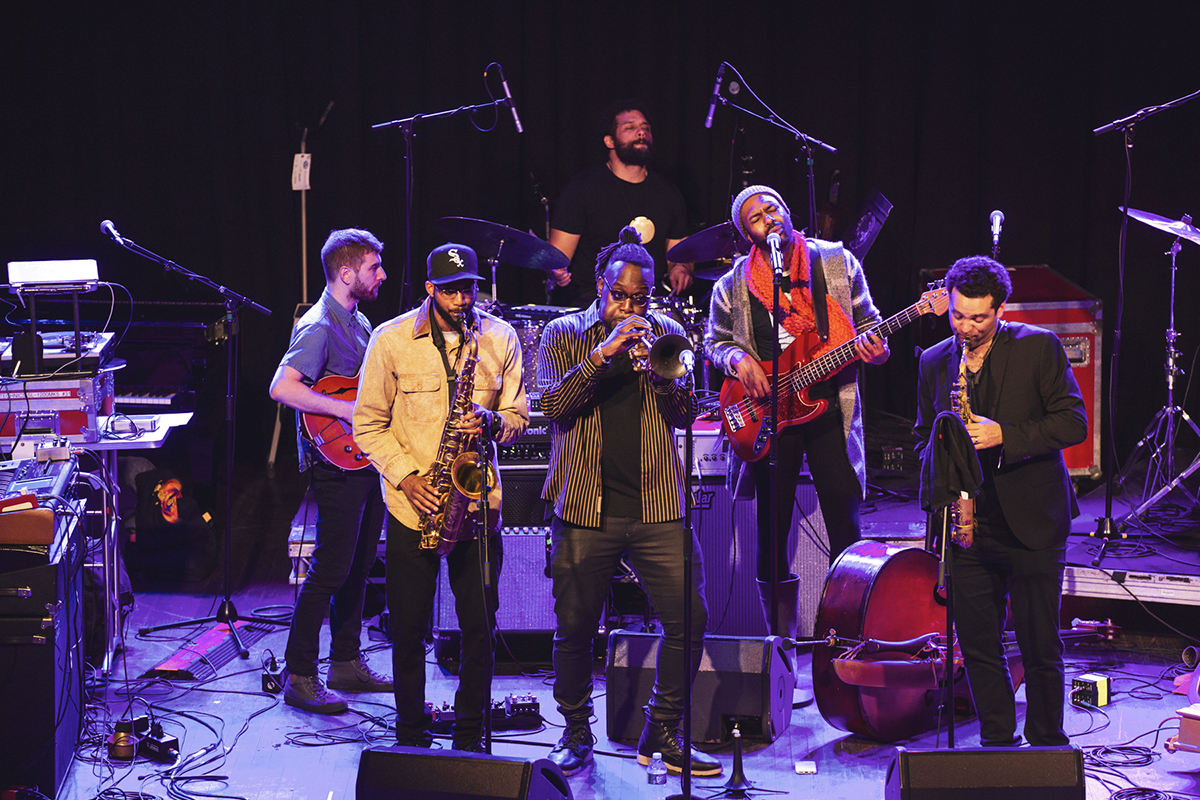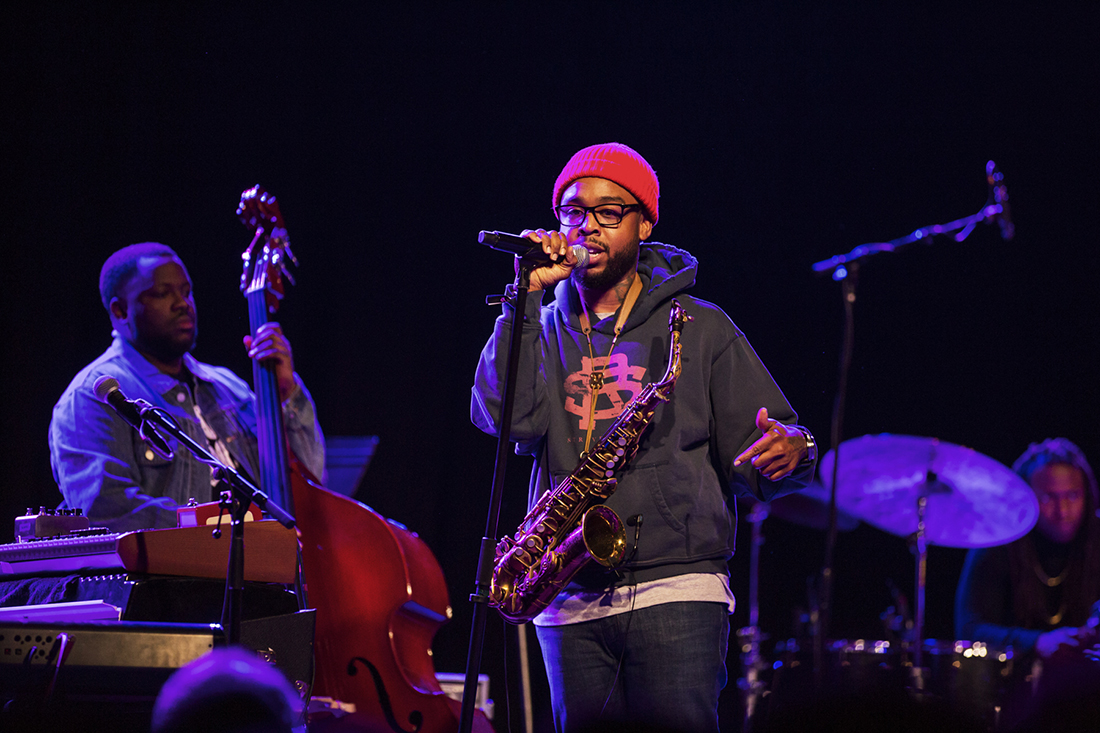 Terrace Martin's Gray Area followed. Terrace talked on the mic quite a bit, about his story being from Crenshaw, about his ego-less band, about wanting to share a message about more than achieving financial success. He introduced his special guest Keyon Harrold by telling the story of how they met when they were 15 years old at band camp. He laughed and said, "that's some real nerdy shit… band camp." They performed "Valdez Off Crenshaw" together.
The last set of the night at Webster Hall was Robert Glasper, playing to a packed crowd. The trio warmed up the stage with a cover of Radiohead's "Packt like Sardines in a Crushed Tin Box."  There was something incredibly poignant about hearing Robert's vocoder rendition of the lyrics: "After years of waiting/nothing's changed." With a résumé and circle of friends like that of Robert Glasper, everyone knew there would be surprise guests. One song after another, he introduced different friends to the stage:
Taylor McFerrin for a beatbox battle; Terrace Martin on keys/synth for an R+R song (he stayed on stage for the rest of the set); Yebba for vocals on "Fuck Yo Feelings."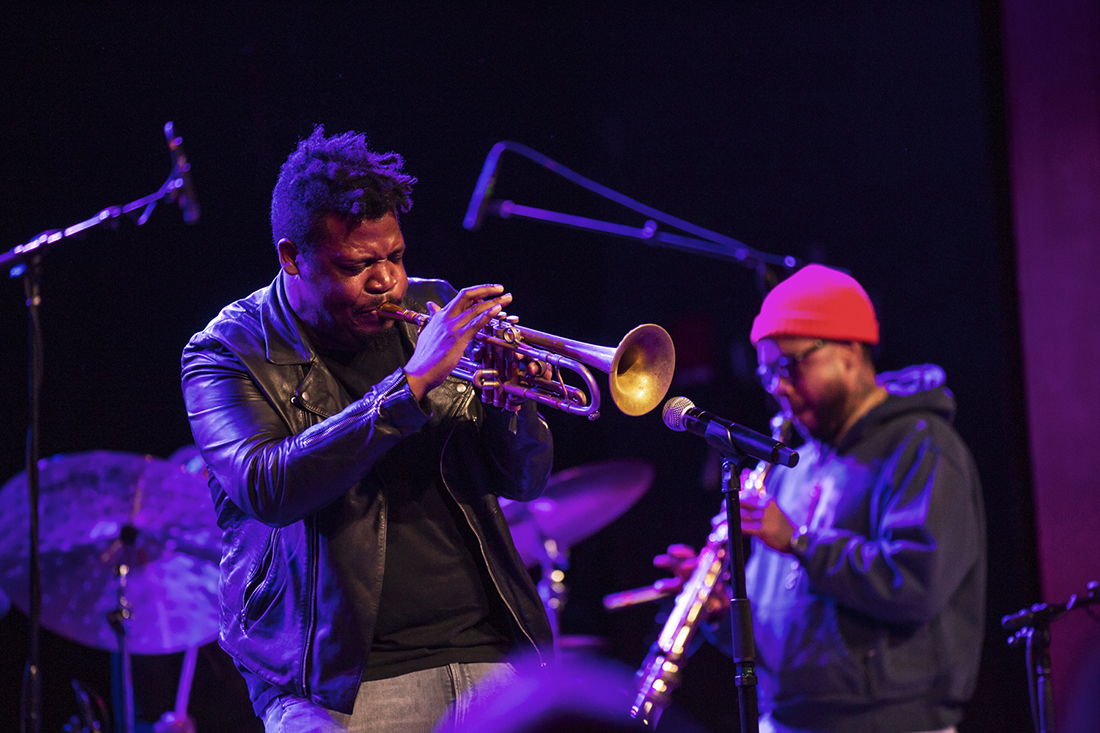 Then he introduced drummer Karriem Riggins to come on stage, telling the story of how they met in 1998 in J Dilla's basement in Detroit. Robert said to the audience, "any Dilla fans here?" and the crowd cheered. "Ok, then y'all are gonna like this." Karriem and Robert started what was clearly a Dilla beat, then Robert says, "and then I met this rapper…" he shared, which to everyone's astonishing surprise was Common who came out on stage right on the beat. The audience erupted. The group went into "Nag Champa" together while Common really worked the crowd. Vocalist Muhsinah was also on stage, she and Terrace did Dilla's vocals on the chorus with the audience singing along.
Common and Robert had some hilarious banter – you could really sense the friendships that these guys have with each other. They closed with "The Light" and Common got the crowd involved in the chorus. Muhsinah (and another female vocalist at the end) did the chorus. A really beautiful end to a star-studded set.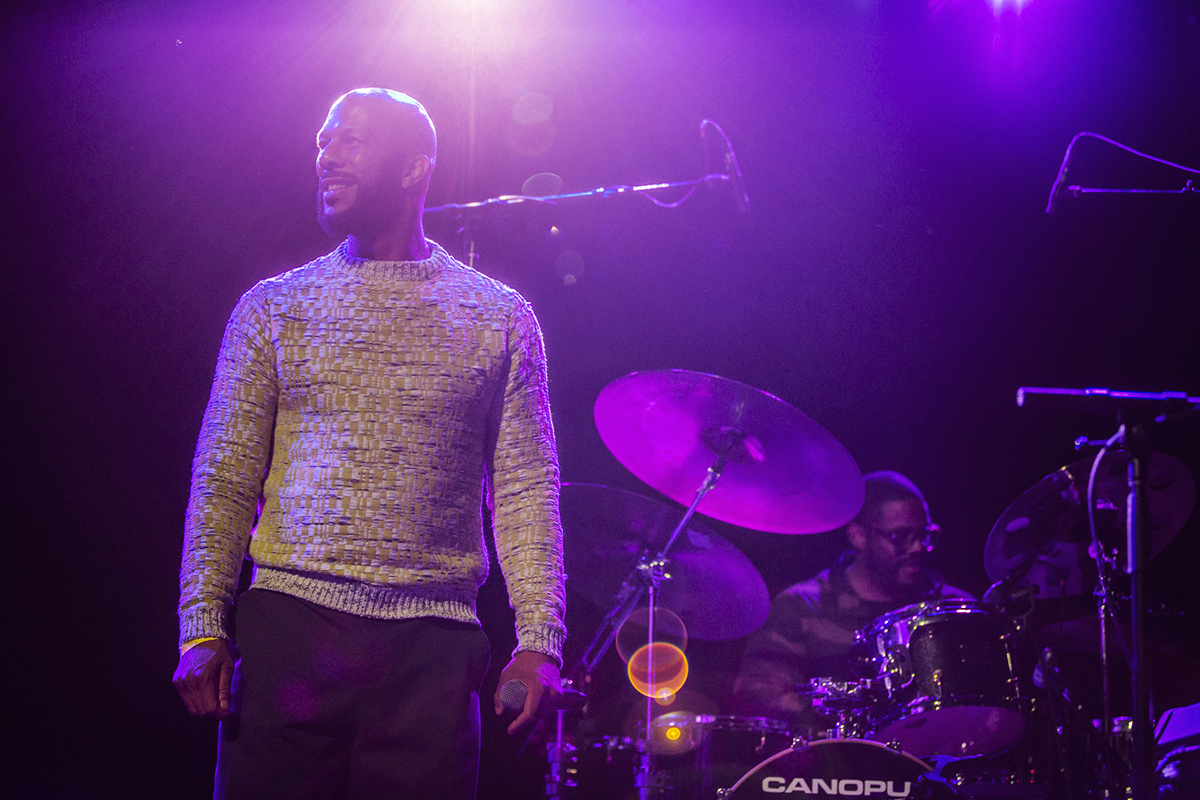 For a bonus round, Sunday night offered up From Detroit to the World: Celebrating the Jazz Legacy of Detroit and honoring Marcus Belgrave at Le Poisson Rouge. The lineup of this night included Detroit jazz legends Ron Carter and Louis Hayes, as well as a new generation of Detroit musicians and students of Marcus Belgrave such as Karriem Riggins, Theo Croker, Kassa Overall, and Kasan Belgrave.
There were four sets of music, curated by singer Joan Belgrave, the wife of Marcus Belgrave. Though it was a long night of music, it proved to be worth it when the final set included lots of switching on the instruments and mixing the generations of musicians for fresh arrangements of some of Marcus Belgrave's compositions. "Detroit Day," with Joan Belgrave on vocals, Zen Zadravec on piano, Ron Carter on bass, and Karriem Riggins on drums was a highlight.