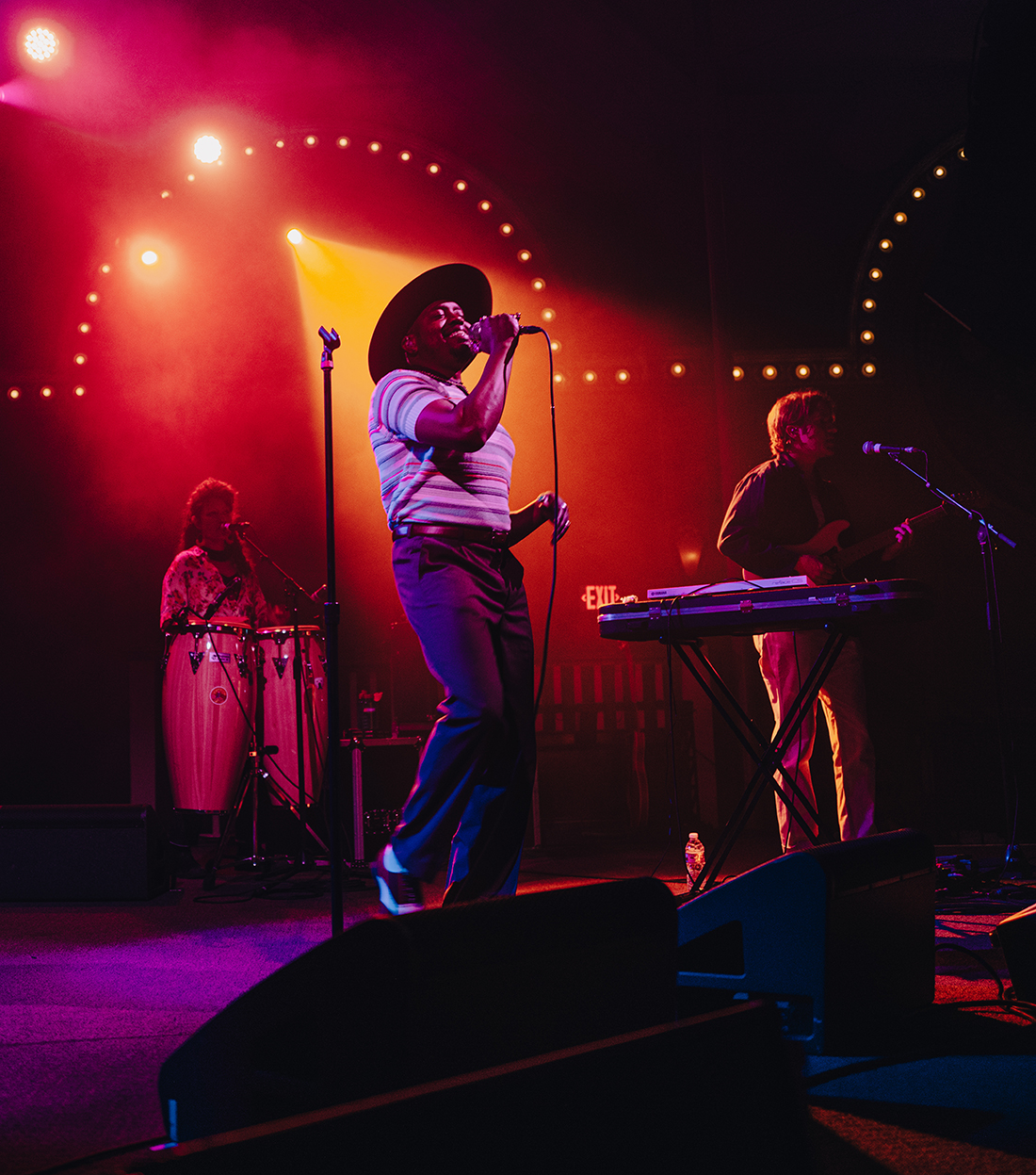 text by Rebecca Day
Durand Jones and the Indications, an R&B/Soul group from Indiana, have been touring like mad since 2021. The group's popularity has exploded in recent years – their song Witchoo, for example, was featured on Barack Obama's 2021 list of favorite music. While their name and sound simply seem to be in the zeitgeist, many folks got their introduction to the band through 2020's cult-followed Hulu show High Fidelity which showcased "Is It Any Wonder".
The band played Portland's Crystal Ballroom on mid-May Wednesday evening. While the show was not technically sold out, it felt like it might as well have been – the room was standing room only, shoulder to shoulder. La Doña, a Chicana singer/songwriter from San Francisco, opened the show in a fantastic, fiery red matching pantsuit. With the first notes she sang her jubilant music spurred an immediate reaction from the crowd,  "I don't want to hear no 'Oh Yeah's' if you're not shaking your ass" she called out to the crowd. 
La Doña commented on the diverse crowd in Portland (including a shout-out to her fellow Chicanos) and she was on the money – while many shows in Portland tend to draw crowds that look like they would have sat at the same lunch table in school, the crowd at this event was as diverse as it was large. Not only were Black and Mexican Portlanders here in stride, but social groups at the show ranged from high school tween girls to middle-aged couples out for a night on the town. There was not even any one style of dress that seemed to link the audience members, only the desire to scream and shout and, for lack of a better word, boogie as the night wore on. 
As expected, Durand Jones deftly commanded the room. The show opened with "Circles," a song that, in this context, feels full of anticipation. But this was only a warm-up though because, by the time the band began playing the third song of the night, "Love Will Work It Out," we were blessed with Jones' signature voice – long, high, and clear, holding on to the words as if to stretch them out for eternity. To say the crowd went wild is an understatement. 
There was no sign of the grueling tour schedule in his voice – or the band's playing for that matter. Even more than that, it appeared that every little interaction, from opener to headliner and between band members, was approached with a smile and a laugh. In a packed venue where the crowd has been waiting over an hour to see the band play, it is not uncommon for tensions to rise. Here, however, the jovial attitudes spread from band to audience and back again. 
While both La Doña and Durand Jones and the Indications toy with a vintage flair, the alchemy of music, laughter, energy, and joy on stage kept us solely in the present. In an era where almost nothing feels new anymore, this show captured the ever-evasive authenticity that everyone seems to be chasing.