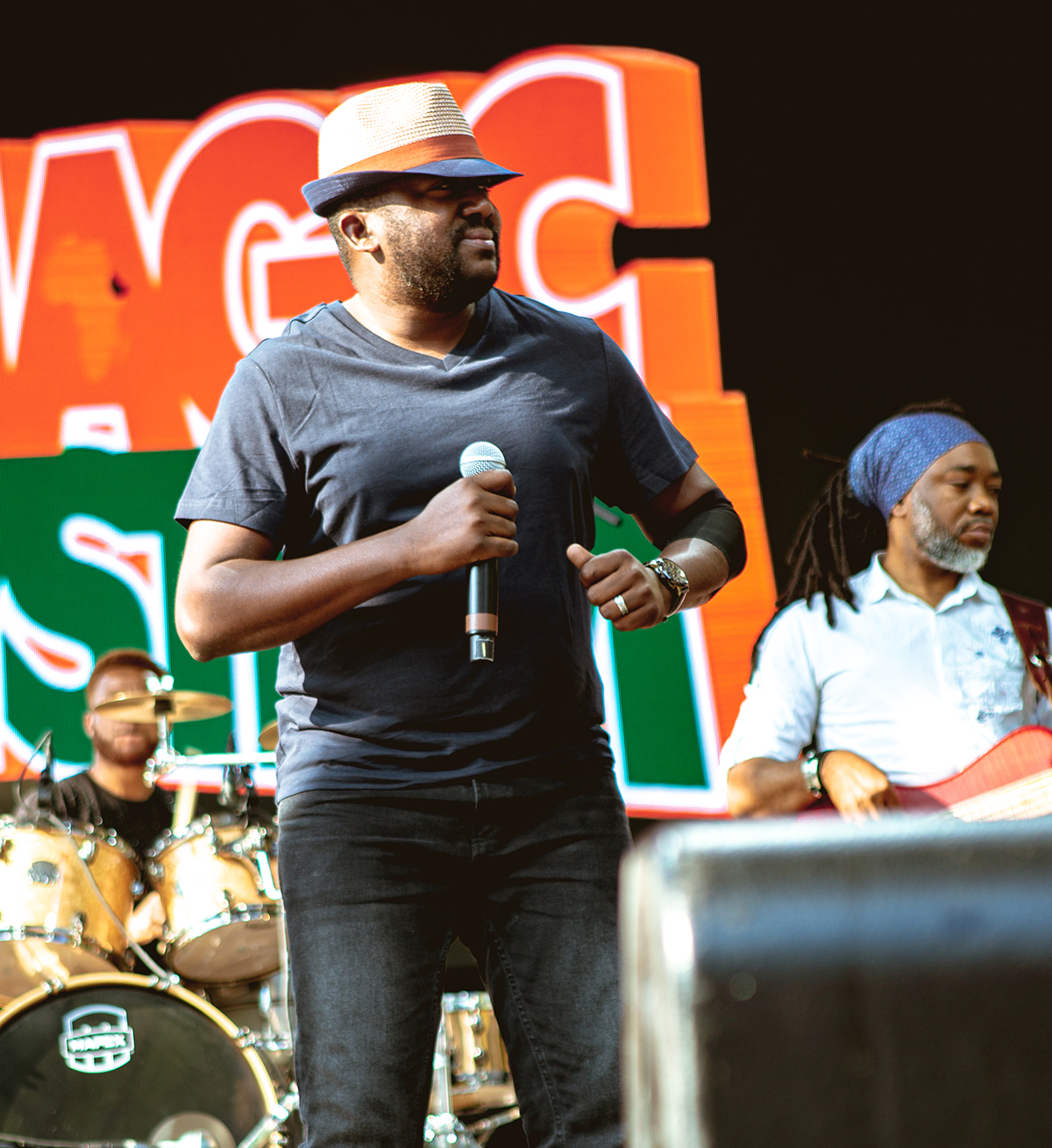 text by Jake Goldbas | photos by Yvonne Yuen
Summerstage in Central Park is a weekly concert series in New York City. One might be pleasantly surprised by available weekend parking at Museum Mile on the East Side. Once you make your way through the beautiful greenery of the woods and lawns you'll find Rumsey Playfield, a small outdoor concert venue on top of one of Central Park's many hills. On her way, a concertgoer might pass friends having a good time playing soccer and frisbee. Good start so far.
World music band Magic System performed there on a hot and humid sunny day this past weekend. In front of a crowd of some five thousand, the band played fast, fun dance music. In the heat of the late afternoon, the crowd moved sometimes like a big blob. Other times the band invited the audience to join in with some simple dance moves, like moving arms side to side.  The vibes were contagious – the music of Magic System is irrepressible and unstoppable good will. It's the kind of pop that asks and deserves to be liked. The band members were among devoted fans, who sang along in French with the music's call and answer, or sometimes just sang lead vocals all together.
Magic System is from the Ivory Coast, and the band is Zouglou – apparently translating to shameless dance music in English. Zouglou started in the 1990's from zouk, ragga, and soca music, such that Zouglou is a mix of genres bouncing around the world.
All of these elements combine in the band's 2014 hit, "Tu Es Fou," which translates to, "You are crazy!" Their music video for this song has a whopping 29 million views on YouTube, and one can't help noticing contemporary influences. Keyboards and synthesizers splash like American pop hits, and the drum cymbals have familiar washes. Because the song is party music, it could easily come out of French electronica band Christine and the Queens. "Tu Es Fou" uses all four of the band's lead singers, and is better than LMFAO's "Sexy and I know it." Magic System's flash mob dance-off in the video for the song definitely has a cousin in Carly Rae Jepson's dance-off in her video "I Really Like You."
The gang is all here, and not just because Magic System has so many members! Magic System's sound has influences from rap, in its use of hype men, and T Pain's creative use of auto-tune making the vocals themselves an instrument. "Zouglou Dance," also from 2014, has a video where the singers reach out over the internet to people who listen in their homes, and resembles Lil' Jon's video "Turn Down for What."
Because Magic System's music is so positive, the question then becomes how to successfully build the kind of tension necessary to get people moving. Part of the answer lies in the music's repetitiveness, and the happy vibe makes people want to boogie. In addition, often their music uses weird time signatures against a marching beat. The result is less like a super-fast waltz, and more like a feeling that the music is always supposed to resolve any time in the future – but never now.
Finally, the chorus effect is a fascinating aspect that appears twice in the band's menu. The chorus effect is named after the weird sound of a choir when many people sing the same note at the same or nearly-same time. The differences in people's voices makes their combined sound wiggle around. In other words, it's an effect. Magic System uses this when they put their four main singers together, and separately as an electronic filter on guitar. The chorus gives the guitar a rubbery sparkle, cutting through bass and keyboards in way that's unmistakable. It's a warm, friendly sound that matches perfectly with the good spirits of this band.
photos by Yvonne Yuen