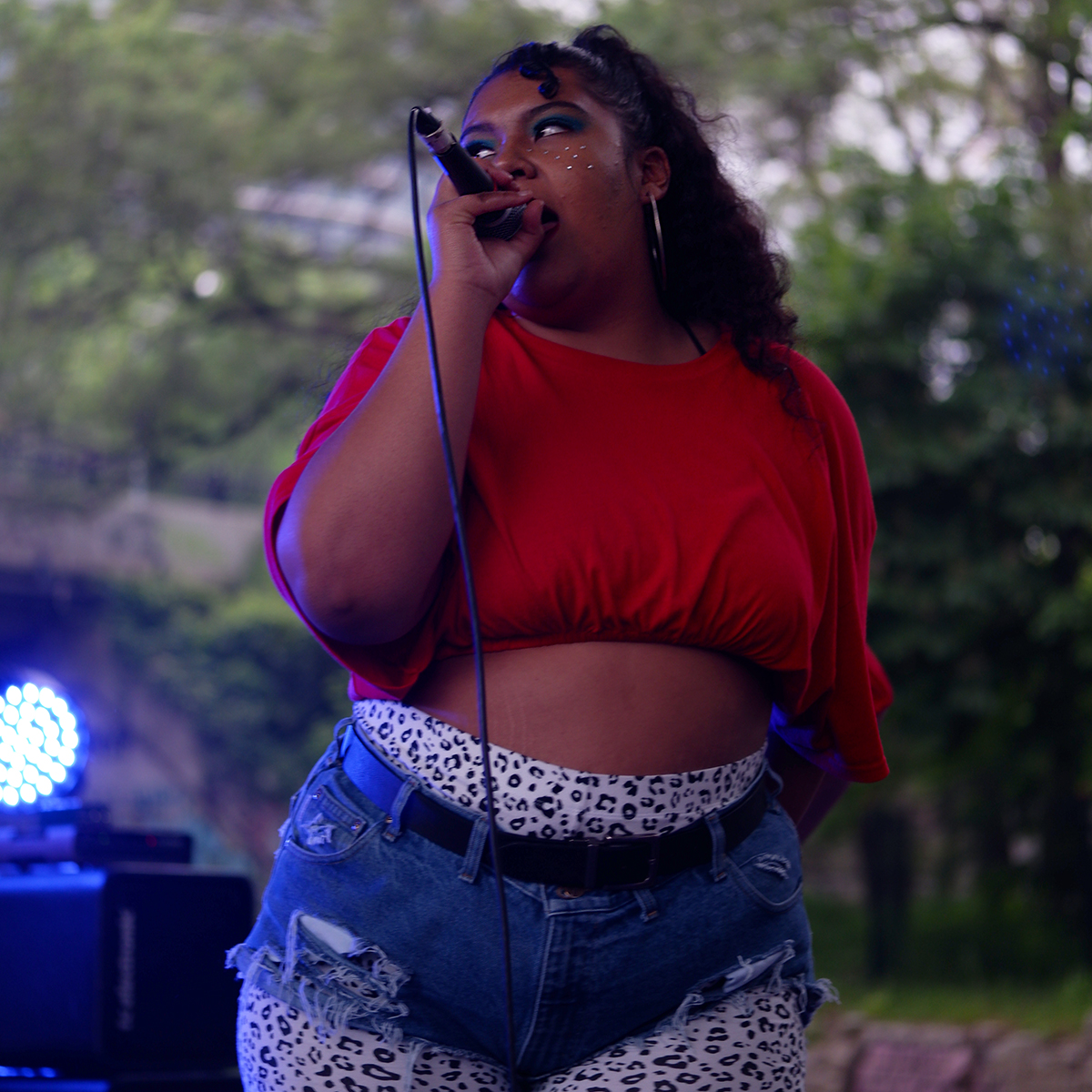 Red Bull once again joined forces with NUDE for the 3rd annual block party at the Bentway. The family-friendly event was off to an early start with folks of all ages enjoying the custom-built pop-up basketball court, getting tattoos done, hair did, lining up for Raptor's merchandise, and sipping cold cocktails. The weather felt like early April forcing many people to zip up to the chin but as the crowd got bigger and the wind slowed the temperatures didn't feel as bad.
First up on stage was LOONY, an up-and-coming local alternative R&B singer-songwriter from Scarborough. Her music is a mix of soul, pop and jazz with hip-hop, all carried out with an impressive vocal range. Last year, Apple Music made her their artist of the week in May for a track "A Small Flame." Since then LOONY, has released a few new singles, including "Warm Weather" and "Overnight" which was featured on Complex. Her set was gentle and melodic, supported by a 3-piece band. Mid-performance she went into a small speech about all the bad shit that's been happening in the city and reclaimed summer 2019 as a year free of "fuckery" and fighting, which off course got the crowd clapping in support.
A couple hours later, after a few more ball games, a few cans of beers and haircuts, the RBxNUDE stage welcomed Vancouver-based pop singer-songwriter (Benita) Prado. Prado dipped her toes as a band member but the rules boys created were not the rules she wanted to play. "I want to help women in the industry, not raise up men, who most of the time don't work as hard as women do," she told CITR when reflecting on that situation. Today, Prado is all herself: unapologetically fearless, teasing the boundaries of genre from hip-hop, to pop, to indie and R&B.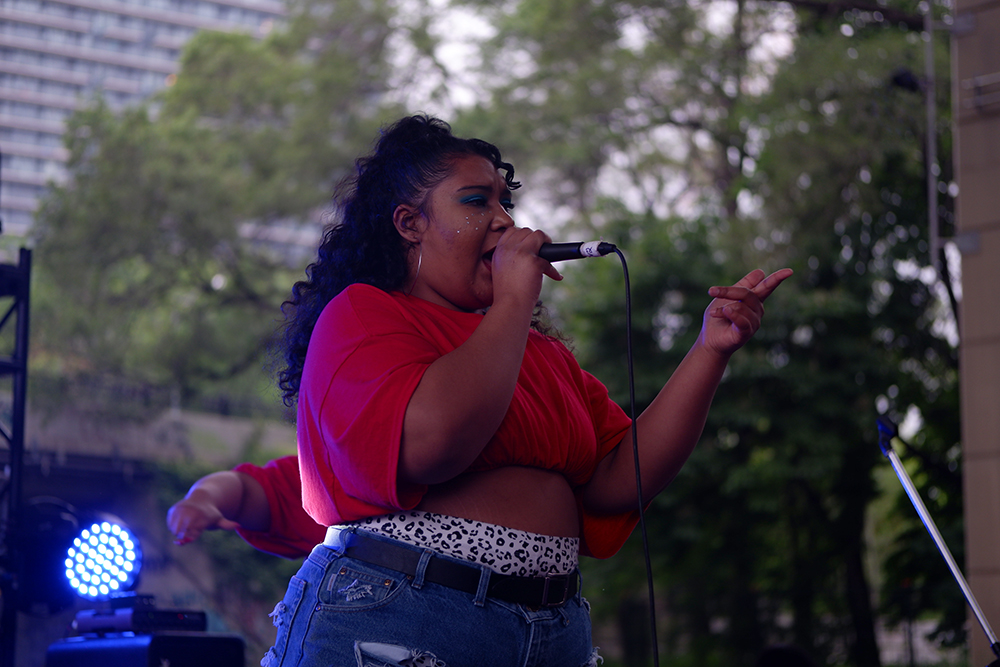 Joined by two dancers, all dressed in matching outfits, Prado took the audience by surprise with her attitude, stories, and choreographed dance moves. Prado's performance is engaging, the audience enthusiastically took part playing calls back and forth with Benita. "I'm the teacher now bitch" she pointed out with a laugh, "This next song is called "Monster" … I say: emotional, you say: monster – remember, just taught you this" and play along they did. Wrapping up the set Prado addressed the audience: "Thank you so much for listening to my weirdo set, you were probably like what the fuck was that … yeah, that's how I like to leave a performance.. find me on Instagram…DM me we can get some fried chicken make it a Toronto 'ting.'"
Toronto's Chris LaRocca stepped out on stage just before 8 pm with long-time collaborator Herag Sanbalian and a bass player on the right. The small stage quickly filled with fog and flashing blue lights, at times you could hardly see him through the cloud. Earlier that day we sat down with Chris for a chat to gain some insight into the rising star (multiple publications have dubbed him one-to-watch). So everything you need to know about  LaRocca can be found in that interview shortly but this set is what really brought him to life as an artist. A small crowd of people at the front were singing along to nearly every song and everyone joined in for a cover of  J.T.'s "Suit & Tie."