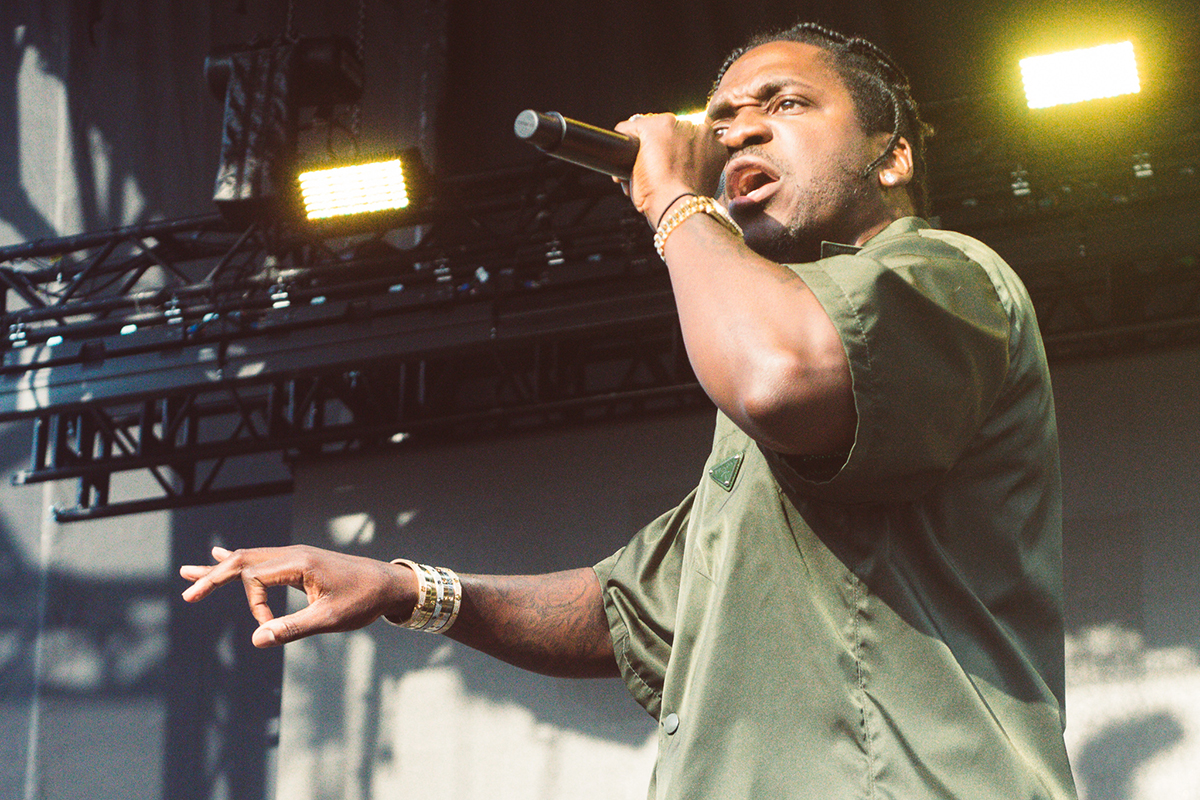 It's the middle of the summer and festival season is in full swing in Chicago. Pitchfork Music Festival (P4K) was celebrating 14 years of showcasing some of the best artists in a variety of genres. This year they continued that tradition but the excruciating temperatures has lead Chicago officials to issue excessive heat warnings for Friday and Saturday. The dangerous heat wave made the air muggy and hard to breathe while standing on a soggy ground post last night's thunderstorm. But all that was not about to stop concert enthusiasts from attending this jam-packed P4K weekend. As early attendees huddled around the sparse trees that provided shade in Union Park, they left the comforting shelter as soon as The Great Black Music Ensemble took center stage.
Draped in dashikis, The Great Black Music Ensemble woke up the sweaty audience with its blasting horn section. The orchestra's fun, loose freestyle swing kept bystanders alive as the heat beat down on them. It may have been noon, but the soulfulness in the sound was invigorating to hear. Scat lyrics devolved into funky chaos and with a squealing guitar solo, the set came to an end. Standing on the Corner took over the same stage quite promptly. Wearing all white garbs, they did their own jazz rendition. There were over 6 saxophones on the stage with cellos, violins, bassoons, and their own horn section equipped with a French horn solo. We were off to a fantastic jazzy start and it's only the beginning!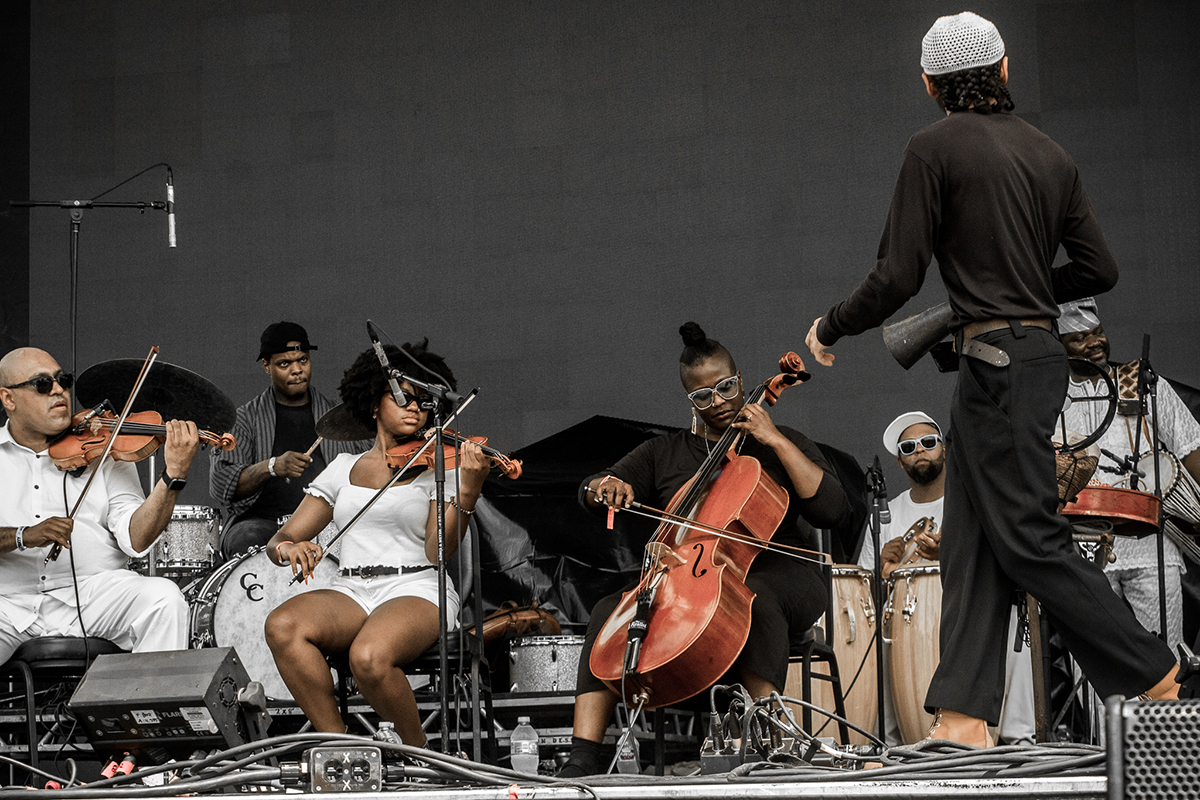 Next up to the left at the Red stage was rapper MIKE taking control of the mic. He was the first artist to truly get the crowd participation going when he asked them to spell his name – M-I-K-E – with him jokingly responding "y'all some real ni**as. Y'all could've spelled whatever you wanted." A few tracks in MIKE brought out King Carter to help perform their song "Run It Up." With soulful sample-based beats and deep bass in their voice, MIKE and King Carter got the lyrics to match the instrumental as they traded bar for bar.
If bands like The Great Black Music Ensemble and Standing on the Corner provided some classical jazz to appreciate the importance of instrumentation, then Rico Nasty was for the younger crowd to shake their ass and get ratchet too. Rico is a young, talented black queen who is confident and not afraid to share her logic. Adorn in long flatten peach hair and white Kangol hat, with pants to match, she demanded a mosh pit be opened. The crowd was more than happy to oblige. Her energetic raps accompanied by booming bass kept fans hyped throughout her entire performance. Rico performed crowd favorites including "Key Lime OG",  "Countin' Up" and her verse from Doja Cat's "Tia Tamara." 
The rapper gave an affectionate shout out to the rowdy fans yelling, "There's some beautiful bitches in the crowd!" She knew how to command reactions from her loyalist like a boss. Rico Nasty had the party juking making her set the wildest of the day. And if you weren't going crazy in that mosh pit, then simply put: you a lame.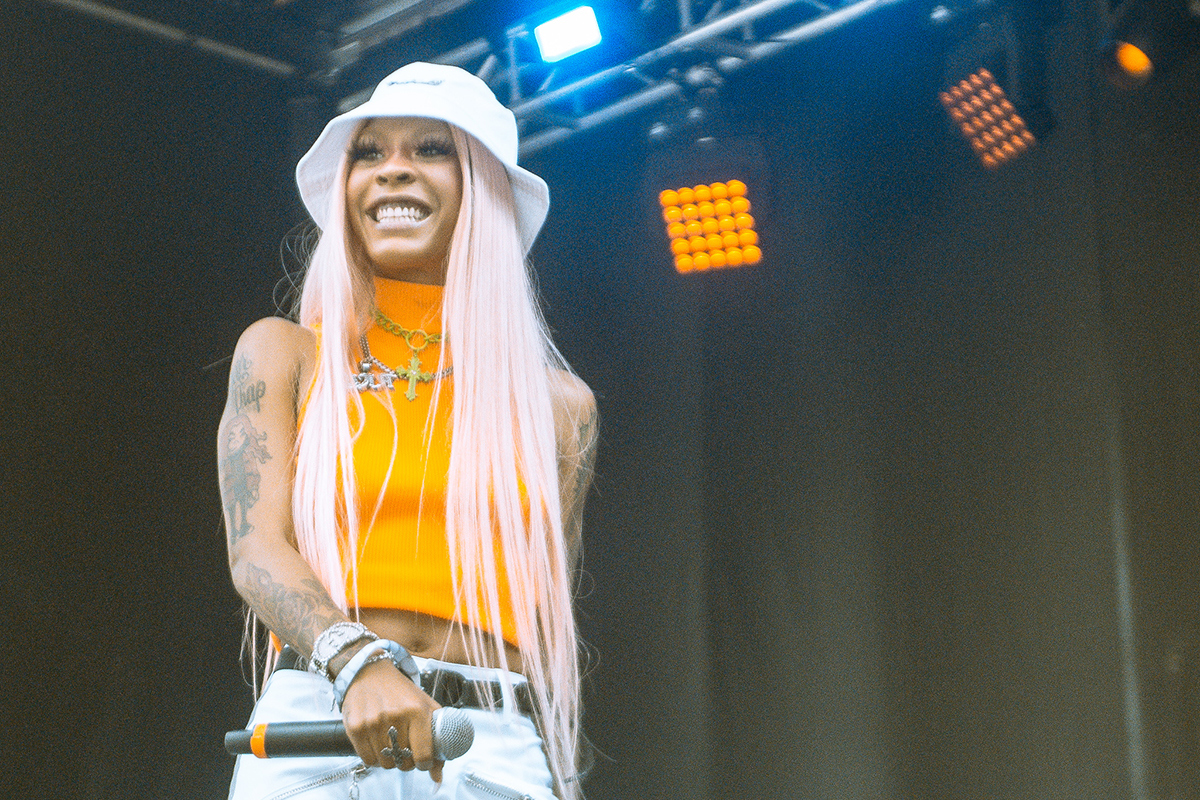 Across the field in the far left, Earl Sweatshirt walked on the Red stage to thunderous applause before yelling out: "It's hot as hell out here Chicago for no reason!" That made the exhausted crowd laugh at their own misery and come alive to rush the stage. Now sporting long dreadlocks, Earl has come a long way since his time with Odd Future and his rhymes reflect his growth. Throughout the set, the Chicago-born artist cleverly blended rhymes with menacing beats from Doris. The instrumentals are haunting, the bass bumps loudly, and Earl's style is nasty as expected. The bass booms so hard it can be difficult to listen over the vibration. Nevertheless, Earl kept his composure as he bobbed along with fans to keep the tempo flowing. He himself looked exhausted from the heat but pushed through with jams like "Molasses" and "20 Wave Caps."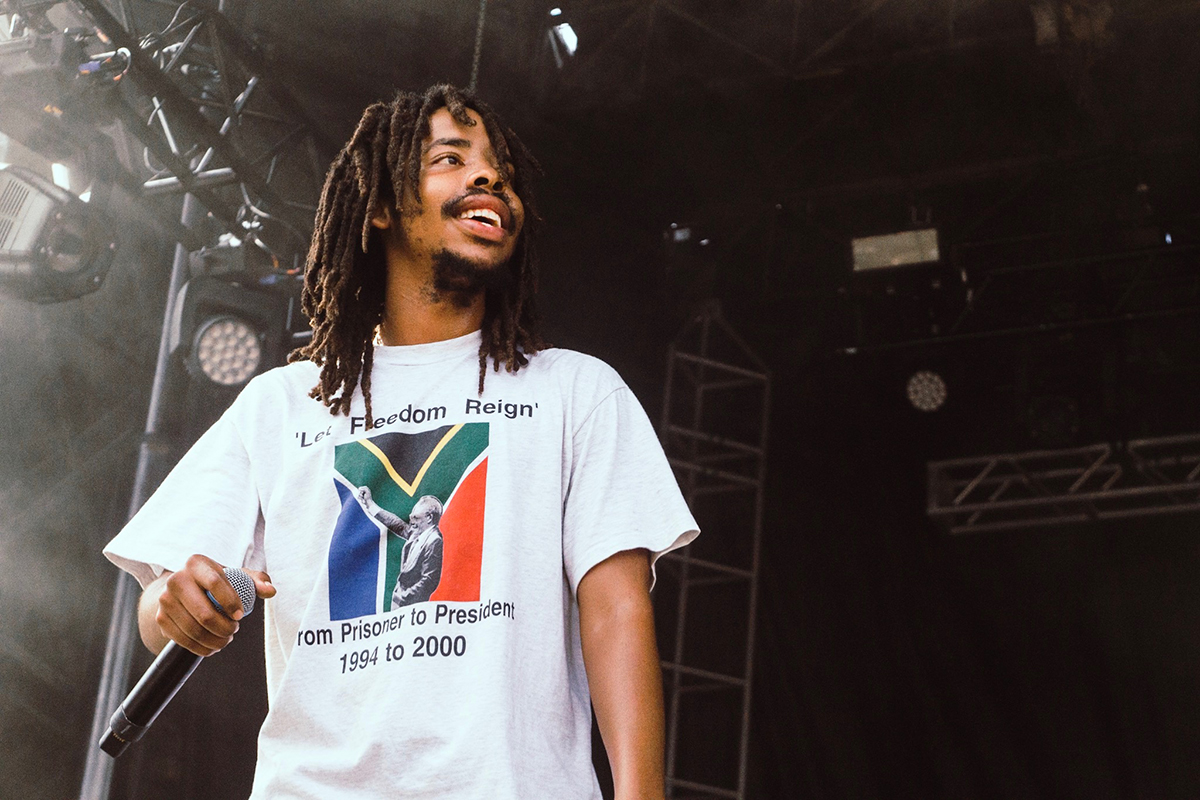 A rapper who had some of the most talked-about moments last year on this stage was Pusha T. From his self-proclaimed "album of the year" Daytona to his ongoing feud with Drake escalating in his controversial song "Story of Adidon", it's hard to argue Pusha T isn't the best rapper alive right now. He reminded the crowd, as much when he entered the stage with Al Pacino's Scarface theme song as if stating that the world is truly his. The Clipse artist started off with an acapella for " If you know you know" before the beat dropped. He gave a shout out to those who supported him throughout his years with Clipse to G.O.O.D music. He performed Clipse's "Grindin" as well as his feature verse on Kanye West's "Runaway." The crowd toasted empty water bottles to the douchebags and scumbags that we know because we've all been there.
The fans erupted once the beat dropped for the modern classic "Lamborghini Mercy." Being a man in demand King Push had to do Daytona tracks like "Santeria" to remind those who forgot how great it is: "Of all the things I've ever paid for. Know that it's no price tag when I wage war. It's no more to pray for, n**** get preyed on. Darken my doorstep, they told me the day's gone". To prove his love for Pitchfork, Pusha T performed his verse from, Chicago native, Chief Keef "Don't Like" to get the crowd juking.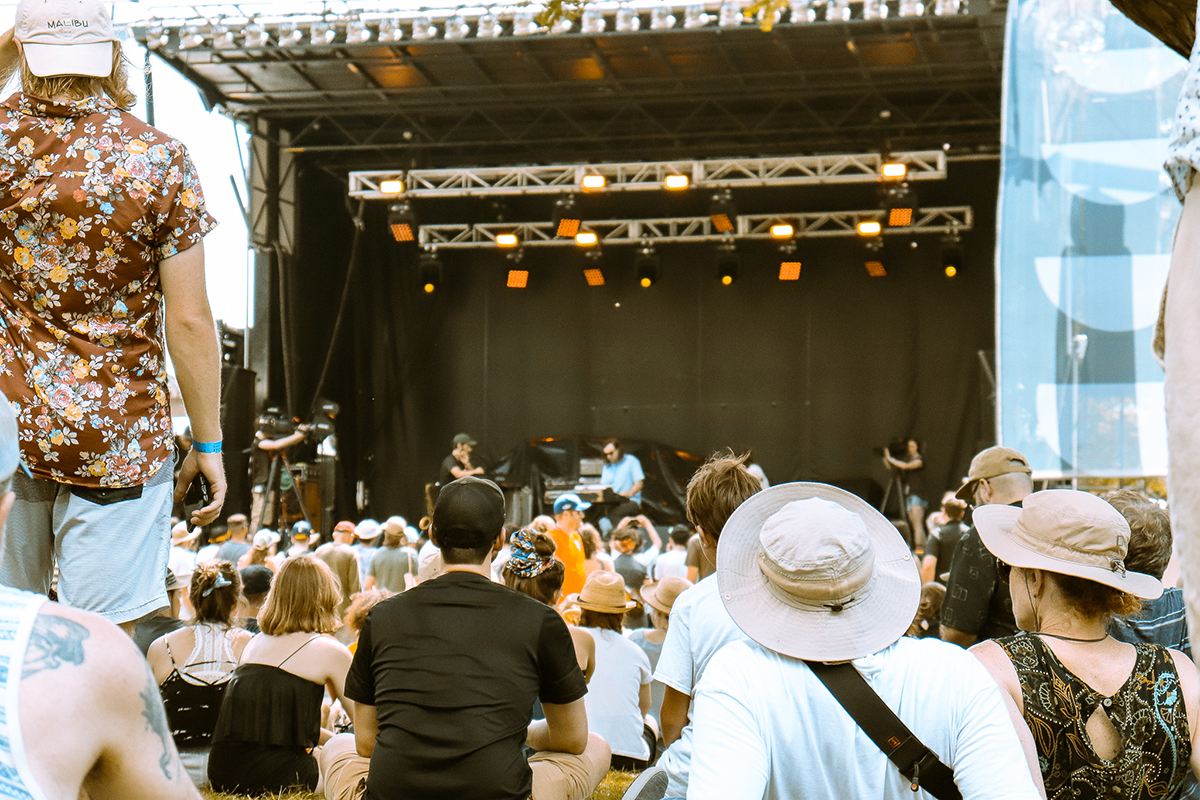 The band that most people endured the most of blistering heat for was HAIM. Amazingly the sun finally went away once the group of sisters took center stage for a three-part drum intro. Afterward, they traded their drumsticks for guitar picks as they sang along for "Falling." The vivid red screen engulfed the singers, as they sang in unison for an epic performance of "Don't Save Me." In the middle of their performance, Alana Haim admitted she recently turned 30. To celebrate with the fans the band did a beautiful rendition of Paula Cole's "Where Have All the Cowboys Gone?" and "And I Don't Want To Wait." If that wasn't good enough they also debuted a new song "Summer Girl" to go with the season. HAIM ended their fantastic set with a banging drum outro.
All in all, it was a successful first day at Pitchfork. Yes, the scorching sun felt unbearable at times. Here's a special thanks to Pitchfork officials for providing ample amounts of water bottles, ice, and A/C buses to keep everyone hydrated. Even artists themselves struggled with audio difficulties as they battled the heat to perform so much so that they most often commented on the temperature, which made fans chuckle at their sanity. But we were all experiencing it together. No one can look cute while melting in 100-degree weather and so we all sacrificed our well being for the love of music. It may have not been the best decision but there were no regrets.
photos by Manny Diaz