photos by Neil Nourigat
The line for Portland's Wonder Ballroom was down the street and around the corner on a drizzly Sunday night in anticipation for The Marias show, but those who were able to sneak their way into the venue earlier may have just stumbled onto one of their favorite new artists Ogi, whose fun and hypnotic blend of R&B, soul, hip hop, pop, and pop definitely gained her a whole lot of new fans who grabbed the audience's attention from the get-go and never let the energy drop. Joined on stage only by guitarist and producer Jacob Galdes Ogi took elements from various genres and morphed them into something fresh and unique in a way that only a talented singer-songwriter and performer can. Ogi possesses facets to her style and stage persona that is a throwback, in the best way, to a bygone era when solo acts could put on a captivating show not by fancy light shows and expensive technology but by pure talent, charisma, and piercing sincerity.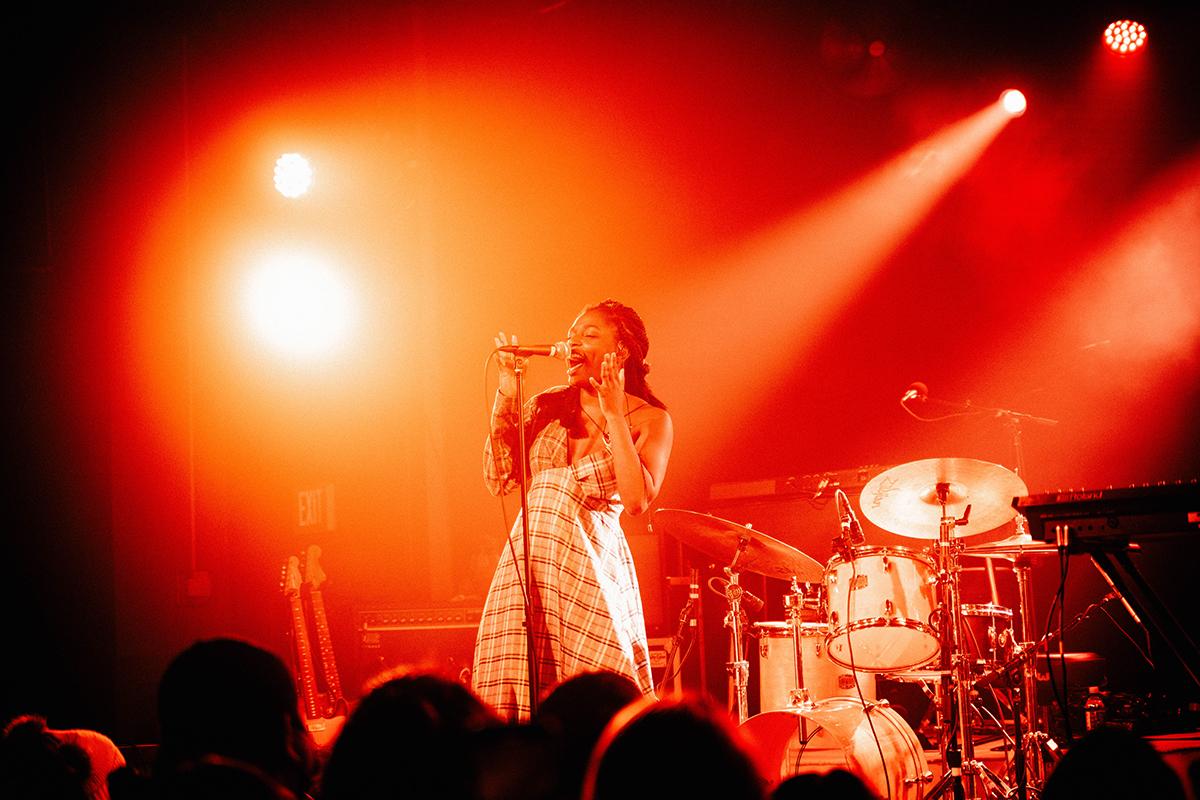 Ogi's set was short but packed a good punch. Things got going with the opening track "Anything" before she pulled out her debut single "I Got It". This song showcases Ogi's captivating and smooth baritone voice juxtaposed over a shuffling jazz-infused hip-hop beat. Her acapella background shows face as she glides effortlessly over the track, expressing her self-belief in a confident, soulful, and delightfully boisterous way. Her pinpoint flow and cadence certainly got the crowd going. "I Got It' would be an impressive debut single for any artist, and Ogi's enthusiasm and talent allowed the track to translate perfectly to a live setting.
Ogi then incorporated a call and response aspect of the performance as she got the crowd involved with "Bitch Too Bitter". By this point, she had the crowd transfixed and her savviness as a performer was on full display. She dedicated her final song, the soulful "IKYK", to her little brother.
When Ogi left the stage, Jacob Galdes, who had been stringing together beautifully understated guitar lines all night, took center stage and ripped off a tumbling rock 'n' roll riff eliciting one last loud cheer from the crowd. During the set, Ogi told the audience that she felt a connection with them and there's absolutely no doubt about that. It will be exciting to see Ogi continue to progress as an artist as she continues performing live and releasing tracks. The musicianship and talent combined with her charismatic style of performance that was on display in Portland could take Ogi to some truly special places, and if you're a music fan of any genre, she's an artist to start paying some serious attention to.