This most recent Friday, January 17th, marked the final marathon night of NYC Winter Jazz Fest 2020. From Bushwick's House of Yes and The Sultan Room to Williamsburg's Music Hall of Williamsburg, National Sawdust, Rough Trade, and Brooklyn Bowl, the chilly night didn't slow artists and fans alike from enjoying the many performances across the handful of participating venues.
After shows by Kendra Morris and Felix Pastorious & Social Experiment, Brooklyn Bowl hosted the popular Kung Fu for a two-hour set, marking the dance-inducing, high-energy point of their lineup. Both crowd and the Connecticut-based quintet contributed to the feel-good-only vibes of the room and were ready to groove the second members of the band stepped on stage. Tim Palmieri (guitar), Rob Somerville (tenor sax), Todd Stoops (keyboard), David Livolsi (bass guitar), and Adrian Tramontano (drums/percussion) were surrounded by an audience so close and happy to get down to Kung Fu's sounds, that they seemed to one big extended family. On par with Brooklyn Bowl's usual scene, the funk fusion jams were easy to fall into and accessible to even those who can't keep a beat.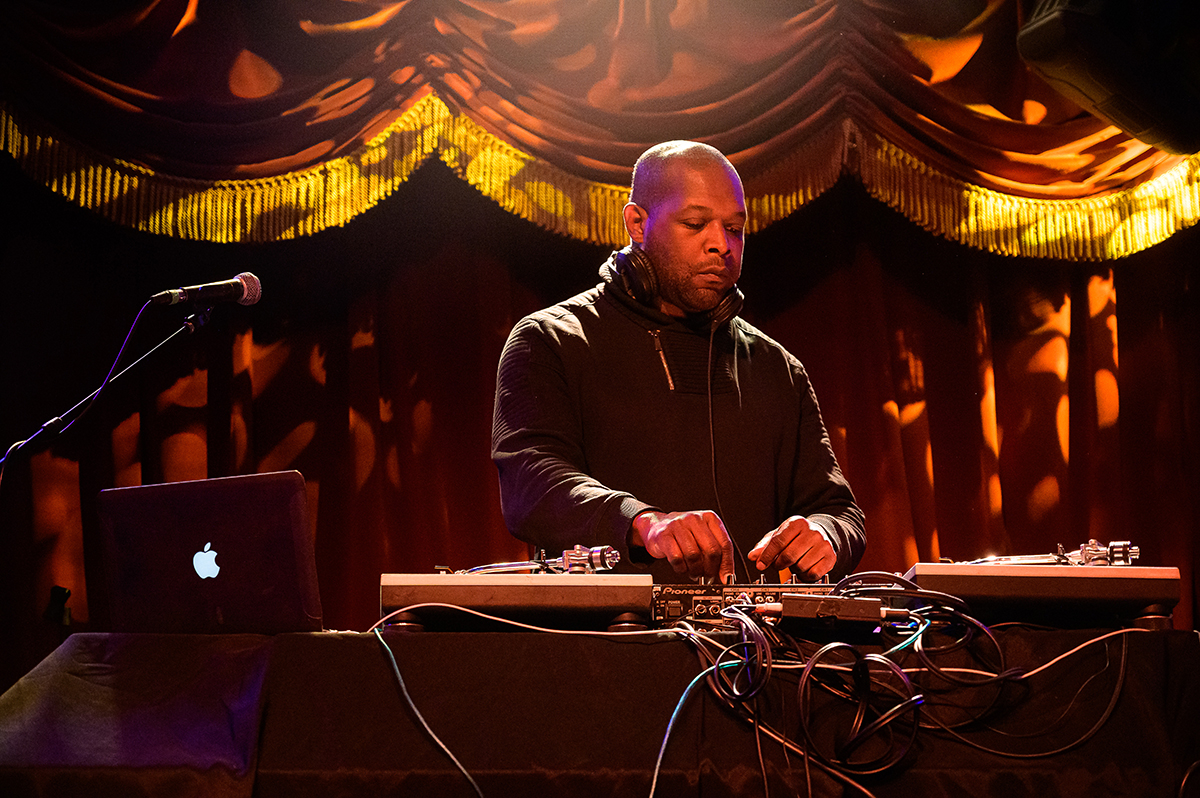 Following Kung Fu, DJ Logic + Friends set the tone for the late-night Festivalgoers. Collaborating with Billy Martin and Shanir Blumenkranz, the trio made for a chill atmosphere. Their performance was a definite display of eclectic artistry perfectly coming together. Bassist Blumenkranz seamlessly swapped between and played through what seemed like a museum collection of traditional instruments throughout the set, which lent a mysticism to DJ Logic's praised beats. Some of these included string instruments like the African Gimbri and Oud, which made for more colorful bass lines. Celebrated drummer Billy Martin got deep into his equally notable percussion collection, moving from behind the kit to sound delicate singing bells and a variety of wooden pieces. Really, this was a perfect trio I'd be excited to see again soon.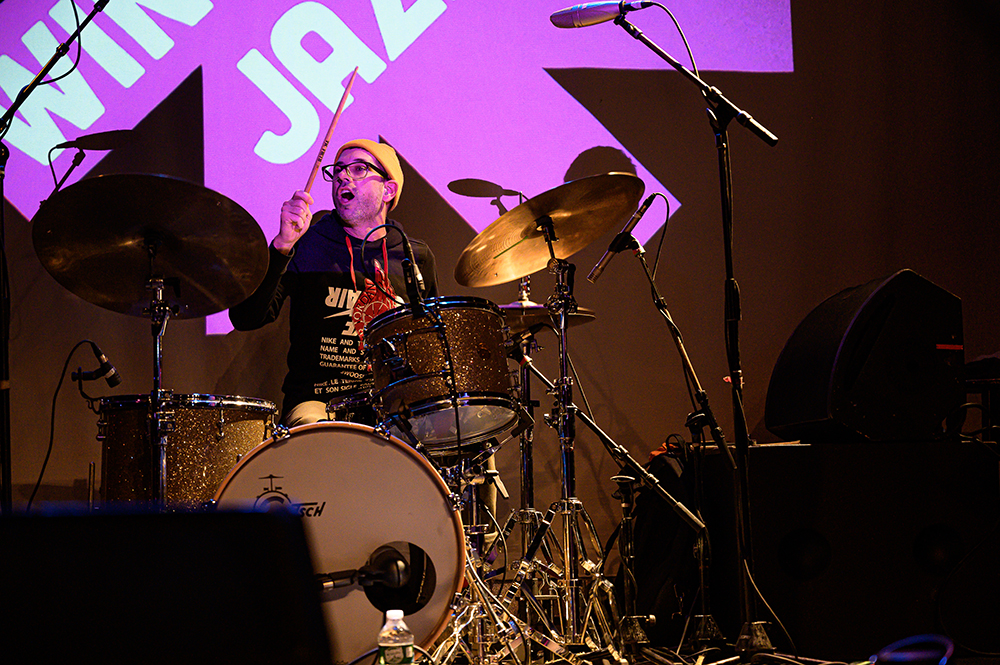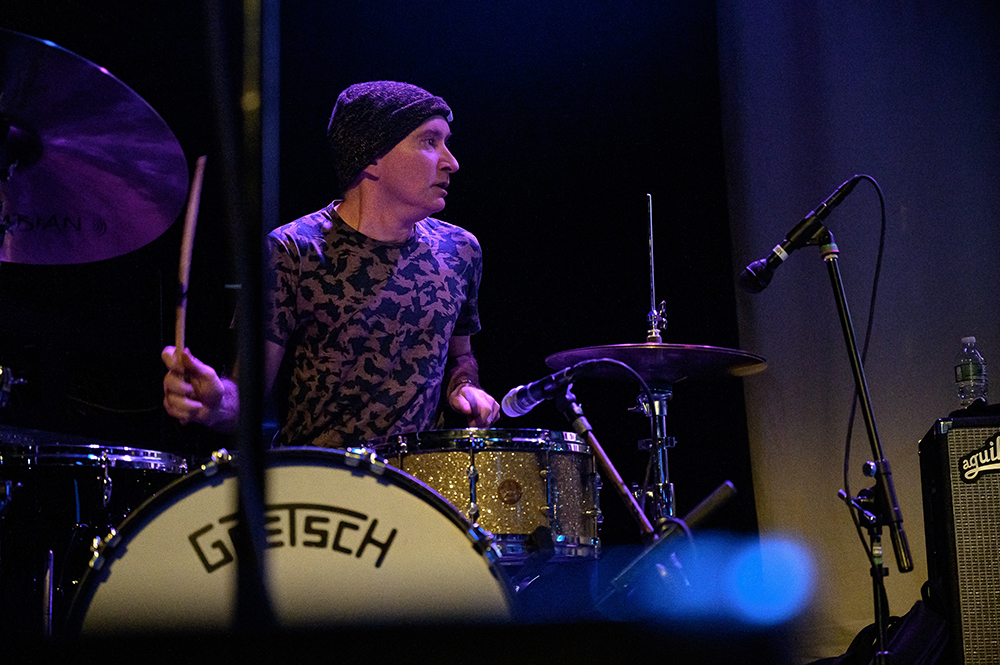 Back at Music Hall of Williamsburg, Kneebody played to avid followers who almost had as much fun as the group themselves did on stage. Made up of Shane Endsley (trumpet), Ben Wendel (tenor saxophone), Adam Benjamin (keyboard), Nate Wood (drums/bass), and this year's Winter Jazz Fest artist-in-residence, drummer Mark Guiliana, the show was one of pure enjoyment, craft, and experimentation. The treat began with Wood's bass mix set to deliver a deep and palpable stream of vibrations to the gut and through the bodies of all in the room. The powerhouse group played from the framework of some new songs, but the focus was clearly on letting loose with solos by all. Most notably, Wood and Guiliana teamed up, jamming from behind their individual kits for a display not to be missed. The excitement only heightened as Wood brought his bass back into the mix, playing it and attacking drums simultaneously.
Music Hall of Williamsburg ended with a set from Daedelus for attendees looking to keep the night going. The LA producer was animated as ever outfitted in his usual tailored suit, complete with a handkerchief to wipe his brow from the workout of the iconic show he puts on. The crowd dwindled with the onset of the morning hours, but those who left missed out on a chance to really take the marathon to a higher level. It was an ending that left me already anticipating next year's Winter Jazz Fest.