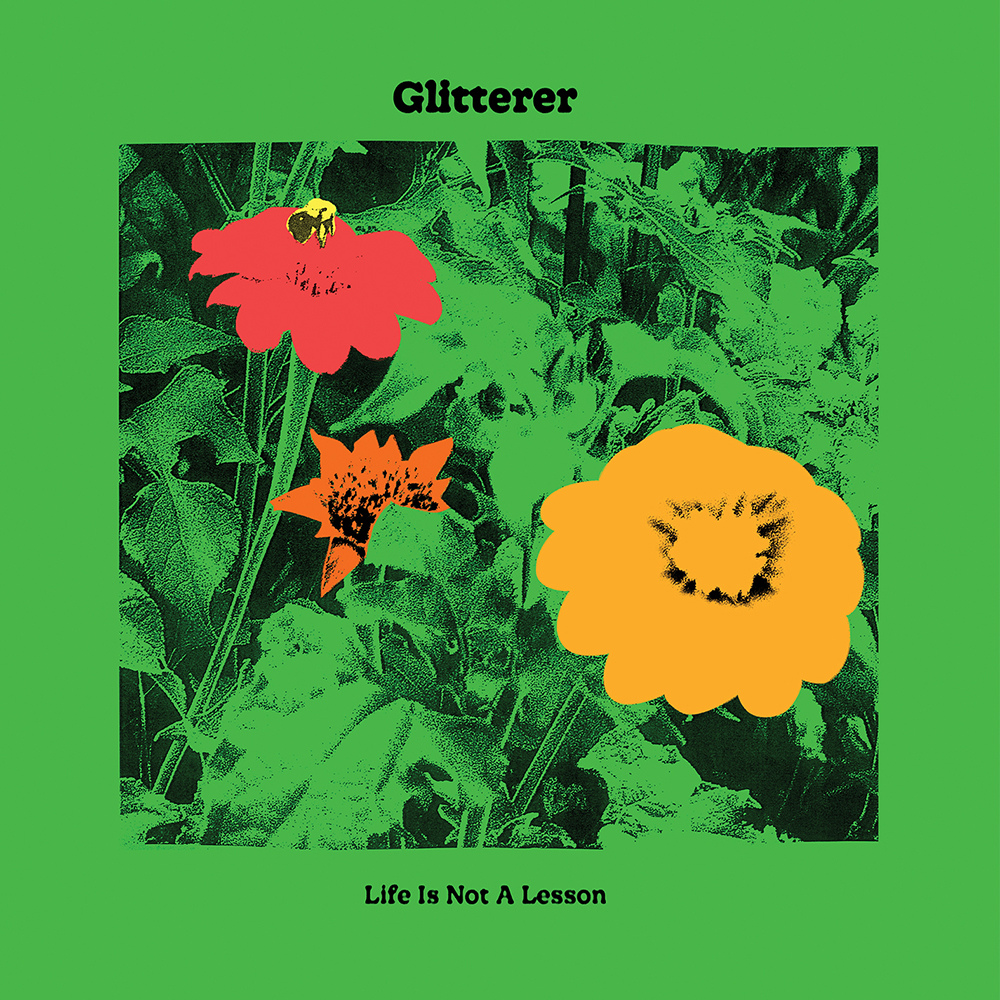 Pennsylvania native and current Washington, D.C. resident Ned Russin presents Glitterer's sophomore album Life Is Not A Lesson. After his former band, Title Fight, suspended operations Russin became Glitterer and in 2019 dropped the debut album Looking Through The Shades. Now with his latest project, Russin produced this himself with help from his twin brother Ben with mastering done by Arthur Rizk (Coded Orange, Power Trip). While it may sound closer to Title Fight's music than the previous album, Life Is Not A Lesson is all about the grunge sound.
Russin wastes little time providing that fuzzy guitar sound on the intro track "Bodies." It's straight to the point and Russin's raw vocals are disgustingly grimy as he yells, "You can put me in the ground! I'll see be hanging around." It has that classic grudge fans will appreciate with head-thumping drums and dirty riffs all blending together effortlessly. The following track is one of Glitterer's singles, "Are You Sure?" Booming bass and wailing guitar melody that echoes in the background, Glitterer repeats the title's question because you're always second-guessing your life decision.
One of the best tracks on the song is "How A Song Should Go." Whamming synth bass gyrate through the speakers as Russin softly admits, "I'll never know, just how a song should go. I don't like what I wrote." Everyone can relate to this slow track as we all struggle with our own artwork. As a writer, I can definitely relate to that last line. We all endure the battle within and how our work should be represented or when it should be considered finished. We are our own worst critics. I don't want to go further writing the lyrics or else I'll write the whole song. Really that's my only gripe with these songs, they are all too short. But maybe that adds to the criticism Ned is fighting against. 
"Didn't Want It," is highly recommended for simply being badass. Feeling like a live jam session in a garage, the track is energetic getting listeners amped! Everything from the drums, bass, guitar, etc. clicks perfectly. The second half of the song is Russin hypnotically repeating the phrase "Didn't want it, didn't want it," before a howling screech awakens you. Once the song is over you'll want to listen to it again to recapture that state of trance. 
"Birdsong" is a solid instrumental track. It's a nice break from the rest of the album's intensity allowing Glitterer have fun with synths slowing the vibe down. However, Glitterer brings the energy right back with, "I Made The Call." The tone is much more dramatic and epic compared to the rest of the album. Being one of the longer songs always the progression more fleshed out. The guitar riffs contrast nicely against howling keys playing in the background. Russin even manages to squeeze in a guitar solo before the sound distorts into madness. Last song is the title track "Life Is Not A Lesson." Russin's last song ends on a downer note, but by this point isn't his main objective. As Russin put it, "Life is Not a Lesson proves to be a rigorous reckoning with the life of the mind at a time when there's not much life outside the mind."
Life Is Not A Lesson is a good album especially if you enjoy the grudge sound of yesteryear. The album can be listened through in about 20 minutes. But then you'll want to listen to it again and appreciate the nuances you might've missed. The vibe may seem doom and gloom but the songs themselves are actually pretty catchy. Glitterer doesn't overstay their welcome. Most songs are barely over a minute song while others end quickly wishing they were longer. However, sometimes less is more and in the case of Glitterer I'll be looking forward to what Ned Russin comes out with next. Life Is Not A Lesson is available on February 26th.