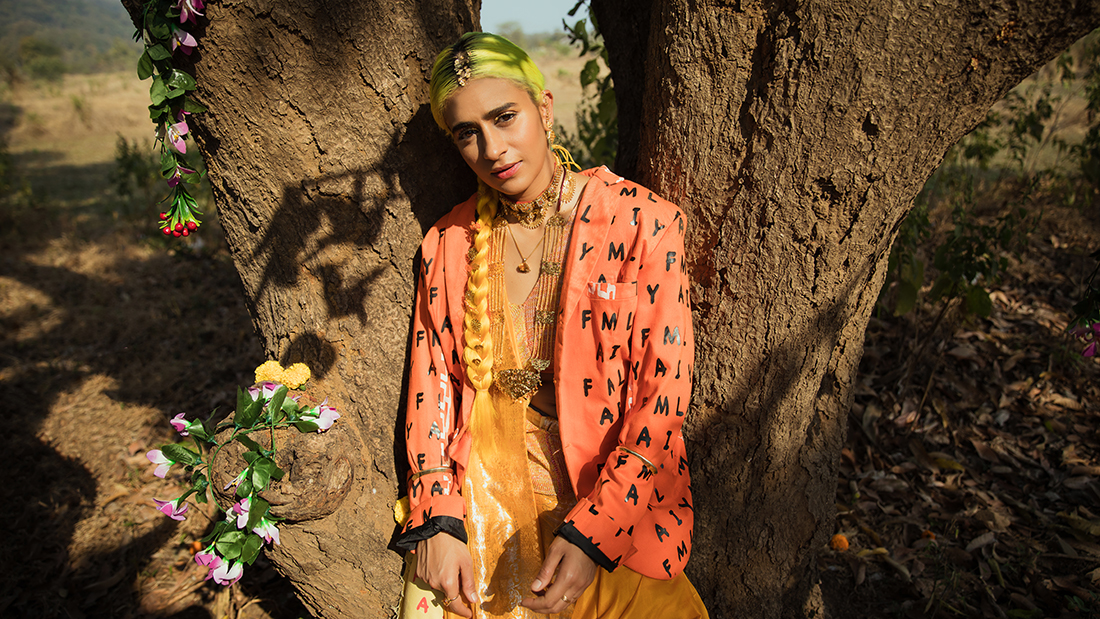 First, she starts with the drums – the rhythm, the beat. Then she adds vocals – her truth, her story. Drums and voice, "because that's the humanity of it." We could sum it up all right there with the powerful simplicity of beat and heart, fire and grace, that Madame Gandhi, or Kiran, emanates, but there is so much more to this creator than the music that flows from her, it's her practice on the deepest level is about how – and more directly – why the music is birthed.
The ever-blossoming bouquet of an artist we hear and see today grew from roots nourished by the sounds of Lauryn Hill and TV on the Radio, and of rap artists, like NAS from her native NYC, whose music the school bus driver would switch on at young Gandhi's enthusiastic plea. Naturally, there was also a childhood love for the multi-persona'd Spice Girls. Standing together as a united force, they'd come to represent, to Gandhi, a fuller, more accurate depiction of what it feels like to navigate as a woman in our world: "Some days I was Scary Spice. Sometimes I was Sporty Spice. I lived in the multi-dimensionality of my own femininity," she shares with a UN FemTalks audience. Without hesitation and in a way that many Spice Girls fans may be familiar with, she recounts: "they changed my life." Realizing at a young age that women in music needed to be shown in a more dynamic, nuanced way has guided her toward her current work of uplifting femininity in its vast forms, iterations, and facets.
Owning and proudly expressing the many facets of herself is one part of being the change she wishes to see in the world. Carving out proper space for others to do the same is another. She does this by working alongside casts and collaborators, most of whom identify as women, queer, trans, and proudly brown-bodied to put her vision of celebrating the voices and stories of women and non-binary folks, whose perspectives and stories are not told as often, into action.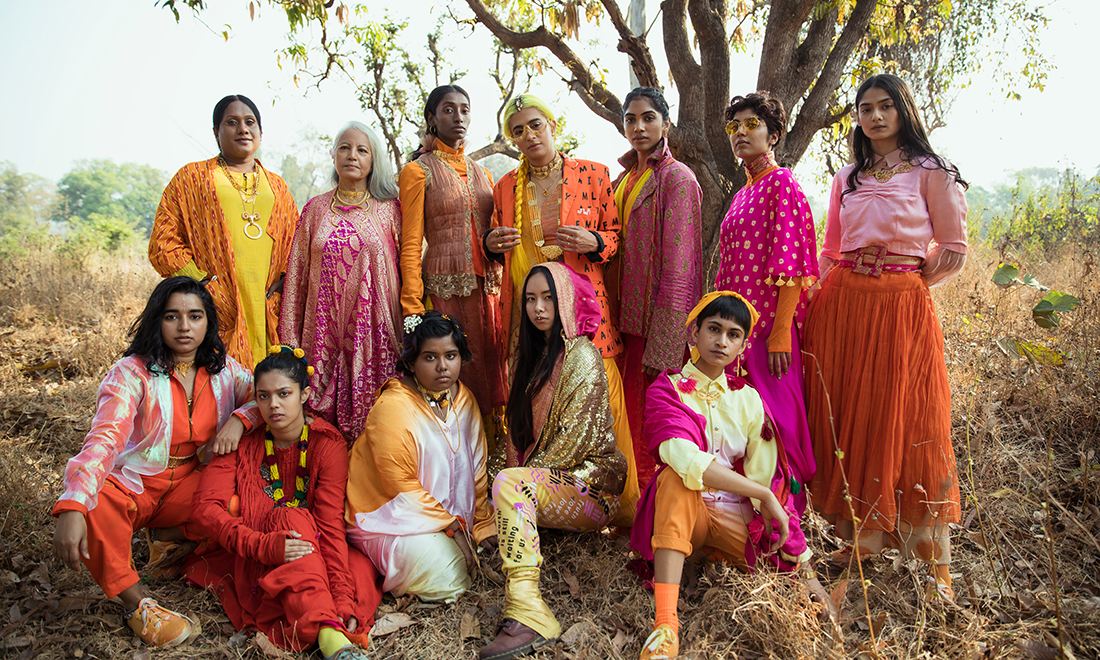 Let's be clear: this is not a girls club. It's a grounds to bring forth more diverse ideas and accurate experiences that push culture forward, because "if we don't stand up empowered to share our own stories via our own skillsets, someone else, will tell them for us." It's work that serves to benefit us all and it's how we should be viewing business. As Gandhi, the Harvard MBA puts it: in business, the best ideas win out. In this way, business can be the most democratizing force, so "my job is to make sure I'm generating the best ideas possible," but also "that the best ideas around me are heard."
If you've been loosely following the leaps and bounds of the boss Madame, you may know that Kiran Gandhi's experiences range from drumming with Thievery Corporation (first sitting in for their percussionist at Bonaroo, while pursuing a Mathematics and Gender Studies degree from Georgetown) and later M.I.A (while earning her MBA at Harvard) to landing as a viral conversation and prominent Fourth Wave Feminist activist for her decision to run the London Marathon, free from the hindrances of tampons and period products. In between, she kicked off a career at Interscope as their first Data Analyst and started DC's first all-women's drumming festival called Rad Ladies That Drum. You may ask how did all of this happen? Well, she has birthed a theory for an approach to life that answers this question, called Atomic Living (you can hear her Ted Talk on that here) and she names the "Wake Up Gently" playlist on Spotify as her "secret weapon" to starting any day. But the thread that runs through her long list of accomplishments is the purposeful intermingling of different interests and passions — the urge to dive straight into the "belly of the beast," of business school, the heart of many patriarchal assumptions, matched with a steadfast certainty that "the bravery to look within and elevate" will build a more emotionally intelligent, liberated, and connected world. This is what makes Kiran and what she stands for beautifully radical.
Her most recent video for "Waiting For Me," released this June, has been praised for its dreamy styling and aesthetic, its highlighting of India, her mothers, daughters, and all in between, its return-to-nature messaging and its adamant celebration of others' work. "I wanted to make a video that highlights and celebrates the aspects of Indian culture that I do love – community, vibrancy, female leadership, music, nature, and celebration." Her respect for her Indian- American heritage and active normalization of female leadership is also what inspired the aptly chosen name of Madame. "The concept of a Madame," she explains, "is a female leader who really has her team's best interest at heart."
The video work is not only visually stunning, with a sunrise/sunset color palette of oranges, pinks and her token hue of yellow calling forth a new dawn, but its release further establishes her as an artist that is here to stay and marks the warrior-driven, future-is-female movement at a more powerful point than ever before. Sonically, the track is set to what other than a contagious beat colored in with swirling electronics, while she preaches the lessons of social justice and gender liberation movements, like "stigma is one of the most effective forms of oppression because it denies us the ability to talk comfortably and confidently about our own bodies," and "we always assume our own powerlessness but never our own power."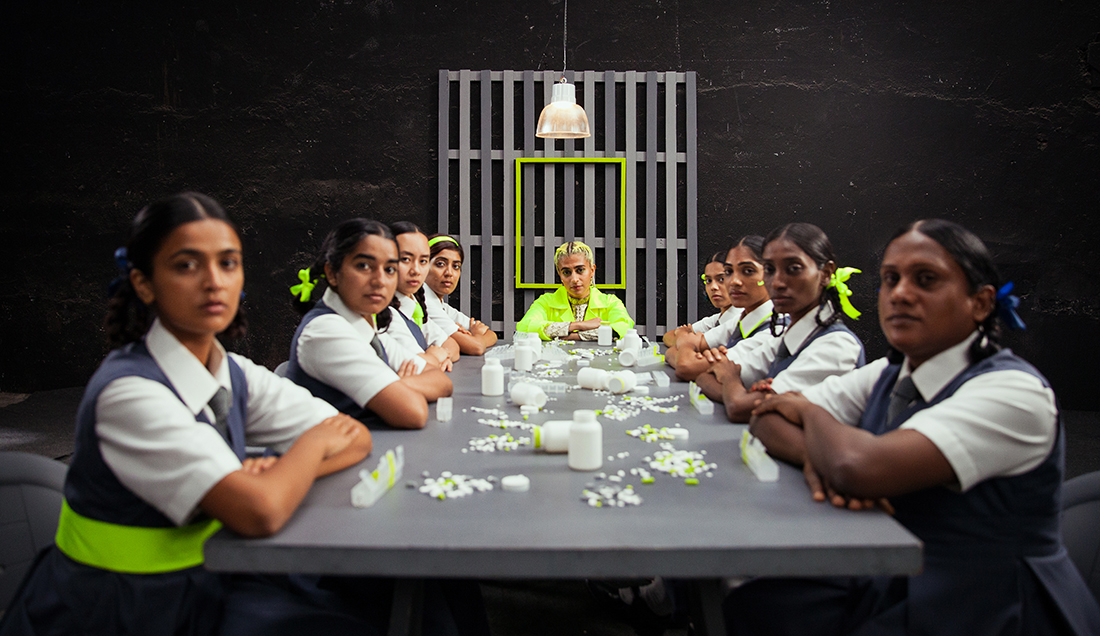 As an activist, an academic, and an artist Gandhi is familiar speaking to new possibilities of seeing the world and often relates power to another message that drives the song: Truth is love and love will free us. Her goal of "teaching people about love energy" could be written off as woo-woo to those who have not listened with intent to hear, but she challenges audiences to restructure our world's view of power. "What if" for example "power is patience," grace or the ability to understand others? What if power was seen as the ability to love or be peaceful "instead of aggression and brute force?" Power is the nuances of expressing ideas, which is fundamental to how Madame Gandhi's message operates. So, when asked by women or non-conforming professionals about how they can get into a position of power, of change-making, it's her clarity to see outside and beyond current structures that excites and empowers so many. "I don't want to break into what men have already started. I want to do our own dope shit."
There's a lyric in "Waiting For Me" that sticks out to Kiran, "which says, 'I won't take in what they feed us, run away in my Adidas,' and that line really is about saying I choose to not be brainwashed. I choose to question what I am taught. I choose to unpack and re-examine what I think is truth. I will run away from systems of oppression, and I will run towards the light."
With music industry veteran Christine Mehr, Gandhi speaks to translating the frustration of oppression, of "so many external conditions and forcing factors that make women dim their light just to be able to survive" into a feminist anthem, "The Future Is Female" a track off of Visions. "It's really the biggest tragedy and it makes me so mad… You hear that in the aggressive drumming and aggressive electronics of the song. It starts peaceful… like hey, we're gentle, we're loving, we're here for you, we do great work, we're brilliant, but then you oppress us and then you push us more and push us more and now we're mad."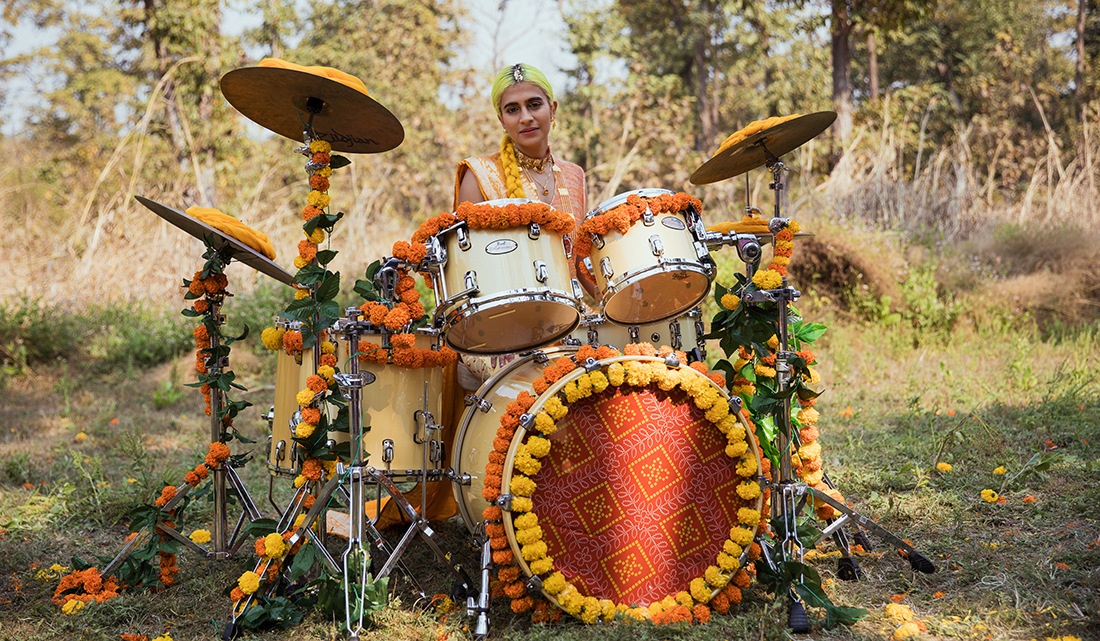 Though growing up, her sights weren't necessarily set on a career as a musician (she picked up drums at summer camp and pokes fun at the notion that her academically-minded parents encouraged it as a quirky extracurricular that would look good on college applications), drumming became the outlet for her punk rock nature. It epitomized the force that would pair perfectly with and rustle up the feathers of the status-quo-mentality often upheld by academic institutions she explored. It's true that more and more women are upending the status quo of a male-dominated drum world, still, she knows "it's radical to see women drummers, even though women were some of the first drummers in the history of humanity. We are internally rhythmic. As folks who bleed, we have a menstrual cycle that is connected to the rhythm of the moon and the rhythm of the earth… This internal rhythm is something that I find to be very feminine."
On last month's Tiny Desk, she reassured us with the same natural grounding, that no matter where we are in this world during this uncertain pandemic, "we share one sun, one moon." It's this connectivity that has driven Kiran's fascination with music in the first place. The notion that music is a window into someone else's perspective, and therefore empathy and connection. This is why music-making is fundamental to her as an artist and intertwined with her active efforts to evolve our society. On an experiential level, watching her drum and perform from her Downtown LA studio felt as warm and playful as the yellow and neon around her.
As we await her culminating album of the trilogy, Vibrations, she continues producing, writing, drumming, and speaking on social justice from LA, as well as remaining active in the Black Lives Matter protests. And though sometimes "It's challenging to translate a radical spirit into music," when she sings, so unassuming and directly, "If I drum the beat/ Will you sing with me?" it's hard to hold out.
Images courtesy of the artist.