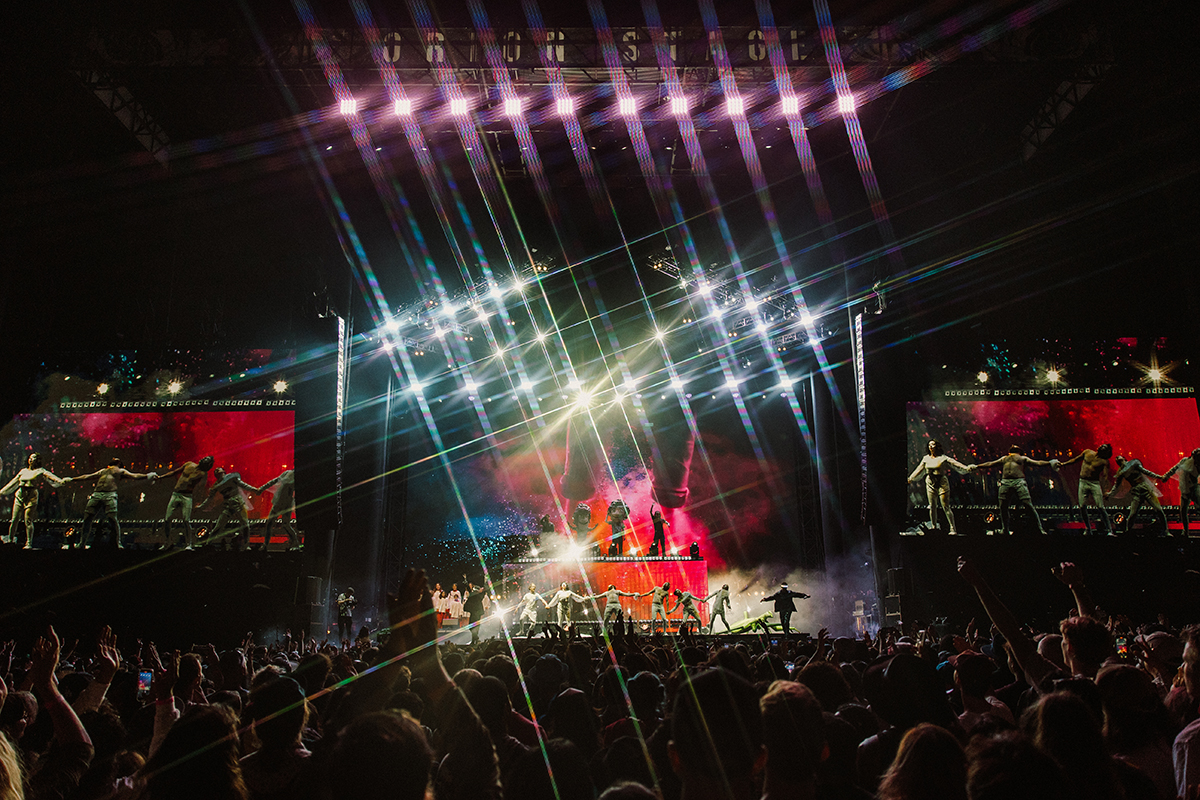 Just Like Heaven Music Festival has become known for bringing together bands that shaped the late 2000s electronic era. Thriving since 2019, Just Like Heaven has the task of continuously living up to topping itself. Luckily this year is no different as the event organizers put together a terrific lineup with plenty of bands fans were excited to see live.
The festival took place outside the Rose Bowl on the golf course in Pasadena, California. Fans made their rounds scoping out the grounds for food and drinks then quickly rushed towards the merchandise stand before the lines got too long. After filling up our water bottles we spread out between the Orion and Stardust stages, both basking in the hot, beaming sun.
The Hives by R. Polack for Just Like Heaven. Cover image: MGMT by R. Polack.
First up was none other than the Swedish rock band The Hives. As fans stood out in the blistering sun melting away early in the afternoon, lead singer Pelle Almqvist kept them engaged between songs by making funny quips: "You know I always thought golfers were pricks, but here they are letting us mess up their nice grass. This next song is for the golfers!" Playing tracks like "Rigor Mortis Radio" and "Hate To Say I Told You So," Almqvist continued to joke with the crowd asking if The Hives are their new favorite band. "That was a rhetorical question of course," he continued, "we know we are". They finished their set with "Countdown to Shutdown" but not before insisting the fans demand a longer set.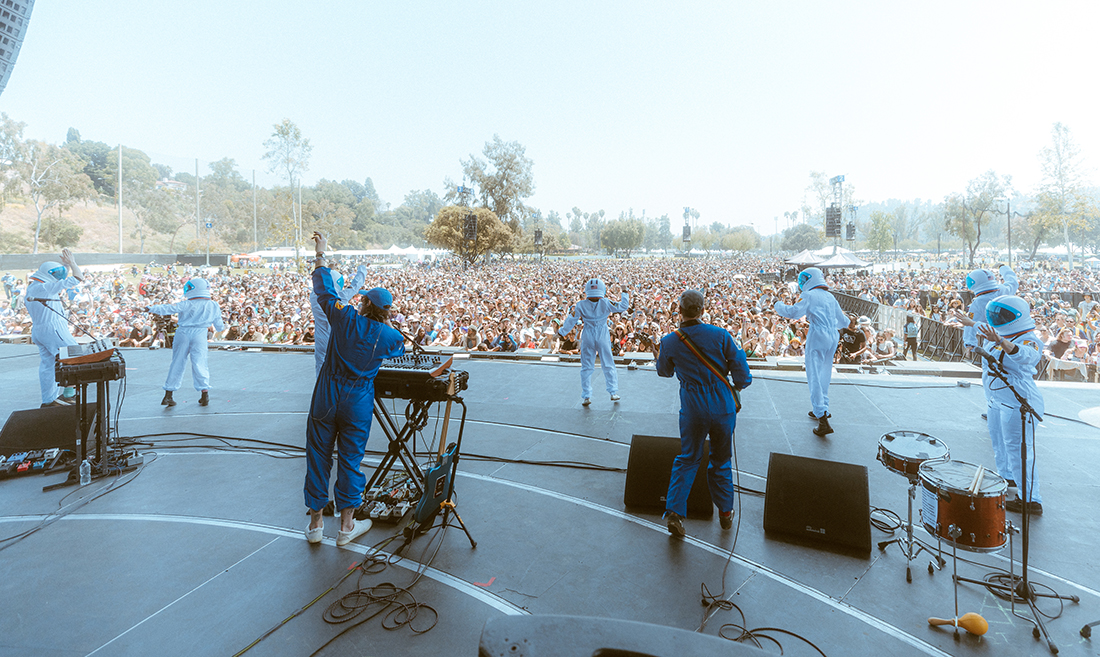 STRFKR by J. Bajsel for Just Like Heaven.
Most stuck around the Orion stage huddling under the only tree in the open field to get a little shade. The cool shadow gave enough shelter to perfectly enjoy the whimsically mellow STRFKR. Spacey tunes like "Golden Light" and "Malmo" are funky tunes to vibe to without needing to exert too much energy. Dressed in their iconic spacesuits, STRFKR many songs off Being No One, Going Nowhere. They brought on fellow backup astronauts as dancers before breaking out in an orgy simulation during "While I'm Alive". Another highlight fans got a kick out of was STRFKR doing their cover of Cyndi Lauper's "Girls Just Want to Have Fun".
Metronomy by R. Polack for Just Like Heaven.
Next up was the instrumental collective, Metronomy. Wasting no time with introductions the band opened up with "Love Factory" and continued their set with "The Bay" and "Corrine". Singer/guitarist Joseph Mount and Olugbenga Adelekan left the stage for a short break. This gave drummer Anna Prior a chance to shrine as she sang "Everything Goes My Way". Later on Prior and the two synth keyboards got to do a jam session on stage before being rejoined by the rest of the band. Fans were hyped when Metronomy performed their smoothest song, "The Look". They ended their set by playing their debut single, "You Could Easily Have Me," a more electric-punk instrumental which is different compared to the more pop-friendly style they're known for.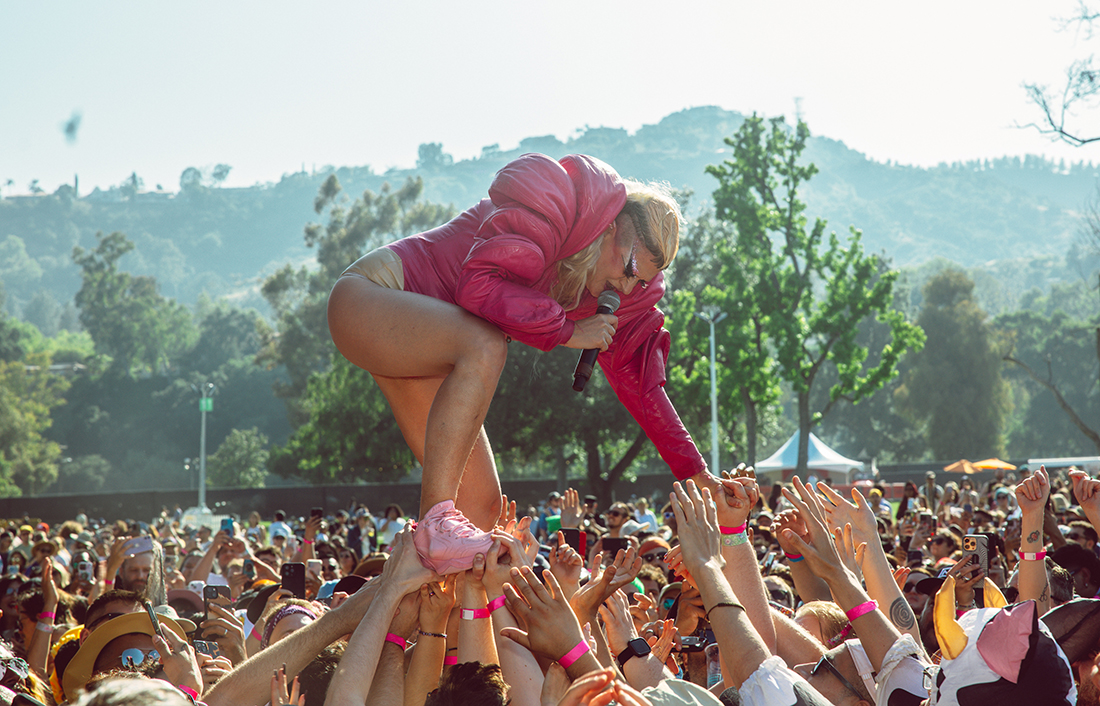 Peaches by A. Osborn for Just Like Heaven.
Migrating to the Stardust stage for the must-see performance of Peaches. Merrill Nisker has made herself an icon under the moniker Peaches for her sexually explicit songs. Her set was definitely the raunchiest performance, standing out compared to the rest of the lineup. Peaches and her backup dancers stripped down to their underwear and nipple pasty that accidentally fell off during the performance. The wardrobe malfunction added to the delightful chaos for songs like "Dick in the Air" and "Boys Want to Be Her". Peaches even crowd surfed standing, literally walking on the crowds' palms while singing "AA XXX". Of course, her performance wouldn't have been complete without her legendary song, "Fuck the Pain Away".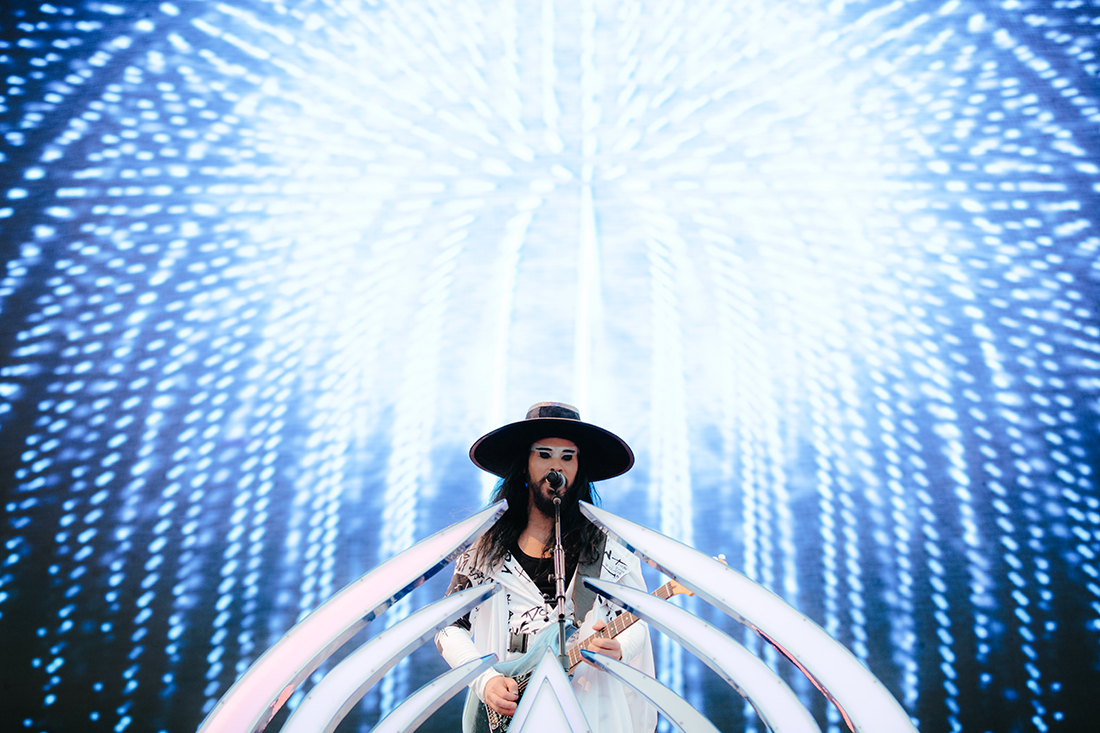 Empire of the Sun by G. Chong for Just Like Heaven.
For a complete 180º fans rushed back to Orion stage for Empire of The Sun. Seeing Luke Steele's band is admittedly one of the main reasons I wanted to attend this festival. In fact, running into Luke backstage I nervously said "hello" and how much I love his music. Steele smiled and shook my hand, "I appreciated that mate, cheers. How you doing man?" he breathed out in a low Australian accent. Our short interaction made the wait for his performance worth it. The crowd exploded when Luke came on stage and began playing "Standing on the Shore". Fans sang along for the chorus of all Empire of the Sun's biggest hits, "Half Mast (Slight Return)", "We Are the People", and "Walking on a Dream". Everyone was having the time of their life and Luke knew it.
M83 by A. Osborn and GMT by R. Polack for Just Like Heaven.
The hardest decision fans had to make at Just Like Heaven was whether to attend M83 or MGMT. Both bands played at the same time leaving the difficult choice to commit to one or see half of each. I chose the latter. Sticking with M83 during the first half who started the set with "Water Deep". M83 didn't use excess lighting leaving most of the band members in darkness allowing their instrumentation to set the mood. The band continued to play songs off their latest album, Fantasy, and tracks like "Amnesia" and "Earth To Sea" allowed the band to loosen up. On the opposite stage, MGMT were performing their hit album Oracular Spectacular. Luckily, right when I arrived MGMT just started playing "Electric Feel". And boy did it feel like a party. The dancing during "Kids" as the band continued through the album.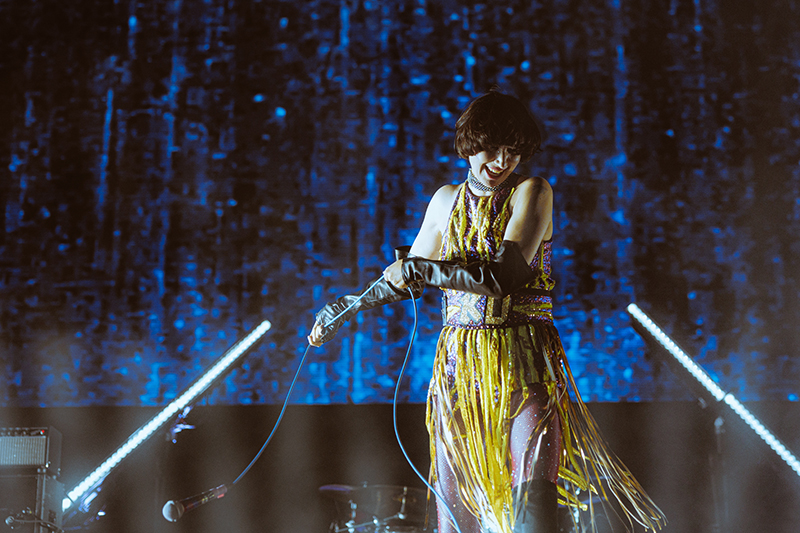 Yeah Yeah Yeahs by J. Bajsel for Just Like Heaven.
The honors of closing out Just Like Heaven went to the Yeah Yeah Yeahs. Songs off Cool It Down illustrated how far the band has come. "Spitting Off the Edge of the World" lets Karen O and company shrine making the atmosphere feel more epic. Of course, Karen has always had a phenomenal voice showing her vocal range on "Maps". Her soft tone compliments the instrumentation wonderfully as the song builds up. Yeah Yeah Yeahs also did "Heads Will Roll," a song that is now infamous with club remixes. Nothing beats the original though.
Just Like Heaven was exactly as the name claims it is. For a moment we all got to step back in a time capsule and relive tunes from yesteryear. Bands that influenced the idea of electronic music to mainstream audiences and spawn countless soundalikes. Crazy to think how much time has flown by yet the songs keep the crowd smiling and dancing throughout the entire day. If that's not a taste of heaven then I don't know what is.