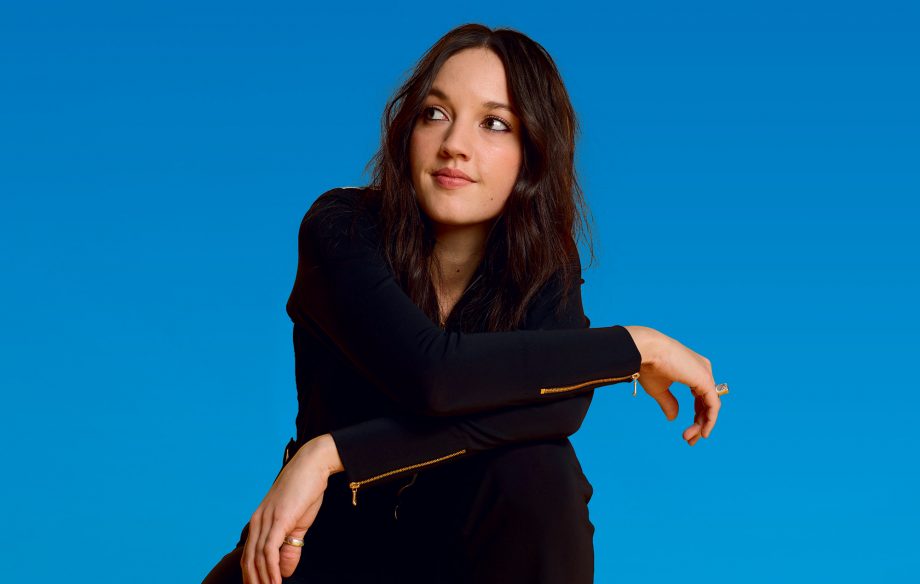 Jain, born Jeanne Galice, is a child of the world. Growing up in a musical family that moved around often Jeanne soaked in a lot of the world into her identity over the years. Each place she had lived in (Congo, Dubai, France, just to name a few) had an influence on her music but Pointe-Noire, in Congo-Brazzaville where she spent her early teen years, "was particularly important for her development as an artist," she told NPR once. This love for Africa poured out in Zanaka, her first album, can still be heard on her new album Souldier, and some better than average commercials.
Some time at the age of 7, while living in South of France, Jeanne was walking by a music class in a school hallway when the sound of the drums caught her attention: "The idea of tapping on stuff to make sound sounded cool" to her so she begun learning music through rhythm. Two years later, Jeanne's family moved to Dubai, a drastic change to say the least, but she embraced the change and the culture through music and learned to play darbuka, an Arabic percussion instrument. This was very different from European music, it's a binary rhythm, something new in her young repertoire. But it is not until Congo that she begun to develop her personal style, where a few years later in Pointe-Noire she met a rapper in school who introduced her to his crew. She wasn't doing rap (yet) and was mostly influenced by rumba and the traditional music of Congo. Soon enough, all of these rhythmic sounds and voices woke up a desire to "mix things up" with her own music.
Here, through the crew, she met a local producer, Mr Flash, who helped her build a home recording studio and taught Jeanne how to self-produce and share music on MySpace. The internet opened new doors for Jeanne and the team who discovered her at that time – producer and manager – is still her team today. But back then Jeanne was only 17 and uncertain about making music for a living. She's already moved a lot and knew how tiering the life of an artist could be so she studied to be a graphic designer in Paris. A year into art school Jeanne had a realization: "I had no time left to make music so I was really sad about that." She quit school and took up a life of music with the team that patiently waited for her to get to that decision.
The most recent album, Souldier, is an evolution of Jeanne as an artist. She discovered techno upon her return to Paris in her late teens and took up making her own beats but that's not the only influence visible on the album. Souldier as an evolution took inspiration from soul, funk, reggae, rap and hip-hop, and as always, some influences from Congo and the Middle East. It may sound messy, and you may not notice the influences right away, but as you watch Jain perform and listen to the music, you will hear them all and how they work together in cohesive unison. Jeanne Galice is a sponge. Everywhere she goes, everything she hears, she learns from and makes it her own. And that's kind of the point: "You can learn so much through music," shares Jeanne , "from other people and other cultures, I'd like to keep learning about all the different styles and finding ways to make them my own." I commented on the subtle bits of reggae sprinkled throughout the album wondering where that came from, "Don't know" she wondered for a minute, "When I was a teenager I listened to a lot of reggae and it influenced me in a lot of ways because it's really fun music, you know, and there is a lot of messaging about peace and I really like that, you can really feel relaxed."
" You can learn so much through music, from other people and other cultures, I'd like to keep learning about all the different styles and finding ways to make them my own.
The bit about messaging caught my attention – nothing is an accident or an afterthought with Jeanne – she handpicks beliefs and bits of history that speak to her and weaves them into the music. The name, Jain, "comes from the Jain culture," she points out, "I actually found this name when I was 16 and was searching the net for cool sentences, you know like peacefulness and stuff like that, and I saw this line it goes like 'don't be proud if you win, don't be sorry if you lose' and I thought it was quite beautiful and it was from the Jain religion in India so I liked the name and I kept it for myself," she laughed. Messaging is everywhere: quite a few songs on Souldier speak to the unstable political situation in Europe while Zanaka is a Malagasy word for 'child' (Madagascar, where her mother is from) and documents her childhood in the AE and Republic of Congo. "All right" is a fun, cheeky song, I commented wondering where that story came from. The song was written for a friend, "who went through a really hard break up" she said, "I really wanted to cheer her up and to make a song about break up that can help her be independent as a woman and it actually worked, when she listened to it she felt stronger," Jain pointed out with innocent joy.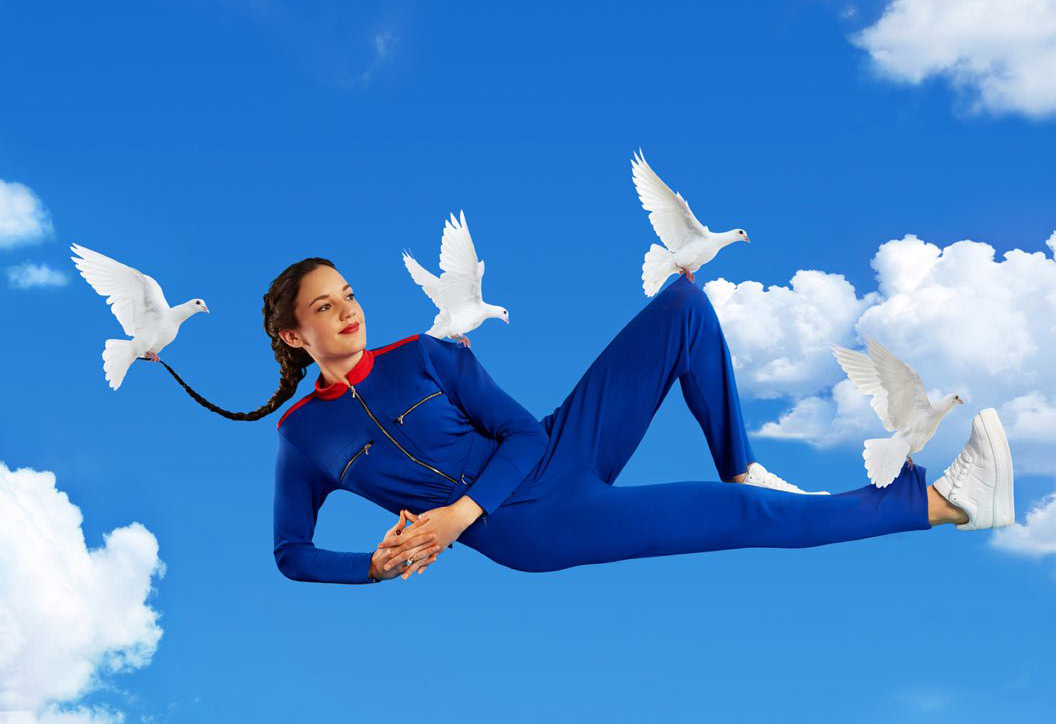 The Toronto show at the Danforth Music Hall was sold out and as I was making my way out of the venue after the interview, an hour before the doors even open a small line was beginning to gather outside despite the first frost bites. "We just released the album like a month and a half ago so we weren't sure if the venues will fill," shared Jain as we sat down in the green room, "but almost all of the venues were sold out, it was a great surprise."
"Are you ready to dance tonight! Are you ready to party!" she pointed at the audience enthusiastically. I almost forgot she's feeling a little under the weather.
Typically, as seen in a few of her music videos, Jain remains behind her soundboard, but standing still is not in her nature so for this tour she decided to break free: her jumpsuit covered a 'sleeve' of remote control buttons which talk over wifi to her soundboard. "I have six buttons," she explained rotating her wrist and pointing at imaginary buttons, "I can send loops of drums and voice with them from wherever I am on stage," she ends in excitement. The Danforth stage is quite large and at first, one little Jain seemed a little lost on this large stage but as she begun to gain momentum, taking full advantage of the space, there was a lot more Jain than stage in this room.
Halfway through the show she points to her sleeve and says: "I have new machines on stage, does it interest you how they work?" the audience goes crazy as Jeanne proceeds to explain the magic buttons shining though the suit sleeve. This entire time she has been sampling live from the stage, drawing energy from the audience and now they are invited to participate in the music making: "Now do it with me," she requests and the crowd begins to sing along and witnessing in a matter of moments how their voices become a part of their favorite song right in front of their eyes.
When talking about her dream show Jain surprised me once again sharing that what she'd like to have is, "A big gospel choir" – I admit to myself I did not see that one coming – "It would be really cool to do all my harmonics with a choir because I really like the electronic aspect and you can make DJ sets in another way, in a more performance type of way with live voices" – Okay! I'll come to this show! – "I really hope you get to do that!" I said, "I hope so too," she laughs. Just behind her hangs the bright blue souldier jumpsuit, the one that became a signature outfit for the album, "You had a dress for Zanaka," I point out, "And now this fun jumpsuit." I look at her searching for a story: "It's a kind of uniform but more weird and funky and I really wanted to impersonate a soldier, to have a kind of a jumpsuit that is a little strict but with fun colors," she shares. The Souldier  jumpsuit is a custom piece, just like the Zanaka school dress, made by a French designer Agnès B, "She's one of the pioneers of street art in Paris and she made stuff for David Bowie at the time and yeah, she's a great person." Jeanne worked closely with Agnès B's team who shared her vision and passion for the outfit which was a collaborative piece, "the idea was a blue jumpsuit that is a little bit like a soldier but fits with a flower." A hint of unintentional Banksy reference was appreciated by everyone.
"I just want to try stuff without thinking about being a start to anything, or something like that, I just want to mix things up in my own way," and hope that people like it, she said in closing and like it they do – from the moment Jeanne begun to sing so did the crowd and they did not stop until the last beats of the anchor. "Are you ready to jump! One, two, three!" she screamed "Let's try to get higher!" and everyone in the room tried to get more air to match her enthusiasm.
photos by Paul & Martin, courtesy of the artist