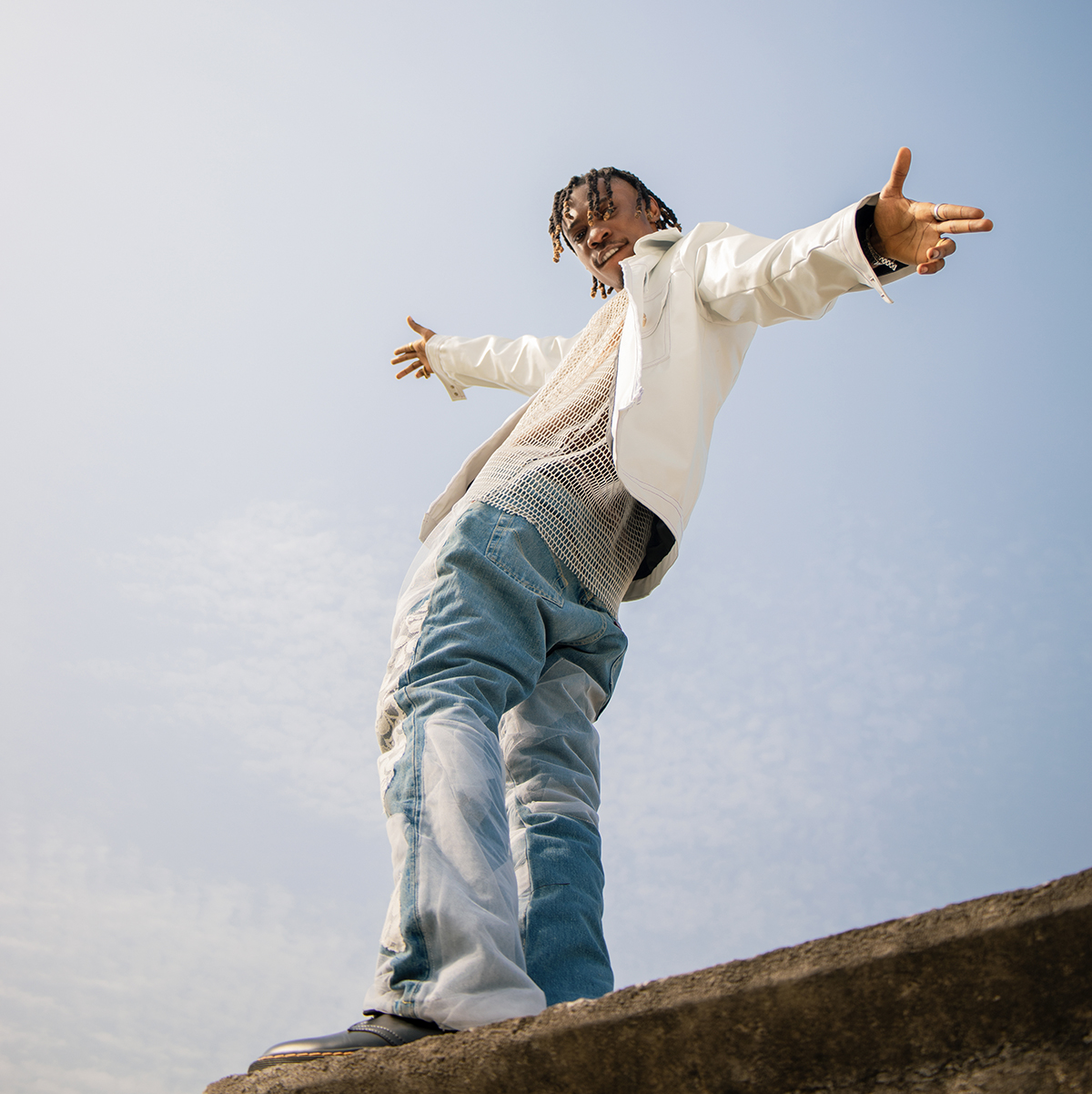 Nigerian singer, 1da Banton, dropped his debut album, Original Vibe Machine, in 2021 and the lead single "No Wahala" has been climbing the charts since. Much of this fame can be attributed to TikTok where the track first became a dance challenge and spread way beyond that since. 
The track, produced by Blaisebeatz, is a ray of sunshine calling on listeners to embrace small moments of joy no matter the difficulties we might be going through. In the artist's words, the song is an "anthem to this escapism".
Knowing there is more coming from 1 Da Banton because let's be honest, these vibes are contagious, Quip spent a bit of time getting to know the artists behind the moniker: Godson Ominibie Epelle. 
Quip: Hello Godson, how's 2022 treating you so far?
1 Da Banton: It's been nice to me, the performances at events, seeing the fans scream the lyrics to my songs is just amazing can't lie. Looking forward to what more it has to offer.
Q: I bet! All right, let's start with some basics – how did you first get into music? 
1DB: Music for me started by being around my older brother who wrote and rehearsed songs in our sitting room. My bro is a big inspiration to me when it comes to taking up music. Listening to my Dads 80s and 90s collection of reggae music also contributed to my inspiration so I'd say family is the main inspiration.
Q: Can you speak to the name 1Da Banton, please…
1DB: I had always been called Wonderboy during my football playing days because I play football so well so when I decided to make music a thing I stuck with it but spelled as 1DA..and  Banton was added later. I'm a huge lover of reggae and dancehall music so I adopted that because I loved it.
Q: Tell us about the track "No Wahala"
1DB: The making of "No Wahala" was as smooth as the song. I went to the studio, heard this amazing beat produced by my brother Blaisebeatz, loved to sing a happy song on it, and boom, "No Wahala". The melodies from the guitar contributed to leaving that song as a happy song.
Q: How about the music video?
1DB: The video is actually my favorite music video I've done. The happiness, the vibe, everything is great, shout out to Adasa Cookey [director] for killing it.
Q: The song has been charting in over 30 countries, how does that make you feel?
1DB: I swear, I feel really good the fact that it really makes people feel good that's goals, seeing how happy people are when I see the videos on social media is just beautiful.
Q: Let's briefly talk about TikTok, "No Wahala" blew up on the platform, has that virality been helping off the platform?
1DB: Yes, of course, it translates to real fans because they actually go check out this song and find out it's a proper banger in full.
Q: Your last album, Original Vibe Machine, did very well too, is there another one in the works? 
1DB: Yes it did and yes there's always music cooking.
Q: You've collaborated with some heavy hitters in your time (Kranium, Harrysong, Timaya, Seyi Shay etc) – how did these collaborations come about?
1DB: Shout out to every one of them it was a pleasure and they all happen to be very organic features and that's the right vibe for me.
Q: What were some of the highlights of these projects?
1DB: The fact that I got to make music with people I watched and listened to growing up means a lot, it all just feels like a dream come true. Going from listening to an artist I love to and then ending up making music with them is just another experience.
Q: How would you describe Nigeria's music scene these days? 
1DB: It's something to be very proud of, being part of Afrobeat, it is taking over the world by storm and I'm grateful to be a part of this generation, making music that truly represents the culture.
Q: What are your hopes for the rest of the year, any tours coming up?
1DB: I'm really looking forward to what this year has to give, I feel the greatness already and can't wait for it all to unfold, and yes, of course, touring the world singing "No Wahala" and every other 1da Banton classic is just what I'll be doing.
Images courtesy of the artist