The showroom at Portland's Jack London Revue, with its dimly lit reddish hue and closely packed together table tops, has the vibe of an old-fashioned jazz club. It is a place where one might stumble into off of the city streets and be exposed to something off-kilter and memorable on any given night. On this particular night, it was Seattle-based experimental jazz collective High Pulp that provided that spark for the audience lucky enough to see the band perform their first show on the spring tour supporting the upcoming record Pursuit of Ends.
High Pulp, signed to ANTI Records, have made waves lately with their compelling blend of shoegaze, hip hop, and electronic music (a lot of other stuff mixed in as well) that fits alongside their obviously well-honed jazz chops. Unlike Jack London, I wouldn't describe High Pulp as "old-fashioned" – did jazz players in smoky rooms of yore make use of Prophet 6'? Were their saxophones running through pedalboard rigs? Did they sport Backwoods t-shirts? Probably not. High Pulp are taking some of the fun things about the jazz genre (freedom, improv, unbelievable musicianship) and infusing it with their own modern, even futuristic, twist.
High Pulp started the show with "Serena Williams" before jumping into "All Roads Lead to Los Angeles", a track off of Pursuit of Ends that had the crowd nodding along to its frantic pace as dual saxophones rang out the main riff. A Black Country, New Road-esque minimalist synth breakdown towards the middle of the song preceded a saxophone freakout that showcased the group's skills for compelling spontaneity.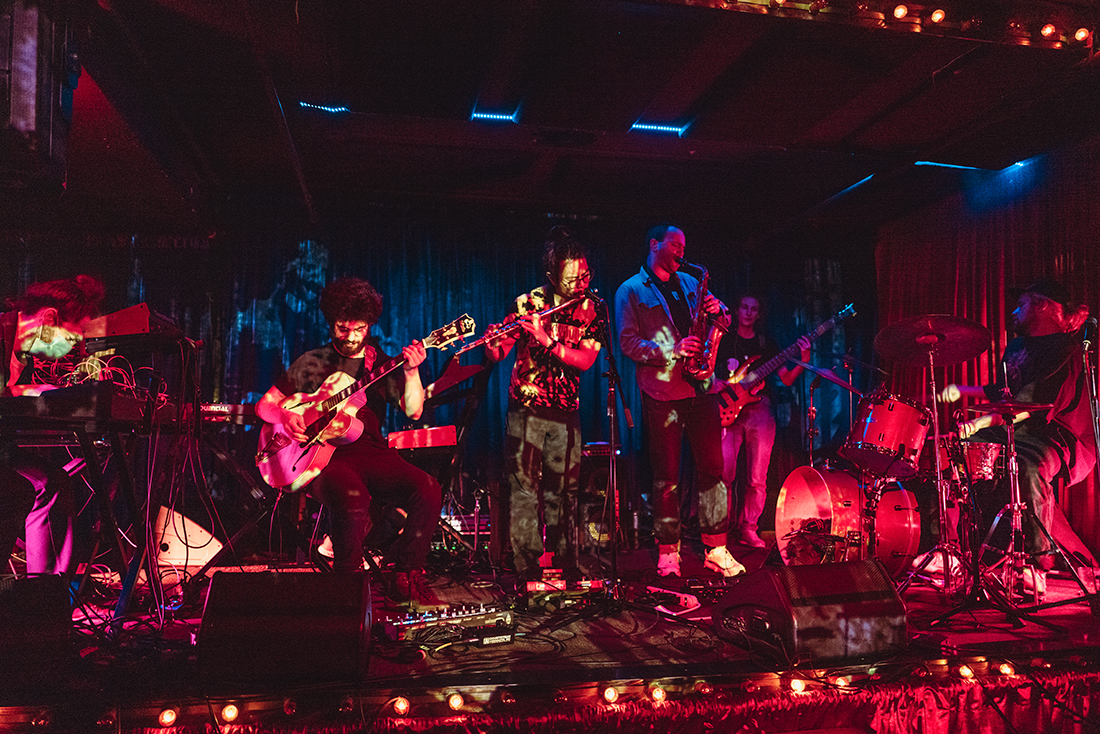 High Pulp allow their music to push and pull creating a lush, unified whole while leaving ample room for their individuality to shine through and come to the forefront. You can feel the spontaneity and jazzy underpinnings that inform the group, but unity and musical togetherness are also clearly seen. Each member of the six-piece plays an important role in driving things forward or slowing things down when necessary, supporting the overall structure and sound and shooting off into the stratosphere with a burst of individual inspiration when called for.
Drummer Bobby Granfelt's magic on the drum kit is certainly a catalyst for the direction that the songs go in, providing the energy and pace that his bandmates feed and play off of. "Kamishinjo" was a good example of this, as a breakneck but constrained pace pushed things forward while a lush guitar (Trevor Eulau) created the feel and atmosphere (adding to what keyboardists Antoine Martel and Rob Homan have built up already). Bassist Kaeli Earle locked in with the beat to provide the groovy backbone, and saxophonists Andrew Morrill and Victory Ngyuen's bursts of energy presented a focal point for the audience to latch onto and be transfixed by.
The nature of High Pulp's performance means that no members of the group can really be pinned down in terms of their function; just when you think you have the beat figured out, Granfelt switches it up, Homan and Martel push off into short piano and synth riffs out of the left-field, Earle's basslines jump and rumble, Eulau weaves together an earworm solo, and Ngyuen and Morrill tap their pedal boards and spit out applause inducing flares of sound.
There's a certain technique and control within the madness that High Pulp have a knack for, and it makes their music and performance sound authentic and something all their own. They'll certainly draw in fans of all musical genres, not just jazz, as they continue on their spring tour and their subsequent rollout of Pursuit of Ends. 
photo by Patrick Smiths