We're finally in the midst of the summer festival season and NYC kicked it all off with a weekend of music at Governors Ball. Taking place at Citi Field in Queens, this festival saw some of the hottest artists right now along with some up-and-coming talent. Despite the weather being close to 85 degrees every day, the crowds were huge and people were ready to move!
Friday's set list was packed with artists and was a fairly hip-hop-heavy day, but Aly & AJ kicked off the event with a flash from the past but chose to omit "Potential Break Up Song" from their set which left some fans quite disappointed. Coi Leray gave a fun and energetic performance that got her whole crowd movin' and groovin'. Her fabulous red bikini fit also rocked everyone's world.
left: Dev Coi Leray after her set; right: Del Water Gap
It was a rap-filled afternoon after the first few sets and JPEGMAFIA gave a vibrant and entertaining performance. He completely lit up the stage, dancing and interacting with the crowd. This was arguably one of the best performers of the weekend. His cover of "Call Me Maybe" was beautifully haunting and a perfect break in between his more brash and intense numbers. 
Some craziness and complications clearly happened in the day leading up to Friday, because a single time slot was replaced not once, but twice last minute. First MIGOS were replaced with Lil Wayne and then (an hour before) Lil Wayne was replaced by A$AP Ferg [cover image]. A rollercoaster of emotions for hip hop and rap fans, but A$AP Ferg did not disappoint. A$AP Ferg took the stage with confidence and charm, commenting on the situation:  "I was just chillin', and then I got a call from the festival like, 'Yo Ferg! We need your ass to come right now!" The whole crowd laughed and A$AP Ferg gave an incredible performance despite being a last-minute addition to the lineup. The ground was shaking during "Plain Jane".
Jack Harlow gathered what seemed like one of the biggest crowds of the night. The air was filled with excitement for this set, but while Harlow's looks and vocals were very much on point that set felt deflated, something was missing in his surprisingly subtle stage presence. In parallel to this performance Kid Cudi's set began and halfway through Harlow's set a stampede of people headed towards the main stage for Cudi's performance. Kid Cudi's fantastic energy and performance brought day one to an incredible end. there wasn't a person in the crowd who wasn't jumping to "Memories" or "Pursuit of Happiness".
Day two started off a little cloudy and was fairly mellow with the earlier performers. Gus Dapperton and his band gave a calm and emotional set. Things REALLY picked up when Tove Lo took the main stage. Her crowd was enormous, especially for an afternoon time slot. People were thrilled to see Lo and everyone screamed their hearts out to her classic OG hit "Habits (Stay High)" and her brand new single "No One Dies From Love".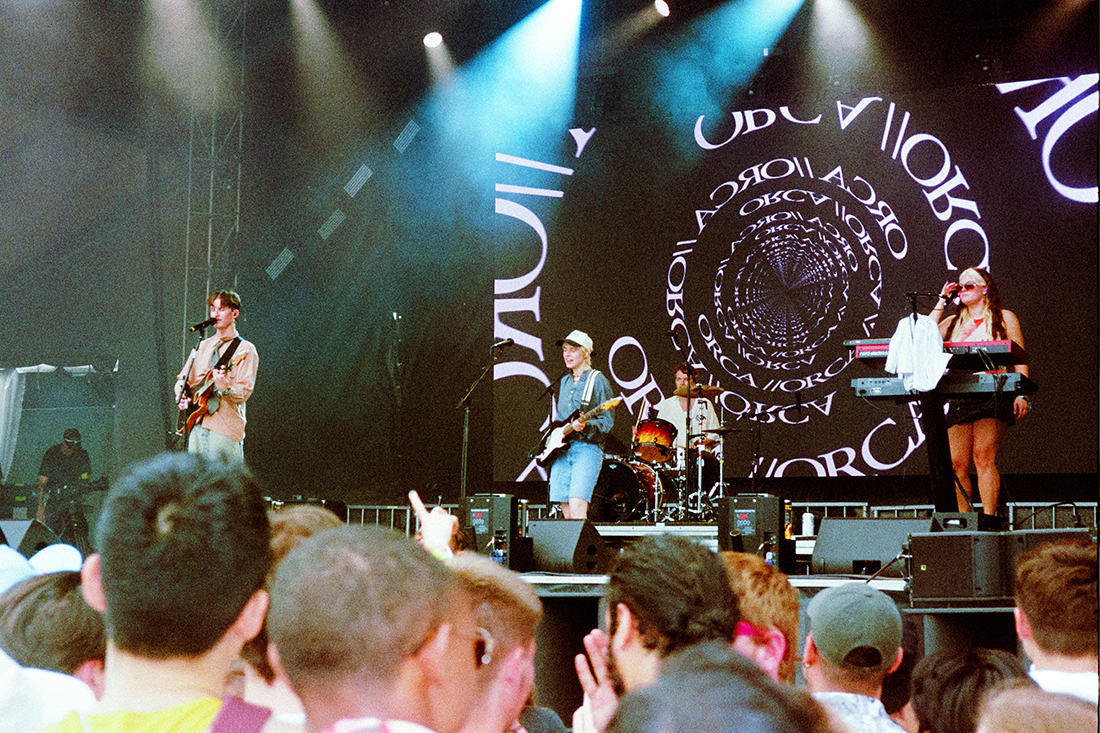 Ashnikko was also a highlight on Saturday, femme fatale in her songs as well as on stage, she brought a crazy fun energy to her performance. Proving she's not just a TokTok viral star, Ashnikko took the party to the crowd and everyone was vibing during her reimagined cover of Avril Lavigne's "Sk8ter Boi".
The night ended with a fantastic performance by Flume which people were talking about well into the next day. Naturally, Halsey stunned the audience with her gorgeous vocals, she even gave all the Stranger Things fans a beautiful cover of "Running Up That Hill".
Sunday started out with the threat of rain, but luckily it never came. No make-up was ruined and no outfits were soaked. It was actually near-perfect weather for jumping to your favorite tunes in the middle of a sweaty crowd.
100 gecs was another crowd favourite performance. They had a really large crowd despite it being relatively early in the day. Definitely one of the wildest crowds of the weekend! Head banging, moshing, and screaming all naturally took place.
Del Water Gap also gave a stunningly beautiful performance, once on the Bacardi Stage and then again in a more intimate setting at the Bud Light Seltzer Sessions. "Ode to a Conversation Stuck in Your Throat" is just one of the most subtly striking tunes you could hear. After the set, we were able to chat with Holden about his performances and his festival experience:
"Big shows are great because you're just getting all this energy and all this adrenaline. It's like gasoline! But little shows are great because you can be a human, and it's intimate, you can talk and take your time. Festivals are great because you get to be around new people, you get to be outside and I just love being around other artists too. I mean especially after the last two years. I made all these friends on Instagram you know, these other musicians, and getting to walk out of my trailer and see a musician I admire and walk up to them and be like hi were here together. It's just such a gift."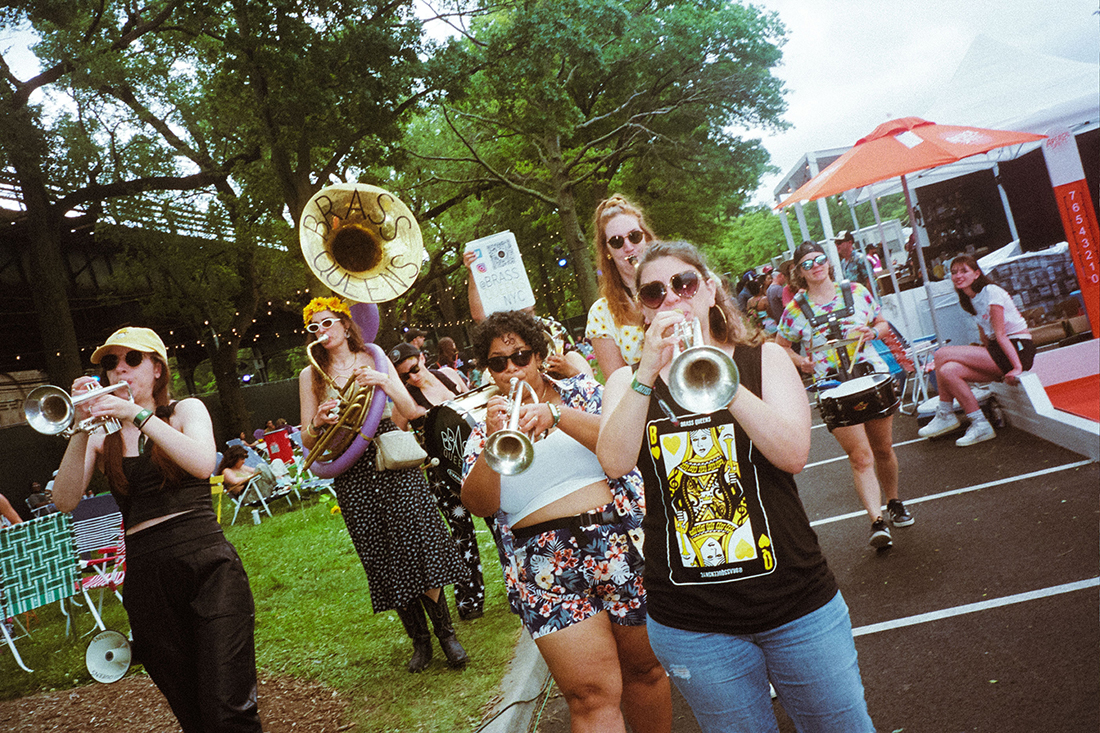 Another amazing performance was given by Jazmine Sullivan. Her insane vocals reached new levels of perfection and had many fans in tears by the end of the set. She was extremely honest on stage, gave beautiful vocal runs, and was sending love to each and every person in the crowd.
J Cole was the final artist of the festival and ended the night on a high note. J Cole is one of the biggest artists in the rap universe so it was legendary to hear iconic songs like "Wet Dreamz" and "No Role Modelz".
The atmosphere and ambiance were unique at Governors Ball this year. People were riled up and ready for music festivals again. Some sets bumped, some disappointed. The sun was burning hot all day, but that didn't stop people from having a great time. Every artist came out with full energy for the fans. What was the best moment of the festival? Kid Cudi's absolute fire performance of "Pursuit of Happiness?" A$AP Ferg's heroic save of Friday's afternoon? Tove Lo flashing a crowd of thousands? Guess that's up to each attendee's personal opinion.
photos by Devin Kasparian