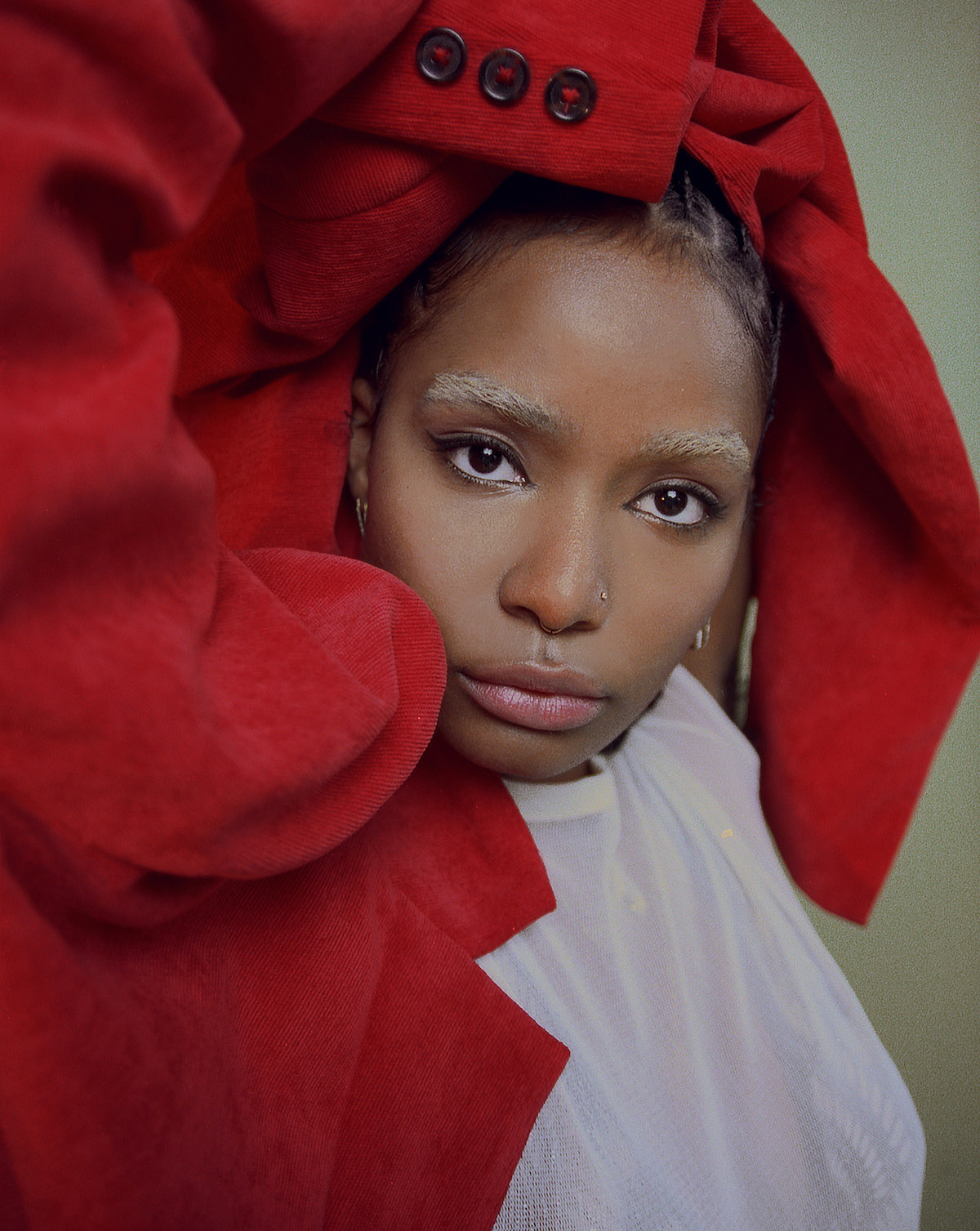 Hale Sheffield aka Elah Hale, an artist whose sound has been likened to an intersection of Billie Eilish and Erykah Badu, sat down with me via video chat in this time of quarantine to share insights and thoughts on her continuous evolution, from songwriting and recording as Easy Socks in her teens to leaping into the music industry full-time and successfully being highlighted as an "artist-to-watch" these days.
If you have yet to indulge, it takes but one verse to fall for the mellow soulfulness of her vocals and the pop catchiness in her songs. Though she was set to play this month in her native NYC, she is taking time now to enjoy these slower days (while we continue to soak in "Gentle," her most recent March release and await the upcoming drops).
Both from our prospective home bases in Brooklyn on a gray Friday morning, there was something funny about being just neighborhoods away, yet worlds apart in this dystopian time. Nonetheless, it was an inspiring treat to connect with Hale's down to earth ease and creative-to-the-bone drive. Even her dog, Carl, joined in, seated in his seemingly favorite place, right next to Hale.
"He's like an old man," she shares, endearingly shaking her head at him. "The best part of my morning was taking my dog for a walk. Lately, I've been sleeping in and usually, my partner will take him, but today I got to get up, let my partner sleep in and get out," a reminder that it's all about the simple pleasures. Perhaps, that is why, for someone at the ripe age of twenty, Hale has been able to more or less organically grow from singing/songwriting on guitar to home-recording as a tween, then outgrowing those walls to instead to opt for generating tracks in more established studios. A journey far from easy— she paints the not-so-distant scene of hardworking years freelancing and picking up as much work as possible to afford studio time. "Back when I was in college and in high school, I worked a lot in order to make music," she reminisces with a sighing laugh. "I would model and go to school and try to find work that would afford me the time to record"— but nevertheless a journey that is admirably simple in its steadfast evolution and honest at its roots.
At her musical roots, her process started just as matter-of-factly and celebrated the true perfection that comes from creating spontaneously. "When I started," she tells me, "I'd just play. I'd record a seven-minute song in one take and upload it to Soundcloud [….] The lyrics were what they were. I didn't edit them and I liked that they were just that." Of a generation with almost imposing access to media platforms on which to share one's work and technology built into its fingertips, "I was late in the game, meaning I wasn't really doing this until I was 14 or so, but that was the time I learned how to set myself up and use Soundcloud and these outlets." It wasn't long after her parents gifted her "a really nice, higher-quality mic," that she realized she had reached her "pinnacle of home production, which," as she says, "isn't as true now but was more so back when [she] was 17."
That was three years ago's time. Back in those days of 2017, Hale was making work under her earlier moniker Easy Socks, a project name that stuck after a friend who was helping her find a fresh Instagram handle offered it up from a random word generator. "It fits me well and at the time I got excited about rebranding everything." The wave of flavor that seeped into all parts of her persona of Easy Socks, speaks to Hale's view of the bigger picture, and especially now that she has shed that skin and enthusiastically stepped into Elah Hale ("It's a palindrome, so it's just my name backward and forwards," she shares, which feels like a worthy celebration of where she's arrived). She's not simply putting out music, but rather, seeing things from beginning to end and all around, proudly taking on more "creative direction. What the artwork will look like, what a video might feel like," for example.
It's her full-time job now, which has come as a pleasant shift for the go-getting artist who, in the deep trenches of college finals managed to release her first official single with Interscope, "ITPA (In the Party Alone)." "There was a difference between being a freelancer and doing my job [of making music]. Now I make music all the time. It's now the thing that affords me to live and get by, so now making music is my work," she confesses relatably, "I used to pride myself on being as productive as possible, to make as much as I could out of that time, but now I can take the time to work through ideas [….] When you're [personally] paying for those 5 hours [in a studio]," for example, "if I could get in there and make two tracks instead of one, that was ideal."
Much of Hale's lyrics mark the unfolding of an interaction, a scenario, a simple event that ends up feeling… oh-so-familiar. Storytelling and curating a scene or idea to an audience is not a foreign concept to the former theater major. It was not long ago that she was a full-time student at Bard College, deeply entwined with her tribe there. When I ask if being involved in theater has influenced her craft of building a song or writing lyrics, she tells me definitively, "Yes. When I was at Bard, I actually really wanted to be a playwright."
After coast-hopping between school in NY and writing and recording in LA, the time came to jump head-in to her music career as Elah Hale. "I was so ready to move and I knew I was going to. I called my mom and told her, 'I'm going to move to LA' and she was like 'you don't know anyone there. How are you going to move?'" When it comes to being in LA, "The weather there is not beatable. The sun – it just can't compare," she glows with a sense of nostalgia. Perhaps it was the right place, but the wrong time, as a young woman in her early college years leaving a freshly established cohort and life behind. After a short stint in perfect weather, "it [became] tough. I had a community at Bard. My peers and people were all there, so it was difficult to give up." Upon returning to the East Coast, Hale Sheffield, the young woman, and creator is still close to her network of peers and the community she cultivated there.
Back in Brooklyn today, continuing the pleasurable stroll through Hale's memory lane, I had to ask the born and raised city kid, what is your favorite venue to see a show? With some thought, but no hesitation came, "I have to say Rough Trade. It's— I don't know what it is exactly. It's a great space. And I have spent countless nights seeing shows there with friends— just so many good memories associated with it." I can almost feel the scene, a fan of Rough Trade myself.  As for favorite spots to perform so far, "When I started to do my more big boy shows, I was playing Ludlow House and Soho House. When I began performing more officially as Elah Hale, those were the spots where I was playing, so that will have a special feeling to me."
We can only hope for a safe end to our quarantining so that we can get back out there and see Elah Hale in person, visit our favorite memory-making venues, but for now, we'll be responsibly social-distancing, basking in her latest singles through our earbuds and home speakers, and maybe even taking a self-care cue from the Queen of Face Masks herself (as evident through her instagram page). She's been keeping busy as of late with a bit of Animal Crossing and sprinkling rituals into the everyday. "It's definitely gotten to the point where, if I'm about to take a shower, I'll do a brush or scrub of my body first. Just taking the time to take a little extra care."