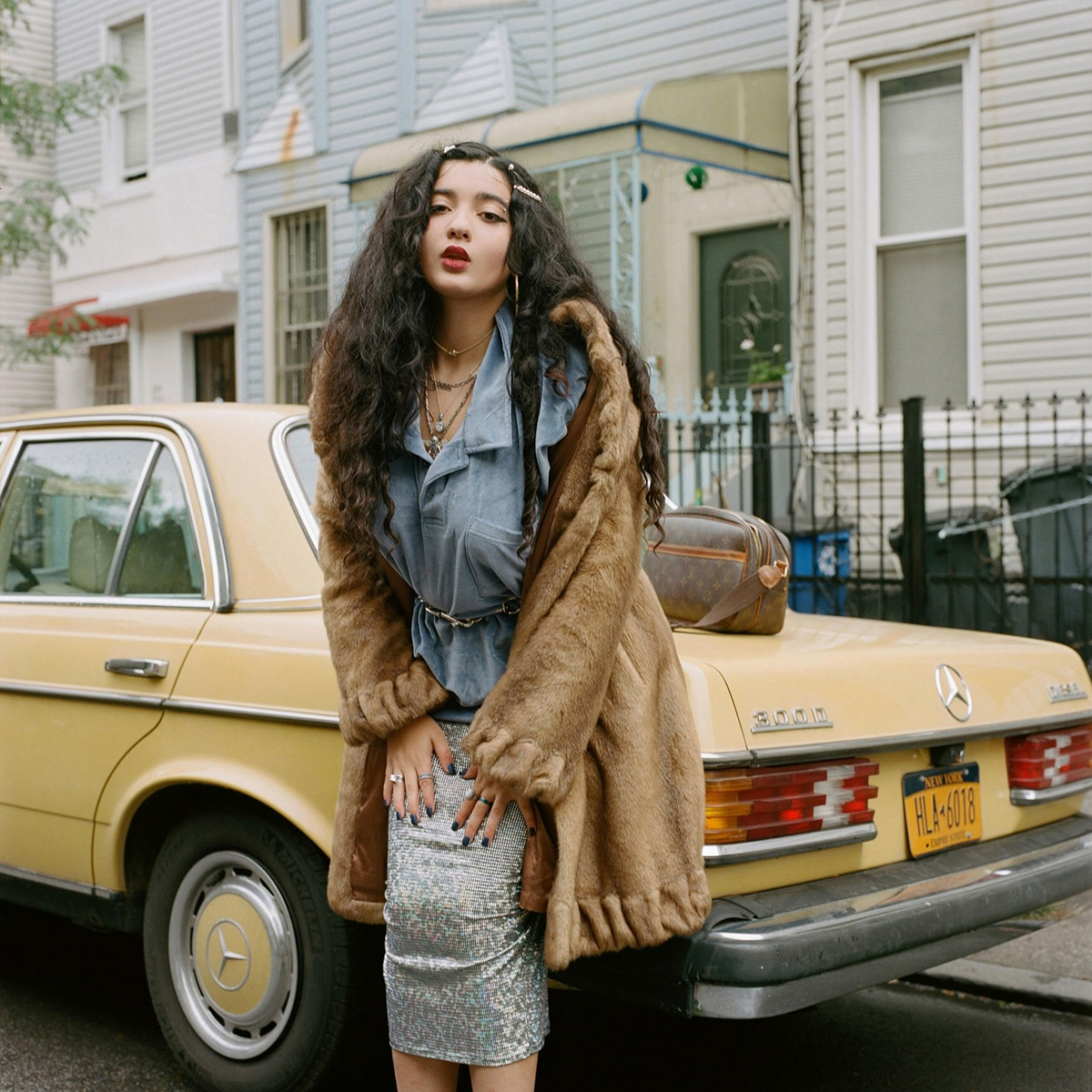 Singer Dounia first gained attention as a model via Instagram, but it was her music that really made people take notice. Her sound is a blend of R&B, Hip-Hop, and Pop. Born in Queens, New York and raised for a time in Morocco, Dounia has an outlook that's more varied than most. Her zest for life is evident in her music and visuals.
Dounia recently released her third project, a four-track EP called Not Good for the Ego. The release of her EP coincided with a performance at the biggest Hip-Hop festival in North America. Dounia had the distinction of being the first vocalist on the main stage this past weekend at Minnesota's 2019 Soundset festival. Her set oozed sex appeal and charisma to accompany her sultry vocal stylings.
What makes Dounia special is an intangible that can't be quantified. Dounia is one of those special artists who not only want to entertain but wants to inspire. After her performance at Soundset, Dounia shared with Quip the lessons learned from her past and her vision of the future.
Sherron Shabazz: What does it mean to you to perform at Soundset?
Dounia: It truly feels blessed to finally be in these environments as an artist. Being able to hit a big stage, seeing that crowd, and being able to vibe out to my music. I'm getting more and more comfortable with these crazy blessed scenarios. It's been honestly amazing.
SS: How do you feel your set went?
Dounia: I thought it was great! I had super-fun. People were feeling it. I got a lot of good reactions after the show. People came up to me and were like, "I never heard of you, but you just won me over." I was like, "That's the goal!!!" It was dope.
SS: Is there anyone on the bill that you're excited to see just as a fan?
Dounia: Dude, Run the Jewels I've never seen live. They're dope! I love them. I need to check them out. Obviously, Lil' Wayne, SZA is my homegirl, so I'm very excited to see her. I was excited to see Doja Cat – I saw some of her. G-Eazy, of course. Literally everybody. I heard Lil' Nas X is popping up. They have a great lineup. They didn't miss. Everybody is fire.
SS: What's the meaning behind the title of the new EP, Not Good for the Ego?
Dounia: It comes in two different avenues: 1, I preach being spiritually driven to my audience. As humans, our ego can get the best of us. We just want to be as still as possible. I preach meditation. The other avenue is when I wrote the lyrics for "Not Good for the Ego" it came from a place of arrogance like, "Bitch, you better humble yourself! Don't act Hollywood around me! I'm not good for the ego. I'm toxic for the ego."
SS: The line is taken from the single "Toxic," what makes you toxic?
Dounia: Just toxic for the ego. In every other way, I'm definitely not toxic. I try to be a positive light and an asset to everybody around me.
SS: You released the song "Lowkey Girl" a few months ago, why didn't that song make it to the Not Good for the Ego EP?
Dounia: It's a taste pack. It doesn't have the two singles but really what it is, is a taste of a full project. Everything is going to be on that bitch. You have to solidify the era. Those songs are important to me and they are going to be part of the bigger picture. I wanted to give people those four new songs they could digest and really get excited for something more.
SS: How would you compare "Not Good for the Ego" to your last project, The Avant Garden?
Dounia: The Avant Garden was just a different part of my life. I was 21, I'm 22 now. That was my party year so it had a lot of references to alcohol and substances and whatnot. At 22 I want to push a more mature narrative, especially for the kids. I don't want to glamorize that lifestyle for my little brother. To each his own. I want to be a little more cautious in what I preach and glamorize. Not Good for the Ego is a complete honest expression of me in this part of my life. I have a lyric on the song "Up 4 Air" that says "I traded in thrill for chill and I haven't looked back since," which is just facts [laughs].
SS: Are you really done partying?
Dounia: I party now because I love social energy. I love being around people in those environments. I'm sober now. I don't really be drinking like that anymore. I'm definitely off talking about it so much. It's not like liquor or weed was paying me to talk about it in my songs. It just didn't feel right for me anymore. Of course, music is expression, so to each his own, but it's really just my personal mission and what I feel is right for me.
SS: Were you raised Muslim?
Dounia: Yes. I'm still Muslim. I've been fasting this entire Ramadan.
SS: How does your music and style conflict or blend with your faith?
Dounia: [Laughs] I just feel like it makes it a lot more scandalous when you realize I'm a Muslim girl. I just never let anything stop me from expressing myself and what feels right. I know I'm wholesome internally. I'm spiritually wholesome. I know that I strengthen my relationship with the universe and God every day. I'm not too pressed about skin showing or things that are traditionally deemed sinful. I know in my heart it's not. I go based off intuition and all that good stuff. It's funny because the Muslim community has really been super supportive. I've barely gotten haters. There are some haters, but at the end of the day I know they'll find it in their hearts to be open-minded one day. They've all been very kind and supportive.
SS: I think it's important for people who are afraid of Islam or aren't familiar with it to know that we come in different forms. We're all so different.
Dounia: Yes. We're humans at the end of the day. A lot of people talk about Muslims like we're a monolithic group. We're not just one thing. We're all human so we all have the extreme capacity to be open-minded and be empathetic. It's pointless to generalize anybody on this planet. That's why I'm very in tune with my culture and I preach it. The love that you give, you get back. It's kind of impossible to be giving out positivity and light and not get that back. The people who need to be aligned with you are going to align with you, and I have great souls that are attracted to me. It's lit.
SS: Your start was through Instagram; how would you describe your platform when you first started out?
Dounia: When I first started out I was more in the modeling/fashion scope. I was in that New York kind of scene and I was amassing followers through that. I was still posting on my Soundcloud, but for some reason, I didn't think to merge it. It made so much sense. I was like, "You love to do music and you feel a little weird being in this modeling space." One, I'm not even that type of person. I'm always preaching personality and not caring too much about your exterior. How do I look being simply in this industry and not letting my other creativity shine? That's when I started taking music seriously and promoting it on my main channels.
SS: What's next up for Dounia?
Dounia: My personal mission is to keep creatively evolving within myself and getting better and better at what I do. Yes, it's about reaching people, but I want to be extremely proud of what I do when I reach them. When they listen to it I want to grab them. That's really what I'm about.
photo credit: Miranda Barnes