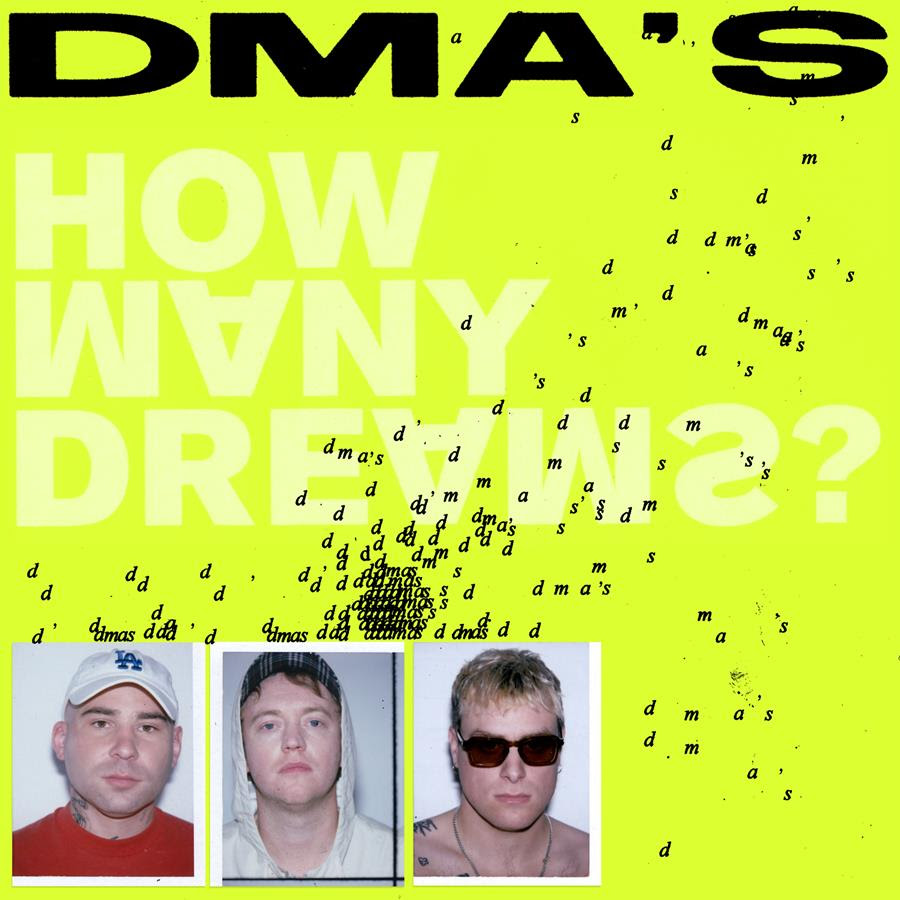 DMA's are back with How Many Dreams?, their follow-up to 2018's well-received The Glow. The 3-piece from Australia, comprised of singer Tommy O'Dell alongside guitarists Johnny Took and Matt Mason, saw The Glow clean house at the Australian Independent Record Awards, as the band explored a more electronic dance and rave-oriented direction, a move that complemented their already well-established and successful guitar-driven sound.
Originally likened to English Britpop groups like Kasabian and Oasis, DMA's have built a dedicated fanbase since releasing the smash hit "Delete" nearly a decade ago, and have a reputation as a rapturous live act (flares going off at concerts, people on each other's shoulders, those types of scenes). How Many Dreams? continues the dance direction of The Glow, while retaining the elements that have made DMA's such a smash; big choruses, catchy hooks, and strong, cathartic songwriting.
Johnny Took and Matt Mason's guitar interplay has always been a prime part of DMA's sound, but it's frontman Tommy O'Dell's angelic voice that's been and remains the group's magic fairy dust, their X-factor. That doesn't change on How Many Dreams?. Things burst out of the gate with "How Many Dreams?", a glossy, well-produced uptempo opener. DMA's often build the tension slowly to a big release, but this track goes the full distance straight away; shimmering synths give way to O'Dell's instantly sing-along able lyrics, and off we go.
There are several such tracks throughout the record that see the band continue in a dance-oriented direction. "Something We Are Overcoming", "Everybody's Saying Thursday's The Weekend", "I Don't Need To Hide" to name a few, all sound very "of the moment". Well produced and tight, but with the DMA's swagger added in. "De Carle", a standout from the record, starts out with an almost Industrial feel before Odell's hypnotizing vocal comes in, joined shortly after by a pumping beat that recalls 90's acts such as The Prodigy. "De Carle" is DMAs at their best, going full throttle.
 "Olympia" and "Fading Like A Picture", two more highlights, are somewhat more in the vein of early era Hill's End DMAs, that is to say, Rocking. They're both sure to be a favorite of the live audience. Matt Mason adds great licks to both, cutting over Johnny Tooks's chords with a tone reminiscent of American cornerstone bands like Sonic Youth. They're probably the standout "guitar moment" tracks of the album. "Get Ravey" is pretty indie pop as well, and, while uptempo, is one of the mellower ones on the record.
There are a few slower, balladesque tracks mixed in too, like "Jai Alai", "21 Year Vacancy", "Dear Future", and "Forever". One may notice a bit of Urban Hymns era The Verve action in the way the strings (they may be synths) sound on "Forever" and "Dear Future". Those two in particular are a nice change up from the more dance-focused sound that permeates throughout the record.
How Many Dreams? is chock-full of everything that DMA's diehards will love, with added elements that are sure to reel in new fans. Huge hook choruses, strong songwriting, charisma and swagger, and a modern touch of electronic dance and rave. They still have that hugeness to their sound and aren't afraid to add a modern touch of production. It's another notch in the belt of one of Australia's best and most beloved groups.