Last summer brought the release of  Wet Leg's single, "Chaise Longue" and with it, we were gifted the sarcastic dryness and infusion of post-punk fun we had all been looking for to cope with 2021— something upbeat, to the point and that voiced our shared quotidian experiences with a refreshing kick. Part cheeky pop, part grungy nostalgia, and a hefty sprinkling of all-too-relatable lyrics that shoot to the center of the millennial experience, (like, "Mommy, Daddy, look at me. I went to school and I got a degree.…I went to school and I got the Big D"). Wet Leg is what you want to blast in your head while strutting to the first bar of a night out on the town or with windows down in moody sunglasses on a hot summer car ride. Their sound delivers the laid-back attitude to give less of a damn and re-meet a healthy dose of your teenage self's energy in its evolved, attempting-to-adult form. 
Made up of the tongue-in-cheek humor of talented duo Hester Chambers + Rhian Teasdale, Wet Leg has been riding the high of their nearly sold-out US/ European tour. I was lucky enough to catch their last US show before they took off to share the magic back home in the UK. It may as well have been everyone in attendance's first time back to a show since 2020 – that's how palpable the energy of collective joy and eagerness was entering LA's historic Fonda theater this past Wednesday night. Lines drifted from down the block before doors even opened. Once inside, while folks grabbed their first drinks and mingled, the flowing chatter was all about what seemed like everyone's favorite new band. For a duo that still has yet to release their first full-length album, they already have some diehard funs — like the couple dressed in lobster claws and bonnets (an ode to the "Wet Dream" music video).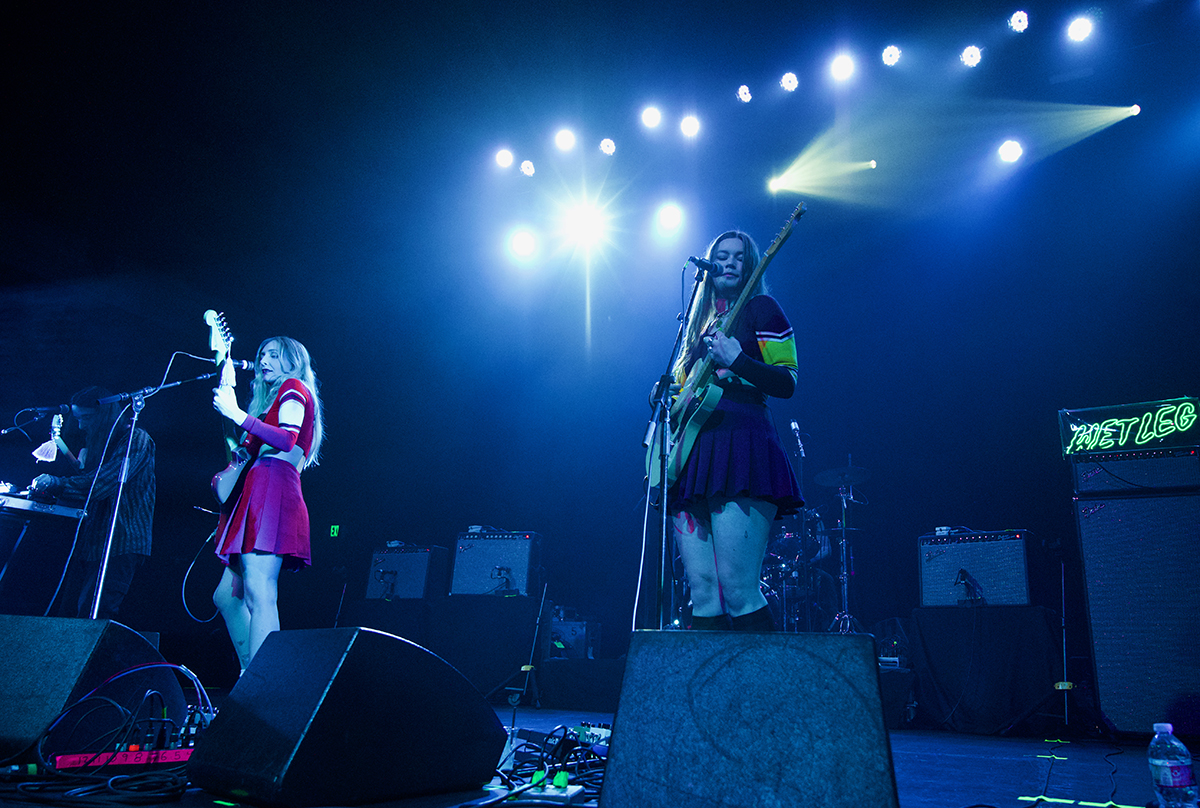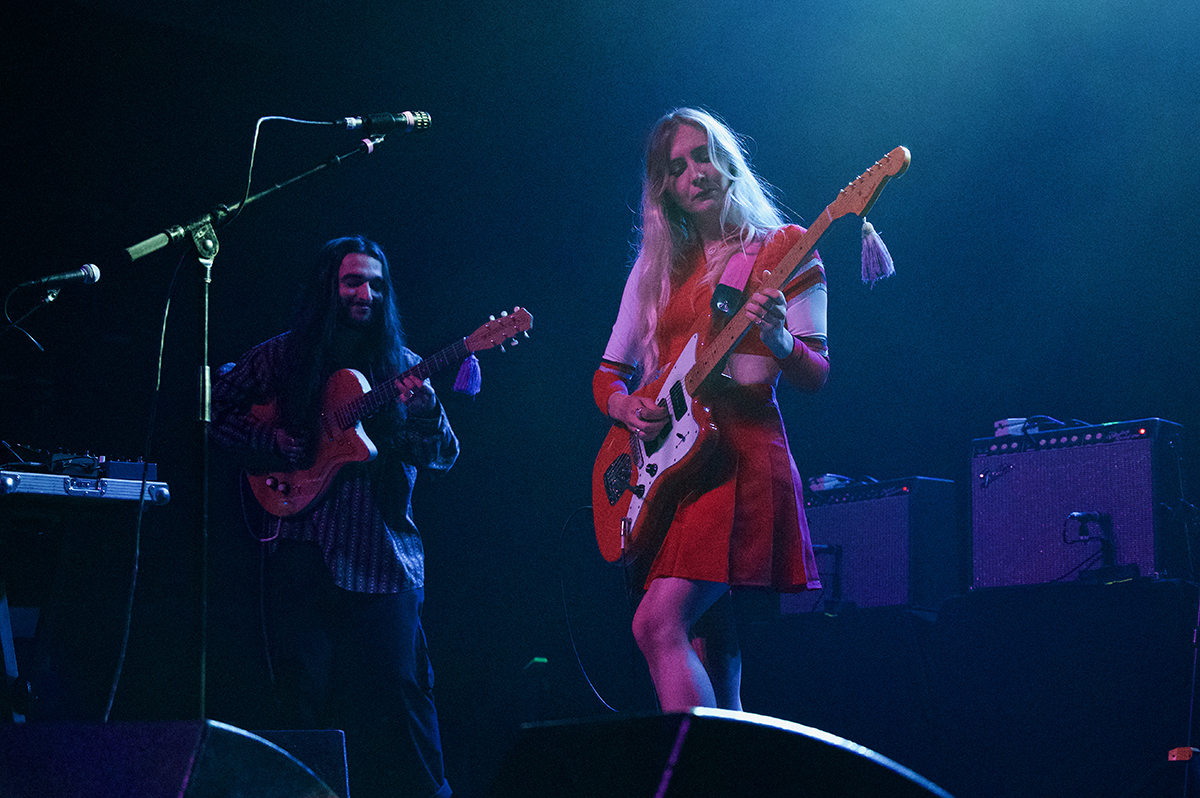 The curtain lifted and out they came in cheerleader-esque uni's. Little did we know then we'd get some synchronized guitar moves later on. Single (and banger) "Wet Dream" came early on in the night and with the chorus, head bops turned into two-feet-off-the-floor jumps all around. It was a good time, to say the least. "Too Late Now" had dreamier guitars in the intro which gave some space for Chambers and Teasdale to indulge in a few twirls, reminiscent of childhood pals during playtime — which is what their project is all about. Wet Leg, the two have shared in interviews, was birthed simply as a way for the duo to have fun together and attend music festivals, void of serious expectations or aspirations. That good old-fashioned fun transmitted straight into the audience. 
Despite the spontaneity of their rapid rise, their set seemed curated for the best ride possible. Sprinkled in between their familiar fan favorites, were the much anticipated new songs and they did not disappoint. They captured more of Wet Leg's lively energy, witty wordplay, and splash of angsty feelings. What more could one ask for? 
Guitars blared in the best way during "Oh No," which was a real highlight. On stage, Ellis Durand grooved on bass, while twirls evolved into rolling, guitars in hand. The wiggly, bright synths, played by Joshua Mobaraki matched the let-loose, get-goofy vibe and made it that much better to experience this song live. Vocals throughout the show notably sounded fantastic; even up against walls of guitars, Rhian's deeper, smooth and playful sound came through as buttery while Hester's backup delivery was the cherry on top. Shout out to drummer Henry Holmes, who held it all together, exerting at full force most of the show and definitely looking like he got a workout in. It sounded like they had all been doing this for a decade together.
The band covered Ronan Keating's "Rollercoaster," which they successfully transformed into something all their own and made the stage feel as carefree and intimate as singing and dancing alone in your bedroom to your favorite song. Later on, the surf-rock guitar of "Angelica" inspired more synchronized Rhian and Hester moves while everyone in earshot sang along to the pinnacle point of the evening. They closed with the best for last with "Chaise Longue". A sun hat appeared for some dress-up fun that was tossed into the crowd. There were laughs, more dancing, and jams. It truly felt like the best kind of party and I can't wait for more. Good thing their self-titled album comes out this month on April 8th! I know what I'll be listening to.