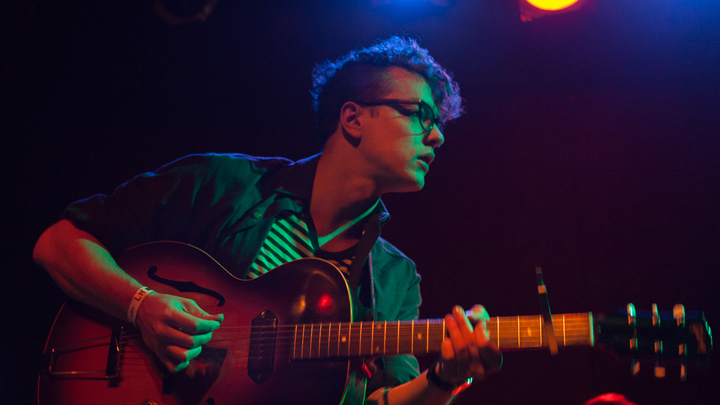 text by Rose Blanton | photos by Peter Kulak
In the midst of the polar vortex or what I like to refer to as a Greenland summer, Chicago hosted Tomorrow Never Knows (TNK). The festival takes place over 4 days at some of the city's most intimate (and in this kiddo's opinion, best) venues. I tricked my editor into letting me attend some of the shows and even conducting an interview. What really happened this weekend can only truly be expressed by a bum high on glue, but I'll do my best to tell you about what really went down.
Wednesday, Schubas, Minor Characters
Schubas is one of my favorite venues in the city due to the fact that it suffers from an identity crisis. Am I bar? Am I venue? Am I an adorable café? But I digress.
Upon arrival I was treated by the presence of Minor Characters. These gentlemen not only make seriously melodic tunes, but they are hilarious, humble, and self reliant. Ever thankful to their fans and supporters, they were by far one of the most delightful bands I have ever interviewed.  They also helped me find my spirit animal, which is a koala.
Once usurping the stage, it's hard to tell who is having a better time, the merry men of Minor Characters or the crowd. Andrew Pelletier commands the stage with an Elvis Costello like presence, but with a falsetto like twist. It's hard to tell which is more impressive, the voice of Andrew or the riffs that come spewing out of Shelby Pollard's guitar. Their EP Heal Me, Healing Times has a melancholy sound akin to the likes of Grizzly Bear or Local Natives. Upon meditating on the lyrics of Minor Characters, it becomes obvious that these boys aren't singing about broken hearts, but about their concern with the social state of America. It might be safe to bet that they are perhaps trying to evoke a reaction from our generation. A reaction to the characteristic traits of previous generations that are failing today. Either way if they were my brothers I'd be proud!
Friday, Schubas, Bare Mutants
First off, the Bare Mutants are basically the alumni of The Empty Bottle, another bar I love. Upon hearing them, you are going to think "I've heard this before." And that's because you have. Jered Gummere, former member of The Ponys, did what he did with his last band; sound like a mixture of Television and The Velvet Underground. The VU comparison is especially noticeable with the vocal accompaniment of Jeanine O'Toole. In her defence, she is not utilized enough. She also has a Neko Case presence that makes this little gypsy excited (FULL DISCLOSURE, I FUCKING LOVE NEKO CASE!). All that said, the Bare Mutants are fun. Jered's soft murmuring slur reminds me of the Pixies and other silly " I hate myself" boy complaint rock. Hopefully Jered doesn't take himself too seriously and knows exactly what he is doing. They put on a predictable show that although isn't The VU, is a good replacement in light of recent events.
Sunday, Lincoln Hall, Yuck
Although a relatively new venue, Lincoln Hall has the BEST SOUND! For that reason it is my favorite place to catch a show. It's also one of the smaller venues, so it offers an intimacy that I seek more and more nowadays.
During the show a fellow music head entered into a conversation with me. I'm not quite sure what compelled him to engage in conversation with me, but he did. He started off the conversation with asking me about what I thought of Yuck. I replied with a statement I thought to be accurate, I enjoyed them, but they were about 15 years late on the scene, he responded with "They're a band without a lead singer." This is and isn't true. Yes, Daniel Blumberg left Yuck. For many people this was the end of a band. But I think it's unfair to say that Max Bloom isn't a front man. I will say though, that I do believe I would thoroughly enjoy more tunes serenaded to me by bassist Mariko Doi. All in all, the show was enjoyable and I think Yuck will be just fine.
* * *
TNK is a small festival and I only had a taste of what it offered. Overall there was one shining star, Minor Characters. The other bands weren't horrific by any accounts, but I will use a horrific word here and say, perhaps, mediocre. BUT I didn't loathe my time during any show and I didn't want to leave any show. I had a good time, and isn't that what most festivals are all about, losing oneself in the revelry of music?