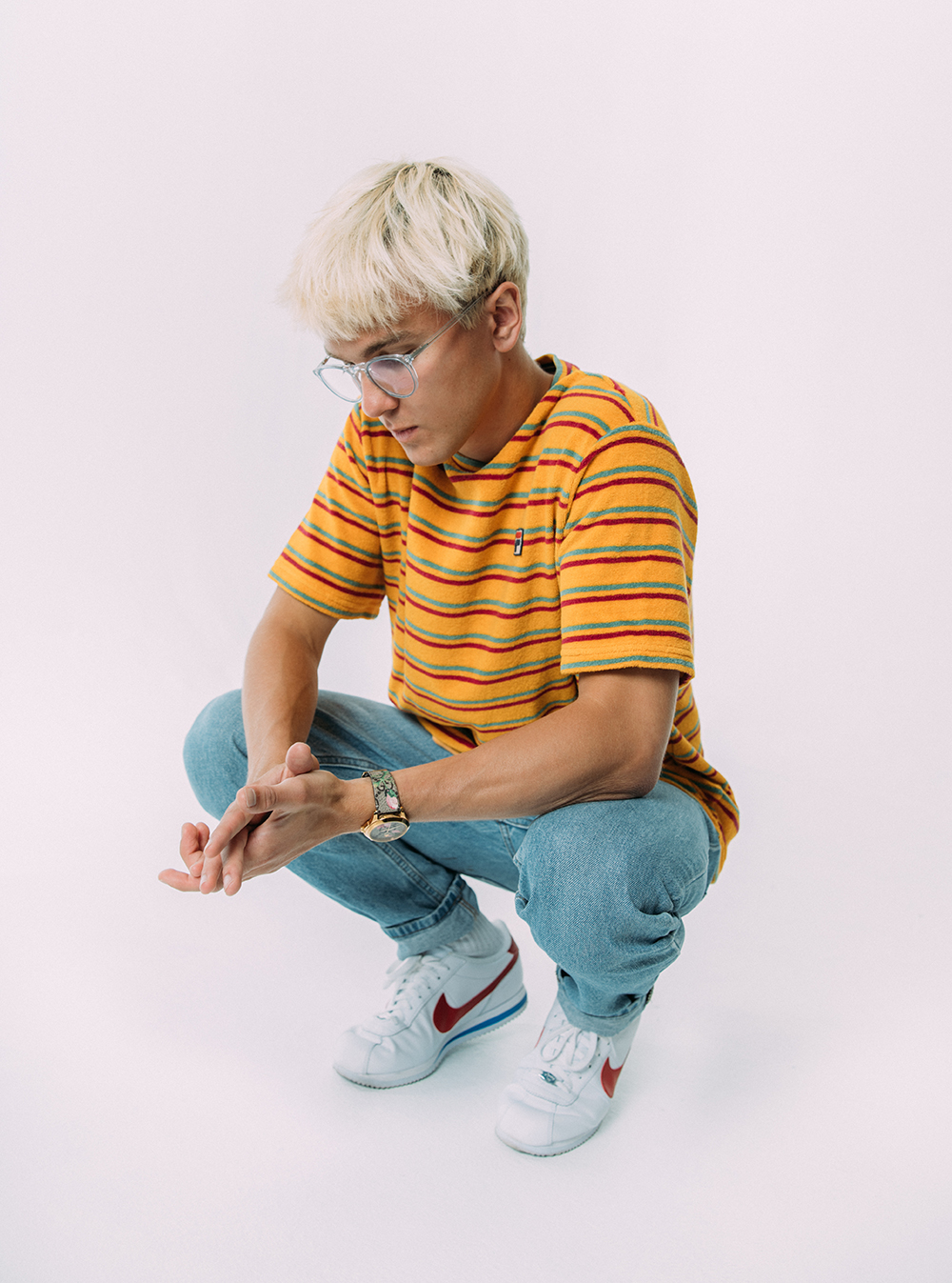 Over the last decade, a good variety of artists has set the scene for a new, upbeat summer vibe sub-genre of electronic music. Many of these artists started at a rather young age (Flume being a prime example), and in pursuit of that good summer feeling this month we talked to another one of those electronic artist, 20-year-old pluko.
Born Sam Martinsen in a small town called Hollidaysburg (PA) where there was no electronic music scene and people are not very open-minded when it comes to professional music ambitions. But passion always perceivers and some of those people have likely now changed their minds because within the last couple years pluko clocked in over 50 million plays across platforms, became a go-to remix producer for the likes of Tycho, Hayden James, Mansionair, Odesza, and already played major North American festivals like Coachella, Firefly, and HARD Summer.
His first record, sixteen, dropped in 2018 on Odesza's Foreign Family Collective and last year, pluko decided to start his own record label and collective called Splendid Society, which in the upcoming days also promises to release their own clothing line. "It's a home for creatives, but also just a brand for good people doing good things," he told Magnetic mag a few weeks back.
pluko's most recent, 13-track album COLOR BLIND, came out in May and in his own words "represents a moment in time where music is the only thing that you let affect you." The album is a showcase of pluko's skills, playing with percussion, synth works, vocals, and various production techniques. Aside from his own creative ideas, pluko employed collaborators like Panama, ilo ilo, Nate Traveller, and Cassette Tapes, further layering the album with exciting genre complexities.
Kateryna Topol: Hello Sam, how is your week going? 
pluko: I'm great! I'm currently at the beach enjoying a much-needed break from work [smiles].
KT: You had a bit of a rough start when it comes to music, being in a city and environment that was not the most supportive of your ambitions – what made you pursue a career in music, despite the above?
p: I've always been a huge fan of music, so when I first discovered that I could make some with just my laptop, I had to try it out.
KT: Naturally. Looking back at playing those early shows, your mom was a tour manager, and you weren't quite old enough to be in some of those spaces or play club shows  – how was it – finding your footing as an artist while also trying to adult?
p: It's definitely interesting even still being underage now (I just turned 20 in May). I honestly don't mind because I don't have much interest in partying or 'going hard,' I'm just in it for the music. When I go to festivals I just like to listen to the music and see the performances. It does suck that I can't get in to see some of my favorite artists perform at clubs… but I will be able to next year!
KT: Happy Belated Birthday! Your first album sixteen came out a couple of years ago on Odesza's Foreign Family Collective – who found who and how was it working with them?
p: I linked up with Foreign Family Collective and Odesza through my management team. We sent the Foreign Family team some of the music I was working on at the time and they really liked it. We just hit it off from there and have been great friends ever since. I love the whole Foreign Fam ❤️.
KT: And now you have your own record label Splendid Society: can you speak to this journey a bit…
p: I never really planned on going independent, it just kind of happened. I'm such a fast-moving person and I don't like having to wait for stuff to be released. I really just wanted to see what it would be like to release whatever I wanted, whenever I wanted. Honestly, since I started releasing music under my own label, I've felt so free and so confident in my music. I really would love to start bringing other artists under the Splendid Society label down the road.
KT: Sounds very freeing that's for sure. When will the fans get to see the new clothing collection from Splendid Society?
p: I just released my Splendid Society x COLOR BLIND merch collection and it sold out in under 3 hours!! I totally wasn't expecting this and it felt so good to see everyone loving the designs. We are currently in the process of planning the Splendid Society summer collection set to release at the end of July or the beginning of August.
KT: Wow that's awesome! Speaking of COLOR BLIND, the album came out with a statement from you: "COLOR BLIND represents a moment in time where music is the only thing that you let affect you" – that's some pretty deep stuff, can you share where this thought came from?
p: Music is one of the most powerful things in the world. Music can change everything. There is so much emotion behind this album and I really just want people to experience it in full. I want people to turn off all distractions and just listen to the music. It will sound so much different and you will discover so much more meaning!
KT: Some great collaborations on the record as well, how did those come about?
p: All of the collaborations on this record were so much fun to work on. I've met so many incredible people through the process of writing the album and I'm so fortunate to have worked with them. I've made some amazing friends through it! Most of the collabs started with just an Instagram DM or an email. If I dig someone's music, I always reach out and say hey!
KT: You also made a full album film, which seems really fitting especially now that we can't go out to live shows. What was the goal behind the film?
p: When I write music, I see colors, scenes, landscapes. I really wanted to express these into one nonstop album film, to really do my best at explaining what goes on in my head both sonically and visually.
KT: When did you do most of the filming, did the pandemic affect it at all? 
p: The filming started at the beginning of March 2020. Honestly, the pandemic kind of set me up to get some serious work done. Before everything went down, I was living in NYC but when the virus hit I left and went back to my hometown in Pennsylvania. If it wasn't for the move, I don't think the album film would've been created. So much of it depended on the scenery of PA. Everything happens for a reason!
KT: It certainly does. Who did you work with for the film?
p: I worked with my two homies who I created Spendid Society with, as well as some amazing filmmakers in California. Abe Onkst, Hughie Newman, Sean Nunley, and many other incredible creatives!
KT: Awesome! So the world is at a bit of a standstill right now, but are there any live events you are looking forward to playing maybe later this year or next?
p: At this moment I'm not really sure if there are any live events on the horizon for the rest of this year, sadly. I've been doing digital festivals and live streams, like Digital Mirage, and I'll be doing a virtual festival on Minecraft soon!
Images by Lucas MK