by Kristie Kahns
Under an ever-widening umbrella of the term jazz, NYC's Winter Jazzfest is growing to become one of the best places to experience the creativity and artistry of a new generation of jazz musicians.
In its 16th year, the festival's program included events all over lower Manhattan and Brooklyn over 11 days. With hundreds of musicians all in the same place at the same time, artists who inherently collaborate and jam together frequently, naturally you can expect at least a few surprises and impromptu moments that make this festival a lot of fun.
As 2019 drew to a close and we prepared to turn the page to a new decade with the arrival of 2020, there were a plethora of "Best of The Decade" lists that popped up on music sites all over the web and social media. One of the unequivocal favorites amongst many writers and music news sources – and my own top album from the past 10 years – was Kendrick Lamar's To Pimp a Butterfly. This album was a standout for many reasons, and a bold artistic statement for Kendrick Lamar after the success of good kid, m.A.A.d. city. But it also encompasses one of the major trends in music of the past decade: an overt collaboration between hip hop artists and jazz musicians. Many artists have been quoted as saying that "jazz is the mother of hip-hop" and hip-hop producers have been sampling jazz music for many decades. But To Pimp a Butterfly brought that relationship to the forefront, in style, instrumentation, and production. The credits on TPAB include Robert Glasper, Terrace Martin, Kamasi Washington, Thundercat, and Flying Lotus – all artists that are rooted in jazz but have been defying musical categorization throughout their careers. These are the kind of musical artists that are typically the highlight of the NYC Winter Jazzfest, artists that are all over the liner notes of your favorite R&B or hip-hop albums, even though they might not be household names.
The signature events of the NYC Winter Jazzfest are the Manhattan marathon nights: multiple venues all over the Village area with several hours of music sets, all happening simultaneously. This means that you can catch a lot of great music in two nights, but you'll also certainly have to miss some acts that you'd like to see – tough choices! Here's the start of my coverage through a weekend of amazing music: Friday night marathon by venues.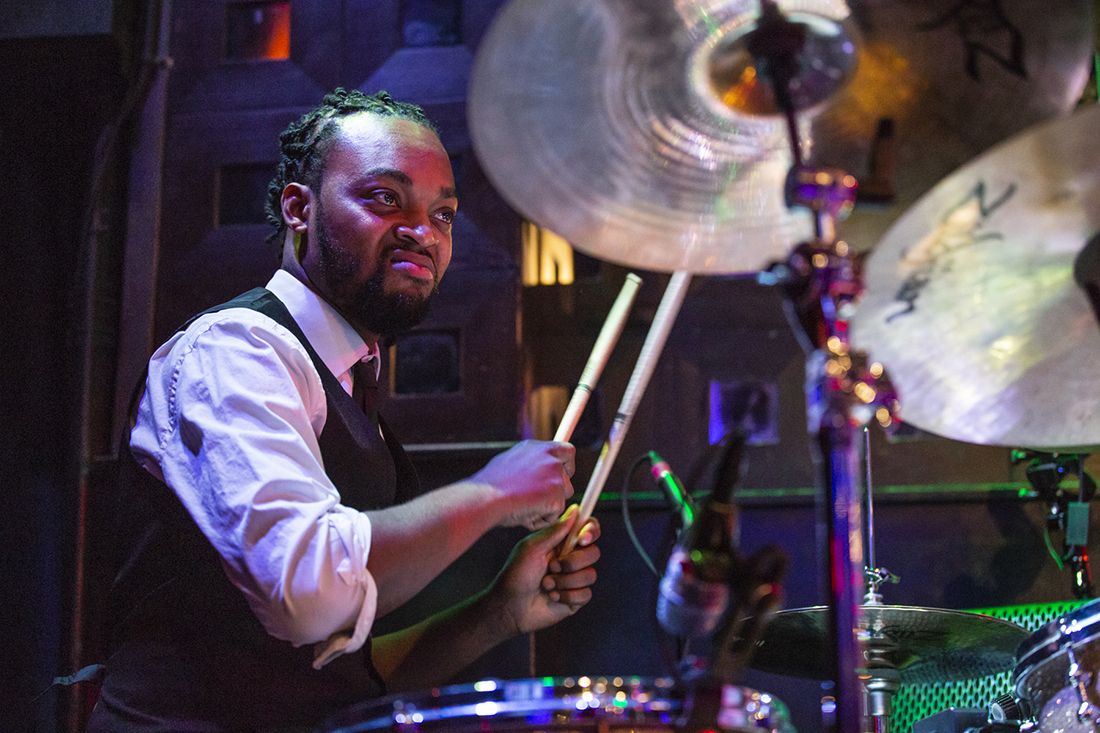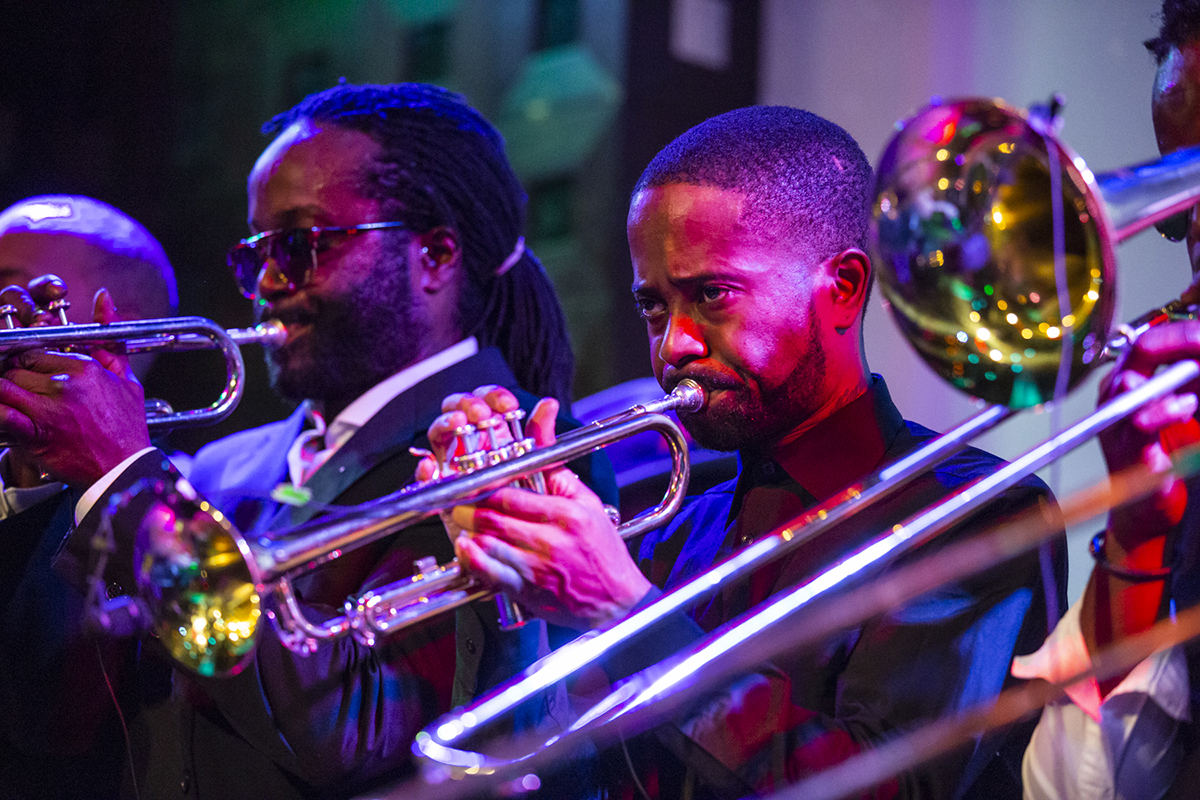 I started the night at SOB's to catch The Era Footwork Crew from Chicago. The dancers warmed up the floor in front of the stage, and towards the end of their time, Hypnotic Brass Ensemble came on stage and played for their final dance and the dancers' individual bows. This made for a seamless transition into HBE's energetic set. Hypnotic Brass Ensemble's original lineup included seven brothers, sons of esteemed jazz trumpeter Phil Cohran. Though the lineup has slightly changed over the years, the energy is still the same. They deliver an infusion of jazz, and hip-hop, with funky grooves and house rhythms that definitely got the crowd moving.
Next, I went to Webster Hall for the Revive Music stage. Over the years, Revive Music have been curating an incredible lineup of genre-blending musicians that lean heavily to a hip-hop sound. The set that I caught was Chicago drummer Makaya McCraven's In These Times – one of his latest projects, with a cohort of mostly Chicago-based musicians including Matt Gold (guitar), Irvin Pierce (tenor sax), Marquis Hill (trumpet), Greg Ward (alto sax), Junius Paul (bass), Brandee Younger (harp), and Joel Ross (vibraphone). These musicians have all played together and with Makaya for so many years, their chemistry on stage together is remarkable. Although he was tucked all the way in the back of the stage, behind the seven musicians with him, his nuanced power on the drums couldn't be missed.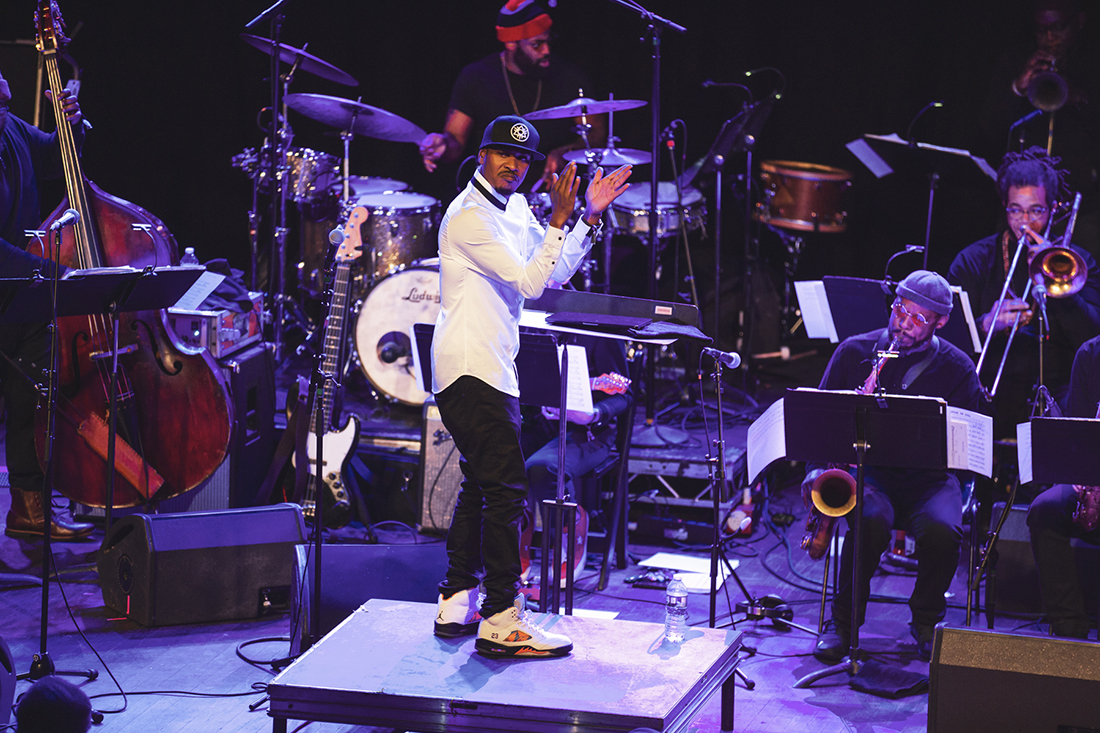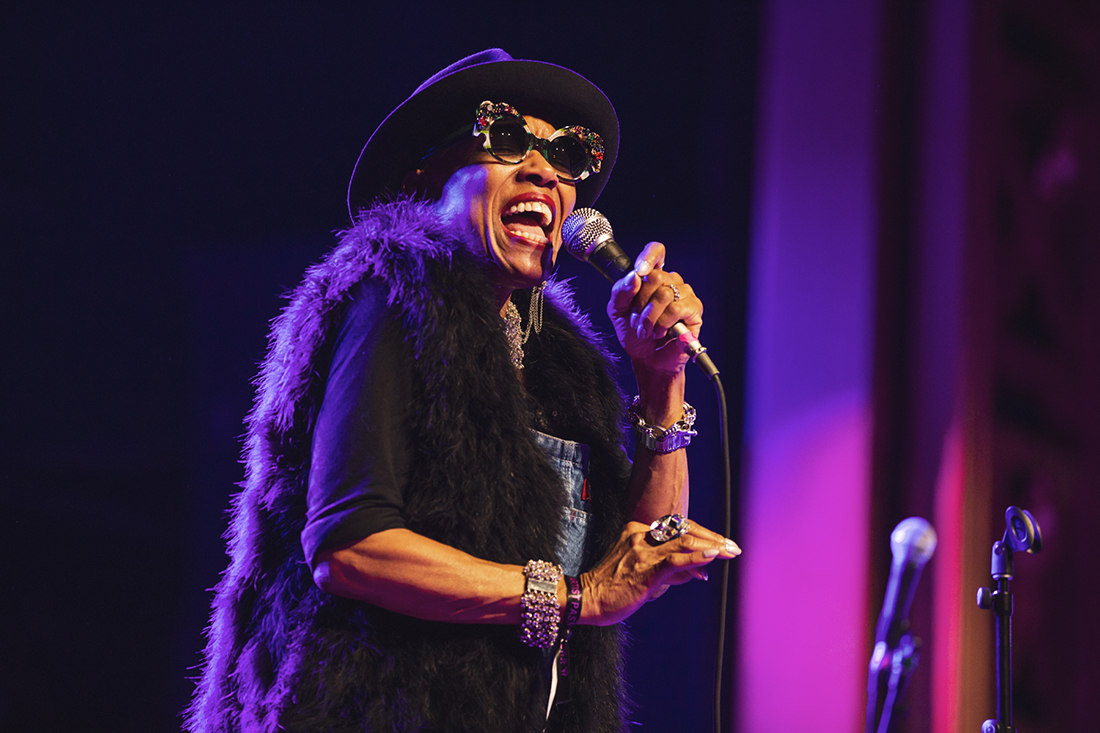 After an interlude of spoken word artists and a DJ set by Raydar Ellis, Revive Big Band led by Igmar Thomas filled the stage. Igmar Thomas (musical director for Lauryn Hill, Nas) is a charismatic bandleader and got the crowd involved as they moved through some jazz classics and also some mash-ups, like a Theolonius Monk tune right into Common's "Thelonius." Special guests included Nicholas Payton on trumpet, Dee Dee Bridgewater singing a jazzy version of "You've Got a Friend," Alice Smith singing a cover of Donny Hathaway's "Someday We'll All Be Free," and emcee Raydar Ellis to add to the band's rendition of a track from Guru's Jazzmatazz.
After another break, Pete Rock did a DJ set, but many people had left to head over to other venues to catch the final sets of the night.
The night wrapped up at The Dance with Jaimie Branch's Fly or Die. A very late night set that was definitely worth staying up for. Jaimie is a fearless and unique trumpeter and vocalist, and her band is tight. Chad Taylor on drums is remarkable. About halfway thru the set Jaimie had the lights turned down, then turned on a little clip light next to one of her mics, pointing right into the bell of her trumpet as she brought it right up to the mic – a cue that turned the reverb on the mic for her trumpet, and led the band into an interlude of surreal experimentation. Nuevo Roquero Estero from her recent album FLY or DIE II was the jam that got the crowd moving. She closed with "Love Song," and Jaimie got the whole crowd to sing along with her at the end: "this is a love song for assholes and clowns…"