Last Monday, Leikeli47 came through Toronto with Yung Baby Tate. And let's just say, it was an evening for the books.
Yung Baby Tate took the stage first, sharp at 8:30, wearing a leather tube top onesie and a shiny kimono but before we get too far into the show, let's talk about who Yung Baby Tate is:
From a young age, Tate knew she wanted to live a life of music and so she did. Born into a musical family it was a part of her growing up: piano lessons, church choir, performing arts education, and she was producing on her own by the age of 13 on GarageBand while getting comfortable on stage. Today at 22, Tate Farris (real name) is a multi-disciplinary artist and has a handful of releases in her pocket: debut album ROYGBIV, Boys EP, and most recently the full-length album Girls. The girl is also not humble about her successes, in an interview with XXL, she shared: "I'm really, really talented. I'm not just some little popped-up, popcorn rapper. I don't consider myself a rapper—I'm a singer first, then a producer, then a songwriter and then a rapper" – but hey, she's not wrong, so get it, girl, we're here to support. Girls explores the many facets of being a woman: "I wanted to capture the beauty of a multidimensional woman and show that in one girl, there is every girl. My goal with this movement is to let women know that when we join forces, we are so powerful and there's nothing we can't do," she told Nylon.
Yung Baby Tate took the stage with one of her most popular tracks, "Pretty Girl." Following the wild claps, she proceeded to introduce herself as "that motherfucking girl" calling the audience to wake up feeling like "That Girl," the girl who no one can stop but her. For a fresh minute, Tate took the mic for solo vocals that pleasantly surprised everyone with a dash of Houston's "I'm Every Woman." For the rest of the set Tate went through Girls, shared a few personal stories and inspired front raws to take their flashlights out for "Lover Girl". A half hour or so later as a parting gift she called out for all girls to go wild and invited a few of the audience members to dance with her during "Wild Girl."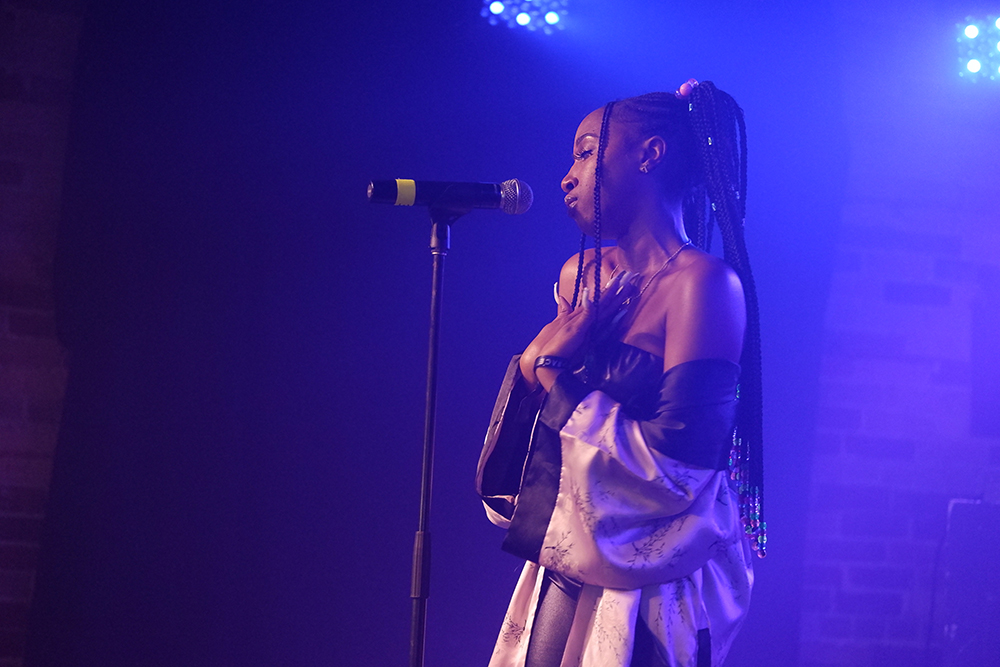 Like many artists who choose to wear a mask of any kind Leikeli47 (pronounced Leh-kay-lee) would rather be heard than seen. She's a kid who's never growing up hiding inside oversized loose clothing and behind a balaclava or bandana – the point is to distract from what people default to when looking at artists – their look and shape – this way people can concentrate on the love and fun that L47 shares through her music. For a long time, she refused to do interviews but she came through when she was ready and what the bandana does is let her personality shine through.
Leikeli47 has been doing music "like straight out of the womb, forever," she told Highsnobiety. The most recent release, Acrylic, celebrates black love, life and in some way, her own becoming across 19 tracks – yes friends, 19 tracks. Her music is a mix of dancehall, gospel, radio-friendly pop, and gangsta rap and as we've seen on stage at Velvet Underground, a lot of vogue. But I'm getting ahead of myself.
L47 opened the set with a few older tracks like "Bitch Switch" and "Miss Me" before getting into Acrylic. The crowd was packing in, dancing, showing their best moves, clapping along with the beat. The room went crazy for "No Reload" as L47 was pacing around the stage playing with photographers and whipping her hair. Everyone got to participate for "Iron Mike" after which the show become much, much more interactive: L47 calls, "Can you all get into your best pose….Give me a one-two-walk" and after a small showcase by a few audience members, L47 went into "Post That" and "Full Set (A new style)" letting the fans vogue beside her. "Give it up for all the looks on the stage," she called out, "It takes a lot of confidence to get up here and show that next thing," she pointed out loudly. Twice.
For an average Monday night, this night turned into one fulfilling and inspiring evening. Everyone left a little bit more secure with who they are. This was a double-bill of girl power, scratch that – woman power, let's make that a thing. We ain't no girls anymore.