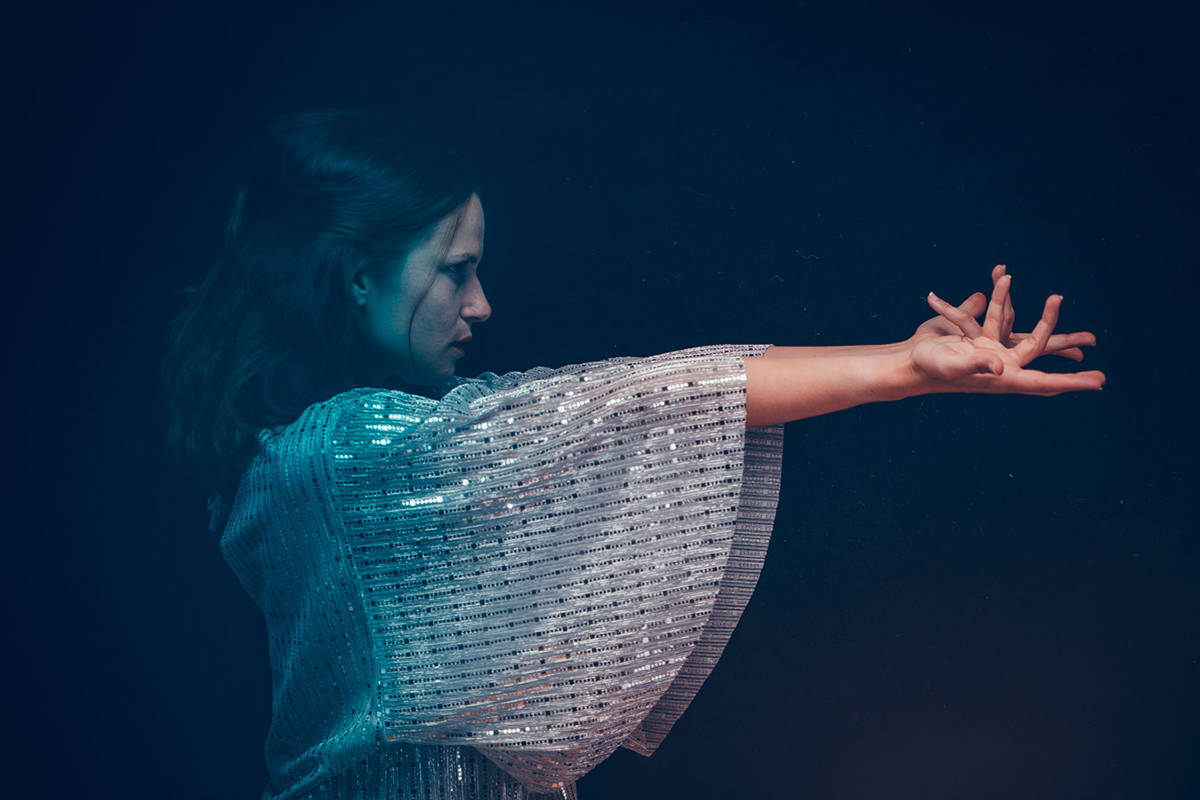 Jennifer Hall is one of those artists who thrives on sharing her pain and deepest secrets through music. One might imagine it is a way of processing emotions, musical therapy if you must. But this type of raw vulnerability makes the artist relatable, after all, we all experience love, loss, and self-doubt at one point or another.
Hall released a self-titled EP in 2015 and took off on a 3-year tour across 31 states including Hawaii. This incredibly long time on the road was naturally followed by a break but Hall returned to the world of music in 2019 with a cinematic new single  "In The Water" only to enter the year that shall not be named. So far, this year has been better for many, Jennifer Hall included who may have not been dropping track after track like some (to each their own pace) but did release a memorable indie-pop single  "SFA" and most recently (October 26) fresh new track "Why Cut Time".
Quip caught up with Jennifer Hall following this latest release to talk about plans, emotions, making music in Chicago, and much more. 
Kateryna Topol: Hello Jennifer, how is your fall going so far? 
Jennifer Hall: Hi! It's going well so far. I'm staying busy making music and videos so that feels really great! I always resist Fall a bit because Summer is my favorite time of year (I'm a total pool junkie) and I wear my flip flops as long as humanly possible, but I have officially accepted the change of season [smiles], Chicago is a beautiful place this time of year too.
KT: Same here, let the sweater weather last a little longer. You've done some musical theatre as a child, at what point in your life did you decide to pursue music as a career?
JH: Around 10 or so is when I knew that this was what I wanted to do. I felt like singing was in my blood and guts and that that there really wasn't any other career that I wanted to pursue. Singing and writing bring me immense joy and it's when I'm at my happiest.
KT: So young! How has it been so far, living the life of a musician?
JH: It has its ups and downs like anything, but I wouldn't trade it. It has certainly been a crucial part of my personal growth and it's allowed me to travel and meet so many wonderful people. I have been thinking about this recently too, how lucky it is to find something that you truly love doing and to be able to do it at all, much less for a living. Not everyone gets that chance, and I'm very grateful that I do.
KT: Absolutely, crossed my mind a few times as well. You did a 3-year tour – that's wild! What were some of the highlights of this adventure?
JH: Oh yes, we toured for such a long while. Some highlights definitely included touring Hawaii, courtesy of one of the best promoters around, KC. We played throughout Maui and in Honolulu. We ate endless coconut shrimp, swam with dolphins and sea turtles (my mind was blown), and soaked up so much delicious sun. It was an absolute DREAM. The people were kind, the pace was slow, and the scenery was deeply inspiring.
Other moments that resonated most were when someone would say hello after a show and we would talk about music, life, loss, and the ways in which we were similar. Those moments of connection were so treasured. I have certainly struggled with loneliness and feeling lonely throughout my life, and to have someone on the other side of the country express how they felt when losing their parent, when their abusive relationship ended, or when they were feeling depressed or down too, and to be able to relate so fully- it always made me feel less alone and I hope made them feel less alone too. That's a really powerful part of touring I think, finding those moments of connection.
KT: What a wonderful way to connect. Hawaii sounds amazing! What else do you like to do when you visit new cities?
JH: I love to seek out local restaurants, meet new people and find outdoor areas to de-stress Sometimes there isn't a lot of downtime on the road though, so I do my best to keep my eyes peeled when driving and to take in as much as I can when meeting people at the show. Touring has always been pretty energy-consuming for me, so I haven't always had the energy to see the sites. Perhaps our tours in the future can include more time to play tourist!
KT: Fingers crossed! You say 'our' – what does your band look like these days?
JH: These days I'm making music with just our guitarist, co-writer, and producer, Noam Wallenberg. We last played live as a band in March of 2020 before COVID hit, so it's been just us at home, recording these days. We have plans to play out as a stripped-down duo in the next few months and some in 2022, but I also hope to tour with a full band again. The intimacy that is built with the audience when we play a stripped-down set is really satisfying and rewarding, but playing with a full band scratches that itch to get loud and hit hard. Plus, you get to hang out with more people you love when you bring a bigger band out, like having a little road family. When we do play as a full band, we usually bring four or five players out.
KT: How do you collaborate with the band?
JH: For the most part, Noam and I write the music and share the songs with the band when we have parts in mind and the arrangements sorted out.
KT: Nice. Ok, let's talk about your latest release, the video for "Why Cut Time" – can you speak to the inspiration behind the video and the importance of the location?
JH: The song is about mortality, the 2020 BLM protests, getting older, time being fleeting and quick to pass. The video location and concepts weren't planned out ahead of time, but the parts of the lakeshore where we ended up shooting felt right when we arrived. They were peaceful and quiet, with not much else going on aside from us being there. They felt intimate and still. We shot the video around sunrise and sunset in different spots along the lake and in the city to touch on the idea of time passing quickly. I think that there is something really soothing about the water and for me, thoughts of life and death go hand in hand with nature. I wanted this video to be simple, vulnerable, and to feel like a view inside someone's private thoughts. It was shot by my dear friend and super talented artist, Wallace, and directed/edited by me, Almendra Lopez, and Noam.
KT: What impact does the Chicago music scene have on you and your music career? (If any that is, I've read that you have been meeting a lot of local bands)
JH: I couldn't imagine making music somewhere else, probably in part because I'm from the area. The scene has been great in my experience, with artists supporting artists and with wonderful rooms to play throughout town. I can't compare Chicago to other cities' music scenes, but I think Chicago is unique in a lot of ways, very down-to-earth and real and heartfelt. I'm glad I'm making music here and hope to stay.
KT: What's your favourite venue in Chicago?
JH: My favorite venues in Chicago would have to be Thalia Hall and Metro. I have played both those spots before and there is something about the energy of those rooms that is extremely special. Metro is a thrilling space, so full of life, and of course, legendary! It has felt so special to sing on a stage where so many talented artists have performed over the years. Thalia Hall was the last Chicago venue we played in in March 2020, and the room is stunning. The sound was incredible and super clear, and the stage was welcoming and with positive energy. I can't wait to be back at both spots in the future.
KT: What is next for you – is there an album on the horizon?
JH: We are officially working on a new record, steadily releasing new music and videos until its release. I am planning shows over the next few months and in Spring 2022, where we can share these new songs.
KT: Will it be as personal and emotional as your debut?
JH: Of course! I hope that these songs resonate in universal ways as they touch on a variety of different themes close to me, like personal growth, empathy, mortality, vulnerability, and mental health.
KT: What else can you share about this record?
JH: I notice that sometimes the pain I feel is processed on a delay, where I need time to sit with it and sort my feelings before articulating them or feeling them in their entirety. This record will stem from the mental spaces I've been in lately and throughout the pandemic.
KT: Having gone through this shared pandemic experience, do you think you would do anything differently moving forward, in life or in music?
JH: The pandemic made me reflect on what I'd like to share in my music, and to really dig deep as far as exploring things that seemed too frightening to face previously. The pandemic certainly made me think about how life is both precious and fleeting, but at the same time, not to be taken too seriously. The pandemic made me think about how life is random and chaotic, and intentional and beautiful all at once.
I hope to keep writing about the discoveries I've made over the last year and a half and to keep moving forward in times of struggle or when it's hard to write. Making it through 2020 was extremely difficult and painful, requiring great resilience and mental bandwidth. In future times of self-doubt and struggle, I hope to look back on this time as a reminder of all that I, and we, can survive and overcome even when things feel bleak.
photo credit: Matthew Gregory Hollis