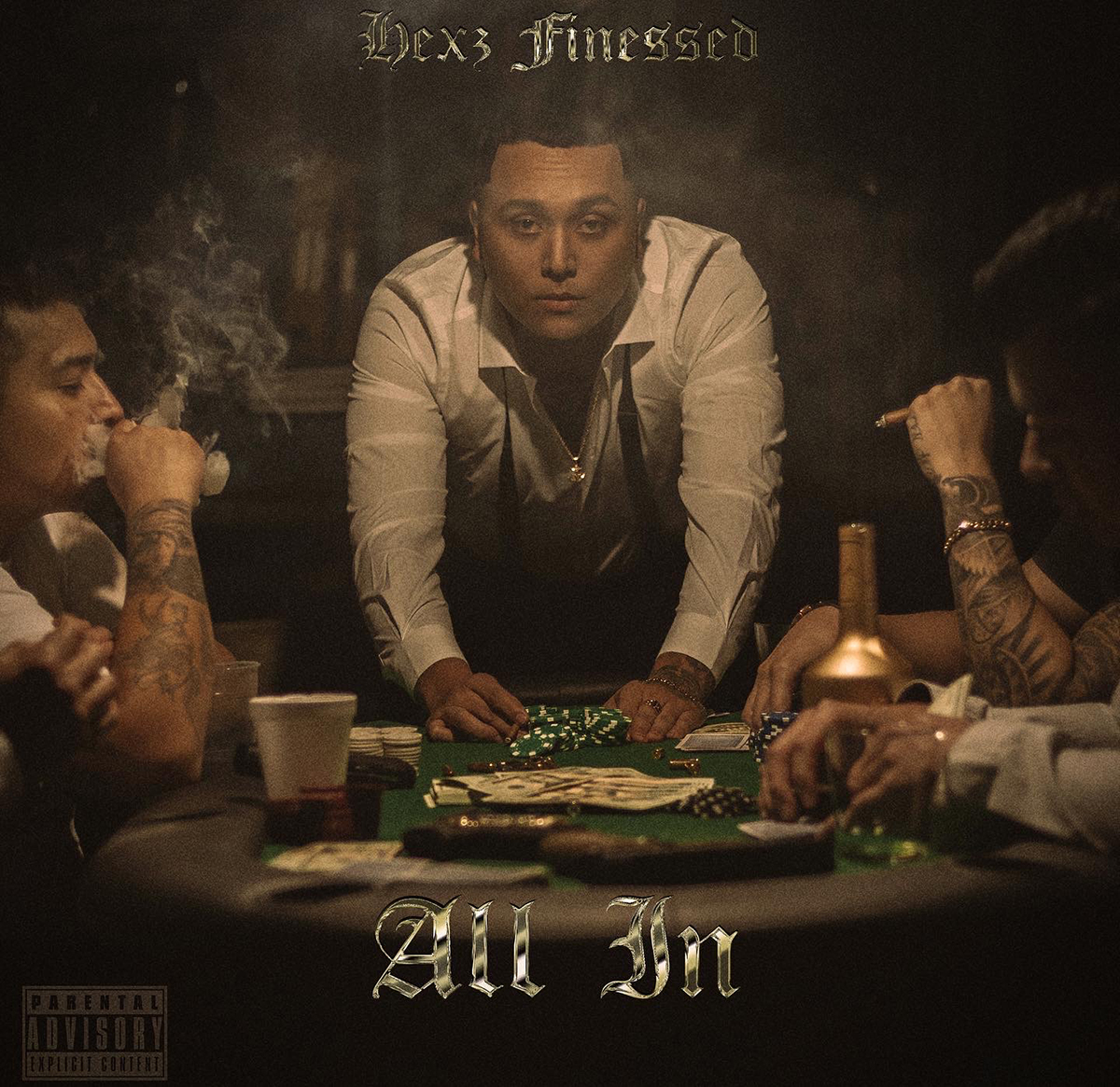 Chicago rapper Hexz Finessed is bursting onto the scene with the release of his newest project All In. At 24 years old, Hexz applies full pressure on every song he puts forth. Already feeling as though it's now or never, Hexz is willing to put all his chips on the table by going all out on this album. Wanting to provide listeners with a solid range, Hexz changes the style on each track while still keeping within the rap/hip-hop genre continually engaging the audeince.
The album opens up with the track "A-Team," from the get-go Hexz wastes no time getting to the point that while many may have doubted him up to this point, he's making sure no one can doubt him after this album: "We grew accustomed to everybody thinking we have a couple of screws that be loose in the head shit it might be true. And the matter of the fact that we still broke through." The instrumentals are haunting adding that extra layer to the track.
Finessed carries himself with a lot of swagger on "Don't Worry About Me." It's a very solid tune that allows listeners to vibe out to the heavy-hitting bass. His message is still pungent as he cruises along the beat mentioning all the hurdles he continues to conquer in order to become successful. Yet he takes all the obstacles in stride, able to smile about his accomplishments thus far, knowing there's more to come. The mellow song sets the mood for those puffing on some skunk or sipping a mojito. 
"Lessons" is a nice change of pace compared to the rest of the album. Accompanied by guitar riffs, Hexz shows off his ability to sing throughout the track wailing the chorus – "I've been up for so long!" You feel the pain in his vocals making you vibe to both the words and the instrumentation. It's good to see that Hexz is able to do more than just straight-up rap.
The record wraps up with "Built For This Life," here Hexz lets out all his anger and frustrations. It's a therapeutic track that many can see a bit of themselves when you're so hungry to be successful in difficult media. You can almost feel the track was written in the late hours of the night.
All In is a story about a young rapper truly coming into his own. Understanding his mortality but more importantly this gift that he needs to share with the rest of the world. Hexz Finesse is in his element on every beat that producer ThraxBoiDigital throws at him. The instrumentals are soothing yet the words are raw, keeping the listeners' attention throughout the 10 tracks.