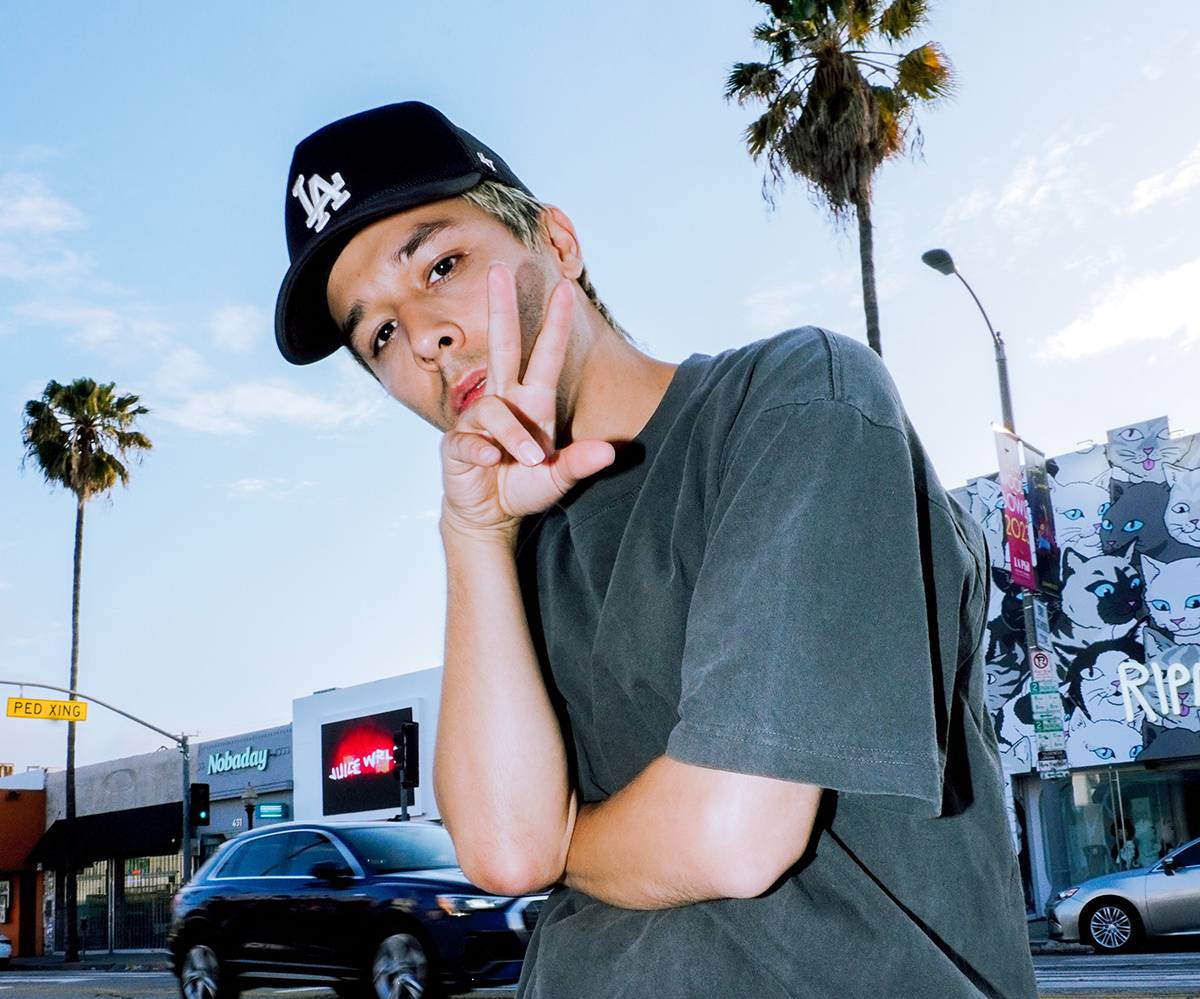 photos by chepe6ix
Luis Toranzo, aka XYZ, has been a part of the Chicago music scene for the last 10 years. Working behind the scenes, his entrepreneurship has allowed him to collaborate with artists such as Chance the Rapper, Cole Bennett, and Chief Keef before their rise to prominence. Growing up living in various parts of Chicago, XYZ had to learn to adapt to his environment letting his desire to achieve greatness guide him. Now the singer is ready for the spotlight to showcase his own artistry with the release of his new single "Two Smokes". On top of that, XYZ began his own record label "Lunch Money Records" to continue supporting artists to gain more exposure. While XYZ is preparing to move to Los Angeles, he was kind enough to chat over the phone for an hour to discuss his journey. 
Vidal Granados: Hey XYZ!
XYZ: How's it going my guy?
VG: Good man! How you doing my dude?
XYZ: Great, excited! Getting ready to move out to Los Angeles at the end of the month so can't wait! Just getting things in order before I head out.
VG: That's what's up, congrats on the big move! I want to talk about that more but first let's start at the beginning, where did you grow up?
XYZ: I grew up all over Chicago. Born and raised in La Villita (Little Village.) Even though I moved to Berwyn at 8, I still went to school in Little Village. But around 7th grade, I began acting out so I went to St. Joseph High School in Westchester before moving to Romeoville. By the age of 19 though, I lived on my own so from there I moved back to the city bouncing around Logan Square, Lakeview, and Humboldt Park areas.
VG: That's crazy 'cause I have friends and family in all those places. I was supposed to go to St. Joe's because of the same thing I was acting a fool in 7th and 8th grade. Feels like we're cousins!
XYZ: [Laughs] I think in a weird way bro when we meet people, we already have these organic connections. We feel close to people because even though we don't know it, we have probably been running around the same circles our whole lives. 
VG: Well said. Then why are you making the move to Los Angeles?
XYZ: I started this label called "Lunch Money Records". Last year we worked with Post Malone's team at Lyrical Lemonade's "Summer Smash". I'm really digging into it and making it a priority. I've worked with many talented artists and producers here, but feel I need to expand my horizons. But also I'm bringing Chicago with me to put on my city. I'm moving to LA to continue working with friendships and relationships I've made out there to build up "Lunch Money" in an organic way to benefit the culture.
VG: Love it! What's your goal with "Lunch Money?"
XYZ: To empower people who look like me. To help black and brown artists who felt they've hit a glass ceiling or need a bigger platform. It's developed into an artist/management service brand. I want to help photographers, PR people, producers/engineers, etc. who might not have opportunities or are able to move to LA but through "Lunch Money Records," a foundation can be created to help artists get more exposure.
VG: Mad props, that is a great idea! Going back to your music, who influenced you growing up?
XYZ: That's a hard question. I think about it often even earlier today. I have a large selection of what I'd listen to and it comes from first-generation immigrants. Growing up, my mom would be playing Celia Cruz or Selena or Madonna when cleaning the house at 7 in the morning (Laughs). But then my older brother would play whatever was on the radio like MCR, U2, or Coldplay. In my early childhood, I got into playing drums in school til 8th grade, now I just play them on my own. In my 20's I picked up the guitar. Now I'm really inspired by my peers. Artists like Post Malone, his songwriting is great and a lot of his early work was deep and I connect to it. JuiceWRLD also inspired me. A ton of people I listen to inspire me to write.
VG: What was the moment you knew you wanted to be a singer?
XYZ: So I wrote my first songs in 2nd grade. There are pictures of me even as a toddler trying to sing and play instruments so I always had it in me. Throughout grade school and high school, I kept writing songs. I'd get in trouble in class for not paying attention, and get detention which would then give me time to write more songs. I've always been interested in the process of recording and tracking vocals professionally. That led me to understand how to run lighting and soundstage design. That led me to meet a lot of artists like Chance the Rapper and Cole Bennett. 
VG: That's awesome. Tell me about your newest single "Two Smokes," and your rollout plan for your music.
XYZ: I haven't released music since pre-pandemic, so for the last 2 years I've been redeveloping my sound with producers In Bloom and Ear Gawd. I think we all changed, it's important to keep evolving musically without alienating your core fan base. "Two Smokes" is an acoustic pop song that's about going threw breakups and turning into this dark corner where you're doing things you normally wouldn't such as drinking, smoking, and going out more than you should. I think we have all been there, I don't know if you have?
VG: Yessir. Dawg you taking me back to 2021! (sighs)
XYZ: [Laughs] I've been there many, many times. I used to fall for girls who'd mistreat me or use me so I'd find myself in that dark state a lot. Those experiences inspired "Two Smokes". The rest of the songs I will be rolling out are still guitar-driven, punk-pop-sounding tracks that are dark and emotional. But I also have some summery, feel-good songs, which I'm excited about. I hope people can connect with them. We all have our ups and downs moments.
VG: You've been working behind the scenes for many years throwing shows throughout Chicago since 2013. Talk about those days.
XYZ: I was throwing shows on my own and Berto from SPKRBX was also throwing shows around the same time. We narrowed it down to throwing shows together. In the midst of that, I somehow came across Cole Bennett. Cole and I started talking before he blew up. I asked if he was interested in throwing concerts. He said, "Hell yeah!" Some of the first shows were Lil Uzi Vert, JuiceWRLD, Kodak Black and I personally booked Post Malone show. 
VG: I remember that era of Chicago. That youth wave was crazy! There was a split depending on what you wanted to hear: positive lyricism from Chance the Rapper or goon, gangster rap in Chief Keef.
XYZ: I was actually there for both [laughs]. I was at Chief Keef's house when he got signed. What he was rapping about was real! I got patted down before going inside. We were in his grandma's house, in his room with only a mattress on the floor and 3 Burberry shirts. And there were 3 music executives in the living room trying to sign him and his grandma is yelling at him to clean his room!
From there it was a snowball effect. I met Chance and his team because I helped with a show Chief Keef was involved in. Chance asked me since I helped with the stage layout if I could design the stage for his 2 shows at The Metro. Those were the first shows he headlined and he sold them out. I did the lighting and stage design.
VG: How did you start working with Post Malone?
XYZ: Finally when Berto and I got to work together, we wanted to make a show with every artist that was hot in Chicago at the time. I actually grew up with Saba, shoutout to Saba! And we were like, "Let's book Saba. Let's see if Chance will come through. Let's book his brother Taylor Bennett." It was a deep roster of artists. To top it off, I was like, "Let's book someone outside of Chicago who has some buzz going to draw more people."  My friend Cam, from Chance's team, sent me a link to "White Iverson." And I knew I needed to book him. At the time the track was under 100,000 listens. At 2 am that night, I messaged his manager Dre London and he contacted me instantly saying, "Book us ASAP!" I told them about our upcoming event and they were in. By the time Post Malone got to the show, he was huge! Now Post and Dre are good friends of mind. It's crazy.
VG: You've had a hell of a run for the last several years being a promoter and now you are pushing yourself to focus more on your own music. But what are some activities you do to unwind?
XYZ: It's kind of hard because I don't like downtime. I don't want to play video games when I could be working on music. Fortunately, I have a girlfriend, she makes me chill and watch "90-Day Fiancé" with her. Hanging out with my mom and brothers keeps me grounded. My mom doesn't care who I'm working with she still makes me take out trash whenever I visit her.
VG: Lastly, any advice for anyone who's trying to do music or get involved in promoting, following the blueprint you've taken?
XYZ: Support! Support your local artists, musicians, photographers, bloggers, etc. You don't know how that relationship will impact you in the long run. Reach out and show love to people if you want to be supported. At the end of the day, we're all looking to get love, and giving love works the same way. Be genuine in your approach. 
VG: Thank you for sharing your story XYZ.