Cautious Clay is one of those artists who came out of nowhere and started dropping chart-topping tracks one at a time for months in a row. Sometimes, in between, there would be a video, and then there were the many SXSW performances and the first, sold-out, North American tour. The press went wild, and so did the fans. His return to Toronto was highly anticipated and the venue had to move from a small concert hall to a two-level theatre-style venue, The Great Hall. This classic theater stage set up was perfect for Clay's band – a rug laid out under equipment and various table and floor lamps with white lampshades spread out near the equipment. The occasional light-check would shake up the crowd causing a quick stir of "ooos" and "aaahs."
The event opener is Remi Wolf, Los Angeles-based musician, who performed an engaging, high energy set with a 2-piece band (drummer and guitarist). Remi has been writing songs since the early age of 15 and has recently released a 6-track EP You're A Dog!, which was made in "a bunch of bedrooms across California," she shared. Remi's music is a blend of electronic and acoustic synths layered under her pronounced, well-developed voice. For tonight's performance, Wolf went through the tracks from the EP (closing with "Shawty") played a new song "Hello Hello Hello," and an R&B infused cover of MGMT's "Electric Feel." Wolf is an entertaining performer to see live, she is contagiously energetic, full of stories and live commentary, drawing the audience in with every jump and shout.
With a slight delay Brooklyn-based singer-songwriter Joshua Karpeh, aka Cautious Clay, took the stage immediately going into "Sidewinder," a track off his most recent release Table of Context, the third EP in the collection so far. This Toronto show is a part of the Context Tour, which wrapped up shortly after in Philadelphia, but the tracklist variety traveled through all of Cautious' releases thus far.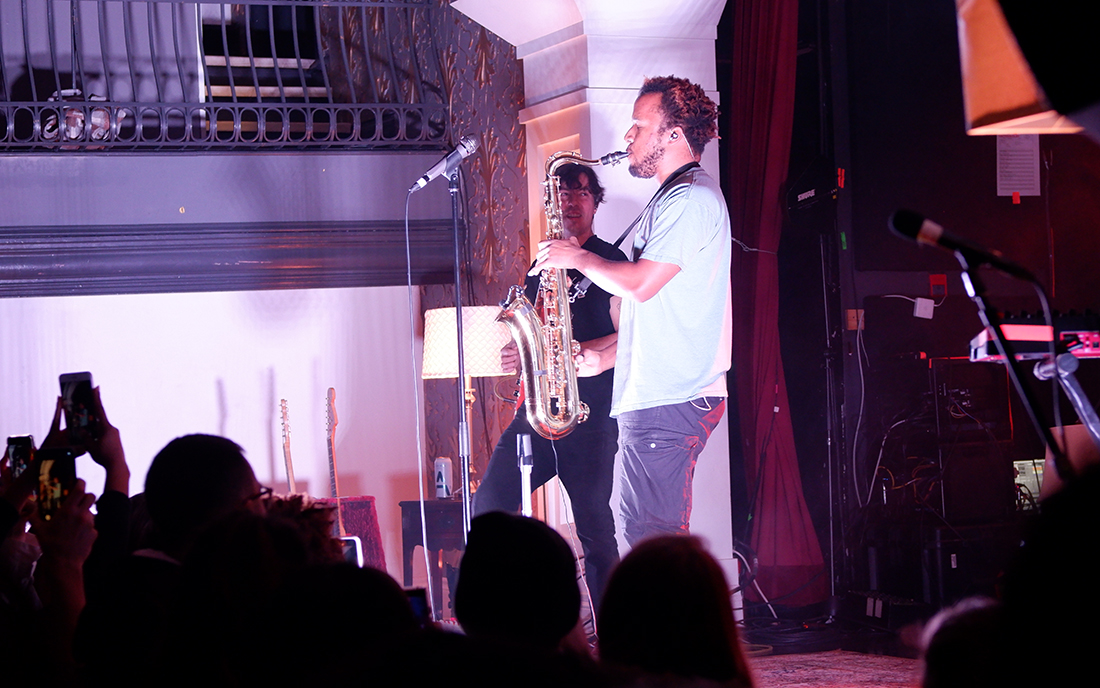 Cautious and the band were very casually dressed and performed in an equally casual attitude, the floor lamps creating a living room type of environment. We're at home here. After playing the second song, "Settler's Paradise," Cautious greeted the enamored crowd – "It's good to be back." Next to the microphone carefully placed are a saxophone and a flute, which he picked up multiple times throughout the set, impressively switching from percussions to guitar or simply pacing the stage with a mic.
As if satisfying unuttered requests, he played the saxophone during "French Riviera" (Resonance EP) and then the flute for a new track. Having been listening to Cautious Clay since the release of his debut single "Cold War," I've unconsciously imagined what it would be like to see him perform live, and now seeing him live I was missing a bit of energy. The vocal delivery was a lot more low key than on record and many of the songs had a slightly different live rendition, which is admittedly quite common. In some instances, like with "Joshua Tree," quickly followed by "Blood Type," the live renditions were more alive, heavier on instrumentals, and louder on the vocals, complemented with flashing lights it was an impressively memorable showcase of Clay's range as an artist.
The stage had no photo pit allowing the fans to get incredibly close to the artist. At some point Cautious squatted at the edge, singing to the girls in the front row and then shook hands on the way out at the end of the night – a nice touch when it comes to appreciating your audience. Clay's music is relatable and easy to sing along to, Blood Type, admittedly the most popular release so far, is about "the frustrations of dating and not knowing yourself in that process," he once told Fader, a topic many people in this crowd can likely relate to, especially when the lyrics are sung in a warm, soulful voice.
Halfway through the performance Cautious shared with the audience that he was, in fact, working on a new album, "still don't have a name," he said, "just testing stuff." The lucky city dwellers got to hear quite a few of those new songs throughout the evening, most of which also had no names, but the encore performance ended the set with a bang when Clay performed "Shook" – a song from this upcoming, yet to be named, or dated album. I'm sure that just like the many earlier releases this album will suddenly appear on your Spotify release radar, causing a double-digit replay. But for now, we wait, and if we know something sooner we'll be sure to share the news with you.